UK Alumna Aims to Improve Diversity in Advertising at Cannes Lions Festival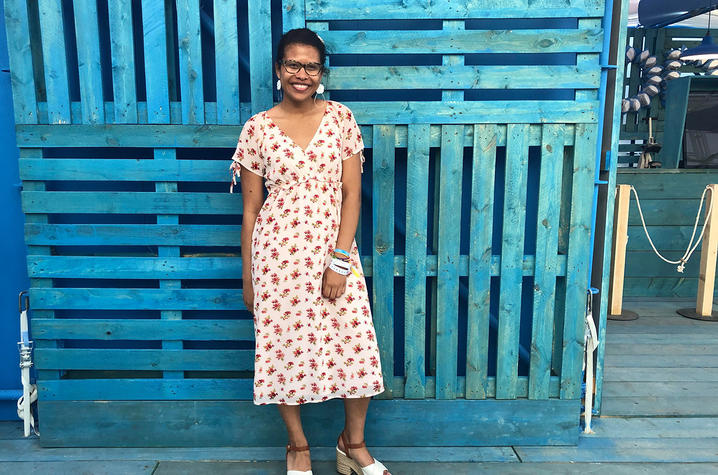 LEXINGTON, Ky. (June 19, 2019) – Chelsea St. Clair has always been interested in solving problems that will have a meaningful and lasting impact on our society and the world. While St. Clair's interest in politics led her to college in hopes to become a political professional, she soon realized that she could make a difference in the world through a different route.
St. Clair graduated from the University of Kentucky in 2016 with dual degrees in Integrated Strategic Communication, in the College of Communication and Information, and Psychology in the College of Arts and Sciences. She would soon use these degrees to begin her career in the advertising and programming world.
"My life would be extremely different if I hadn't gone to UK," St. Clair said noting how moving from West Des Moines, Iowa, helped her become independent and develop relationships and connections outside of the life she knew in her home state.
St. Clair went on to say that UK exposed her to a number of different experiences that helped pave her path since graduation. As a student at UK, she was active and involved on campus. She was a member of Phi Mu which led her to be Panhellenic president, an elected senator for the College of Arts and Sciences and involved in DanceBlue.
"UK laid a lot of foundation for me having the confidence to build something from scratch," St. Clair said. She was able to participate in multiple organizations on campus during her time at UK in order to prepare herself to take on monumental tasks that she had never done before. As an undergraduate she took on several advertising internships and landed her first big job as a brand strategist in Boston.
From June 17 to 21, St. Clair is attending the Cannes Lions International Festival of Creativity through the program "Cannes Can: Diversity Collective." She discovered this program last August when discussing her thoughts on diversity in the advertising industry with the founder. The Cannes Can: Diversity Collective is intended to encourage diversity in the advertising community and creating an opportunity for more people of color to attend Cannes for years to come. 
The company where St. Clair works, Sparks & Honey, has daily culture briefings in which she and colleagues livestream their discussions on the latest happening in culture over a 24- or 48-hour period. She'll be bringing that methodology to Cannes in the form of the Inkwell Beach Daily Cultural Update. She also will be creating content calendars of topics to discuss that relate to the sessions she attends and themes of this year's festival.
The Cannes Lions International Festival of Creativity is a global event held yearly at the Palais des Festivals et des Congress in Cannes, France. Roughly 11,000 professionals working in creative advertising and communications from all over the world attend the festival every year to celebrate and promote creativity in brand communication. The week is filled with award ceremonies, speakers and networking events.
St. Clair hopes to "walk away from the festival feeling inspired and motivated."