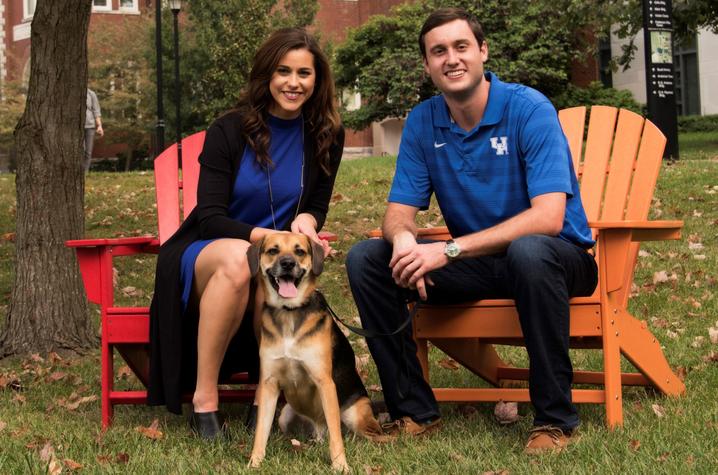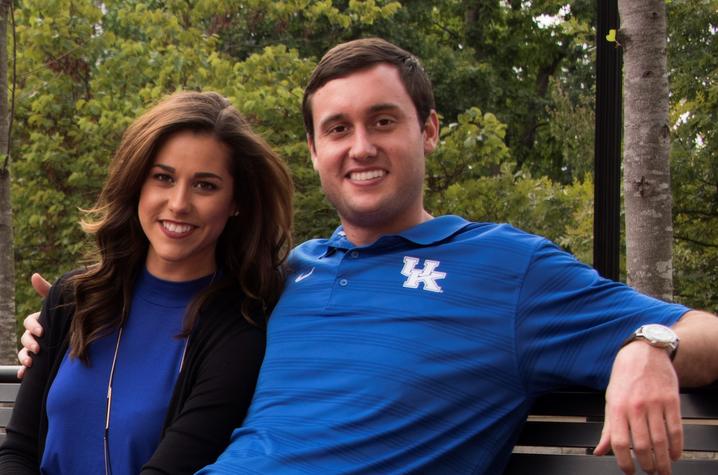 LEXINGTON, Ky. (June 17, 2020) — University of Kentucky alumnus Michael Gorrell, who graduated in 2015, grew up in McLean, Virginia, where not many UK fans could be found. However, the home he shared with his parents, Warren and Catherine, and his sisters, was true blue.
Warren Gorrell, a Washington, D.C. attorney, grew up in Lexington, Kentucky, where many of his family members still reside today. Michael describes his father as a hardworking man, and says Saturdays spent watching UK football and basketball games were a way for them to spend time together. Watching UK sports was not the only Big Blue influence Michael received growing up. Every summer, he would travel to the heart of Kentucky Wildcat country to spend several weeks with his grandparents in Lexington. Growing up loving the UK Wildcats was a way of life. He remembers most of his friends in high school were Duke or UNC fans while he fiercely defended UK, especially around March Madness when the talk between friends at school heated up.
It's not surprising that Michael Gorrell would choose to attend UK considering he was raised a Cat fan, but he also said he chose UK for their great academic and social offerings. While Michael's parents were not UK graduates, his grandfather John did attend UK, graduating in 1954 with an engineering degree, thus making Michael a second-generation UK graduate.
"Education and charitable giving have always been important to my parents. My father and grandfather were the first in their family to attend college," Michael Gorrell said. "My father always led by example instilling in my sisters and me the importance of education and giving back." 
The Gorrell Family Charitable Fund was created in 2012 for Michael and his sisters to continue their family's legacy of charitable giving, including giving to UK through the Gorrell Family Scholarship.
It was at UK that Michael not only earned a degree in history, but he also met the woman with whom he would share his life. Michael met Lauren Kamas, a 2013 integrated strategic communication (ISC) graduate, while they were both students. They were married in 2017 in Lauren's hometown of Louisville. The couple now resides in Salt Lake City, Utah, where Lauren works for Dyno Nobel, an industrial and mining explosives manufacturing company, and Michael works for a tech company.
Michael says that he and Lauren have been very fortunate in their lives to be able to attend the college of their choice without hardship, and they have been given many opportunities not available to everyone, something they don't take for granted.
Since graduating from UK and establishing themselves in their careers in Salt Lake City, Michael and Lauren have become more involved in the work of the Gorrell Family Charitable Fund and began thinking about where they could make a difference by giving.
"When we started thinking about where to contribute, UK immediately came to mind because we feel so connected to our alma mater, and it was such an influential part of our lives," Lauren Gorrell said.
Recently, Michael and Lauren bestowed a gift to UK to benefit students in need who are first-generation college students in their families. With their initial donation, the Gorrells want to watch how the Gorrell Family Scholarship unfolds and takes shape to determine where they can take it.
In the report "First-Generation Student Success: A Landscape Analysis of Programs and Services at Four-Year Institutions," the authors note that first-generation students account for nearly one-third of college undergraduates. The higher education literature details the challenges first-generation students face in accessing financing and completing higher education.
Robert Hayes, director of Student Transitions and Family Programs at UK, was a first-generation college student and now works with other first-gen students. He knows firsthand the impact gifts like the Gorrell Family Scholarship can have on a student.
"I fondly recall the support that was offered to me — well before I knew I needed it," Hayes said. "One example that stands out to me is that of a teacher I had in middle school gifting me a backpack for my journey to college once I had graduated from high school. This might not seem like much, but this kindness helped carry me to a college degree. She knew what I didn't. I kept that backpack all through undergrad and it served as a humble reminder of the efforts that others had put into my education. That gift meant not only that I would be better equipped for college, but it was the symbol of belief in me — that I really could do this. 
"It brings me the greatest joy to see this young alumni couple offer much needed support to our first-generation students. I am sure that those students who benefit from this generosity will reflect similarly as I still do on the teacher who helped me along my way."   
The importance of first-generation student success has never been more critical. In 2020, 65% of all jobs will require some level of postsecondary education. In addition to improving employment opportunities and earning prospects, higher education also correlates with better health, greater civil preparation and more tax dollars.
"We hope that leading by example and giving other students opportunities like we had will put them in a position to go back into their communities and pay it forward," Michael Gorrell said.
Kentucky Can: The 21st Century Campaign is a comprehensive campaign focused on increasing opportunities for student success, funding innovative research, improving health care, strengthening our alumni network, and supporting our athletic programs. For more information about Kentucky Can, visit kentuckycan.uky.edu.