UK Alumnus Plays Big Part in Success of Churchill Downs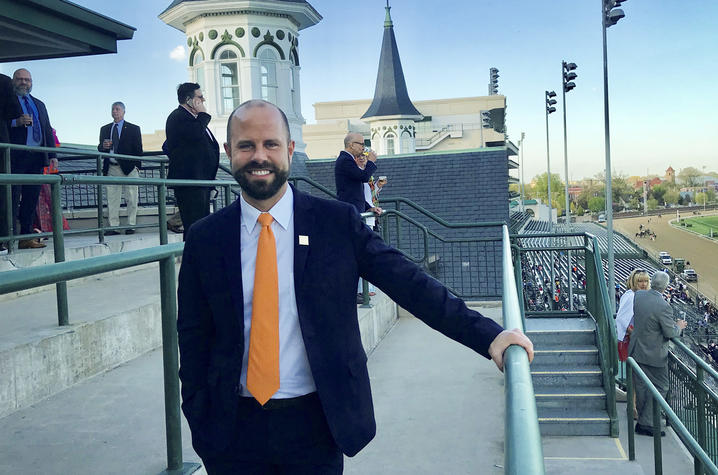 LEXINGTON, Ky. (April 30, 2019) — When the call to the post is played before the 145th running of the Kentucky Derby at Churchill Downs this Saturday, May 4, University of Kentucky alumnus D.C. Storm will look forward to watching the world-famous horse race in person along with more than 150,000 of his "closest friends." And while this 2004 summa cum laude graduate of UK's Gatton College of Business and Economics will enjoy watching the top 3-year-old thoroughbreds vie for the blanket of roses, he also will have the satisfaction of knowing he played a key behind-the-scenes role in helping to make it all happen.
Storm, a native of Elizabethtown, Kentucky, is vice president of financial planning and analysis, as well as head of purchasing for Churchill Downs Incorporated (CDI). The Louisville-based company is best known for "the most exciting two minutes in sports" at the legendary track located alongside Central Avenue. Yet there is a whole lot more to the operation than a vast majority of people probably realize.
"Most casual fans are surprised to learn just how big and diversified Churchill Downs is as a company," Storm said. "Since the first Kentucky Derby in 1875, much has changed. Churchill Downs Incorporated has evolved from one racetrack in Kentucky's largest city to a multistate, publicly traded company with several other racetracks, casinos and the United States' leading online wagering company among its growing portfolio of successful businesses."
Storm listed the elements of the CDI portfolio:
five racetracks;
eight casinos;
the country's leading online wagering business, TwinSpires.com;
a video poker business;
a multistate network of off-track betting (OTB) facilities; and 
a collection of racing-related data, totalizator and telecommunication companies that support CDI's sports and gaming operations.
Churchill Downs Incorporated employs more than 5,000 people and maintains physical operations in 11 states: Kentucky, California, Florida, Georgia, Illinois, Louisiana, Maine, Mississippi, New York, Ohio and Washington.
Storm's responsibilities are varied and wide ranging.
"I'm essentially the financial 'storyteller' of the company, meaning my job is to help executive management and the board of directors determine where we've been, where we are and where we are going financially as a company," Storm said. "I'm in charge of all financial planning and analysis for CDI including the development of our annual operating plan as well as our long-term strategic plan."
Storm added, "It's a great role in that I get to see and work with the entirety of the company. In addition, I lead the purchasing function for CDI. So anything the company buys goes through my team."
Prior to joining Churchill Downs Incorporated in October 2016, Storm served in important corporate financial positions at General Electric, NBC Universal, Comcast Corporation, and Legends Hospitality LLC in New York City. His most recent role was as chief financial officer of Legends, which is a joint venture between the Steinbrenner family who owns the New York Yankees and the Jones family who owns the Dallas Cowboys.
Storm, who lived in New York City for almost nine years and traveled globally before that said, "UK alumni are everywhere. It's a testament to the university and how it prepares its students to take on the world."
Now that he's back in Kentucky, Storm said he has many more opportunities to connect with fellow members of the Big Blue Nation.
A double major in accounting, which Storm calls the "language" of business, and finance, which he refers to as the "instruction manual" of how to use the "tools" you learn in accounting, kept him busy and motivated during his years at the Gatton College. He earned several outstanding student awards in Gatton, while compiling a perfect 4.0 GPA.
"I very much enjoyed the 'real world' applications a lot of my professors brought to the classroom," he said. "To this day, I still come across things or situations that I recall discussing in my classes. I can't tell you how many times I've said to myself, 'I remember talking about this in XYZ professor's class … I know what to do here.' I'm so thankful for that, because it's that training that gave me such a leg up when I started my career."
Storm also participated in the Student Government Association at UK and was active in the Student Development Council. He also volunteered regularly at Shriners Hospital for Children and the local Ronald McDonald House.
Storm's full name is Donald Clyde Storm II, like his father, Donald Clyde Storm. To avoid confusion within their household, his parents began to call him "D.C.," and all of their extended family and friends followed suit.
When asked what the atmosphere is like around the Churchill Downs facility in Louisville in the days leading up to the Run for the Roses, Storm did not hesitate.
"Chaotic yet exciting," he said. "The Derby is our biggest event of the year and one as a company we're all extremely proud of. It's thrilling to be a part of it, particularly as a native Kentuckian who grew up watching and going to the Derby. It's surreal to be involved on the other side and see how much work goes into it."