UK Athletics Announces Sustainability Efforts, Football Training Facility LEED Certification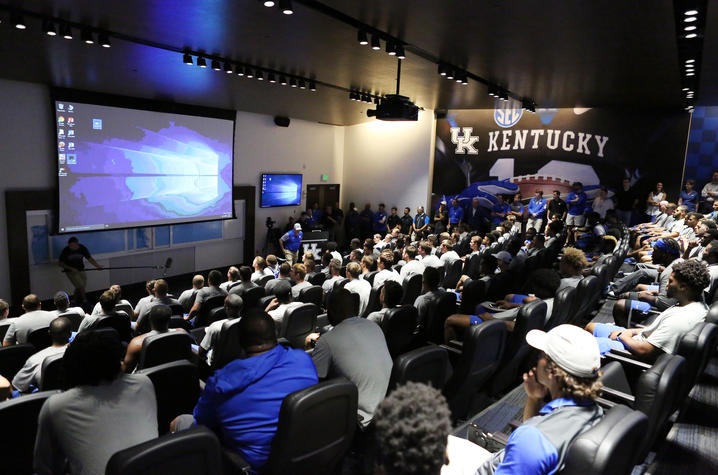 LEXINGTON, Ky. (May 22, 2019) — The Joe Craft Football Training Facility, the nerve center of the Kentucky football program, has been awarded LEED Silver certification for its environmental performance and sustainable design.  
The LEED (Leadership in Energy and Environmental Design) rating system, developed by the U.S. Green Building Council (USGBC), is the foremost program for buildings, homes and communities that are designed, constructed, maintained and operated for improved environmental and human health performance. The Joe Craft Football Training Facility joins Kroger Field as LEED-certified UK Athletics facilities, as the stadium earned the prestigious designation in October 2017. UK Athletics is also in the process of obtaining LEED certification for Kentucky Proud Park. 
"As we seek to build and maintain facilities that give our teams what they need to succeed, we have made a commitment to doing so sustainably and responsibly," Athletics Director Mitch Barnhart said. "It is a great source of pride for us that two of our newest facilities have earned LEED certification, and we are grateful to our partners in building both the Joe Craft Football Training Facility and Kroger Field for making it possible." 
In conjunction with the news of LEED certification, UK Athletics also announced its participation in campuswide sustainability efforts in the following areas: 
materials management;
buildings and grounds;
energy;
food and dining; and
transportation.
More information can be found at https://UKathletics.com/sustainability. 
The Joe Craft Football Training Facility opened in 2016 after 19 months of construction. UK worked with RossTarrant Architects, Congleton-Hacker and HNTB to design a facility that would place everything the Wildcats would need to practice, train, eat, recover and study under one state-of-the-art roof. 
The $45 million facility covers 100,000 square feet and is located adjacent to both Kroger Field and Nutter Field House, placing the three areas where nearly all team activities will take place within mere walking distance. Moreover, the training facility's exterior and interior appearance matches that of Kroger Field and its recently completed $126 million renovation, giving the two buildings both a modern look and a uniquely Bluegrass State feel with touches like Kentucky limestone, reclaimed barn wood and illuminated outlines of the state. 
The facility features a massive weight room, team locker room, meetings rooms, coaching offices, training table, Gatorade Fuel Bar, learning and tutoring center, and two practice fields. Interactive screens, displays featuring the history of Kentucky football and a statue honoring the four men who broke the color barrier in Southeastern Conference football give character to the facility, but its environmentally sustainable design is what earned LEED certification. 
"The Joe Craft Football Training Facility is one of the top facilities in the SEC," said Greg Hosfield of RossTarrant Architects. "Earning LEED Silver for a building that is earning such widespread attention is an outstanding testament to the university's longstanding commitment to sustainable design." 
The Football Training Center earned LEED Silver certification for implementing a wide variety of strategies and solutions aimed at achieving high performance. As a result, it consumes 40 percent less water and 21 percent less energy than other buildings of its type. The water it saves alone is enough to fill 18 residential swimming pools every single year. Its HVAC system even monitors carbon monoxide levels and automatically introduces additional fresh air when needed to keep athletes healthier and more alert. Lighting, thermostats and other amenities have been carefully designed to give occupants full control of their environment for optimal comfort. The building has been carefully designed for optimum siting, shade and views for enhanced performance. 
"Achieving LEED certification is more than implementing sustainable practices. It represents a commitment to making the world a better place and influencing others to do better," said Mahesh Ramanujam, president and CEO, USGBC. "Given the extraordinary importance of climate protection and the central role of the building industry in that effort, the University of Kentucky demonstrates their leadership through their LEED certification of the Joe Craft Football Training Facility."
On all of the UK campus, 24 projects are either already LEED certified or seeking certification, and that represents about 15 percent of the total building stock.