UK Athletics Reaches 3.0 GPA for 10th Straight Semester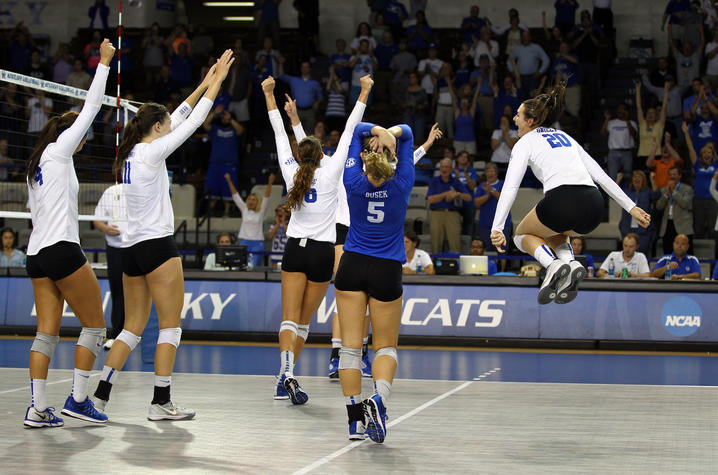 LEXINGTON, Ky. (May 12, 2017) – For five consecutive years now, UK Athletics has achieved its goal of a 3.0 department-wide grade-point average.
This time, Wildcat scholarship athletics combined for a 3.178 GPA during the recently concluded spring semester, which is the 10th straight with a GPA above 3.0. UK Athletics posted a 3.143 GPA during the fall semester and has reached a GPA of at least 3.14 in each of the last four semesters.
"Our students have worked incredibly hard to reach this sustained level of achievement in the classroom," Athletics Director Mitch Barnhart said. "They have recognized the opportunity to pursue a world-class education at this university and embraced our commitment to education as a central component of our mission."
Eighteen of UK's 20 teams reached Barnhart's goal of a 3.0 GPA and five had GPAs of better than 3.5. The women's cross country team led the way with a sterling GPA of 3.652 and was closely followed by women's golf (3.568) and women's swimming and diving (3.548). The men's golf team led all men's teams with a GPA of 3.538, while the coed rifle team had a GPA of 3.512.
Moreover, 13 of the 14 UK teams competing in the championship portions of their schedules during the spring semester had GPAs of 3.0 or better. In competition, UK currently ranks No. 7 nationally and first in the Southeastern Conference in the latest Directors' Cup standings.
"I want to thank our CATS (Center for Academic and Tutorial Services) counselors and tutors, coaches, and staff for their tireless work in providing the support given to our students," Barnhart said. "They continue to raise the bar for our students and our students respond."
The hard work of UK student-athletes was also rewarded at May Commencement ceremonies, as 75 Wildcats received bachelor's degrees from the University of Kentucky. Adding in the 33 Wildcats who received diplomas in December, 108 Wildcats graduated during the 2016-17 academic year.
Along with the strong grades and large number of graduates, the month of May also brought news of every UK team surpassing the cut score in the NCAA's Academic Progress Rate report. Four teams –men's basketball, men's golf, softball and volleyball – had perfect 1,000 scores and were recognized with national awards for being in the top 10 percent of their respective sports.
Team GPA's Spring 2017
 Sport
Competing Scholarship
Competing Scholarship and Non-Scholarship
Baseball
3.258
3.228
Men's Basketball
2.615
2.728
Women's Basketball
3.376
3.431
Football
2.568
2.680
Men's Golf
3.538
3.538
Women's Golf
3.568
3.568
Gymnastics
3.459
3.473
Rifle
3.512
3.512
Men's Soccer
3.230
3.242
Women's Soccer
3.390
3.400
Softball
3.415
3.425
Men's Swimming and Diving
3.277
3.253
Women's Swimming and Diving
3.548
3.514
Men's Tennis
3.076
3.076
Women's Tennis
3.485
3.485
Men's Track
3.096
3.090
Women's Track
3.239
3.227
Men's Cross Country
3.333
3.320
Women's Cross Country
3.652
3.703
Volleyball
3.444
3.493
Men's Sports
3.005
3.033
Women's Sports
3.434
3.443
Overall
3.178
3.193