UK Calls on Alumni, Parents, Big Blue Nation to Show That 'Possibilities are Priceless' on #GivingTuesday, Nov. 28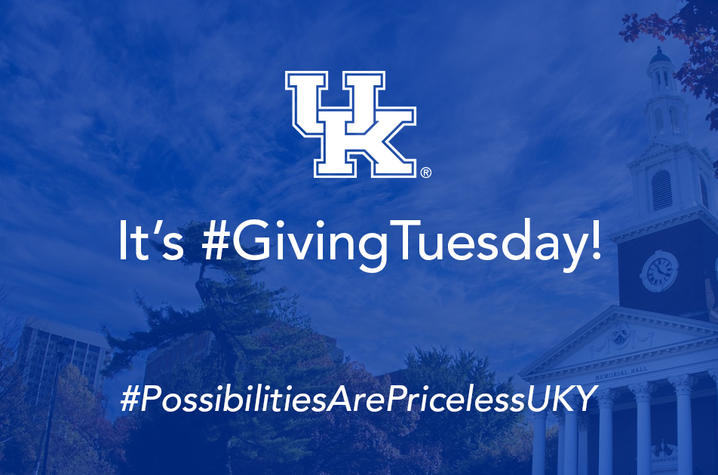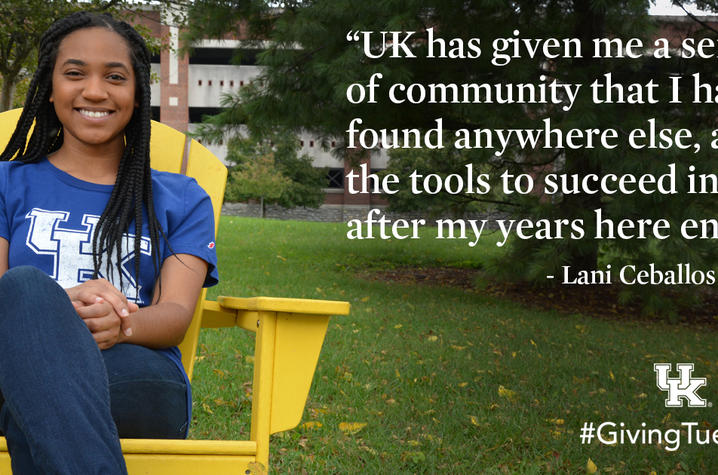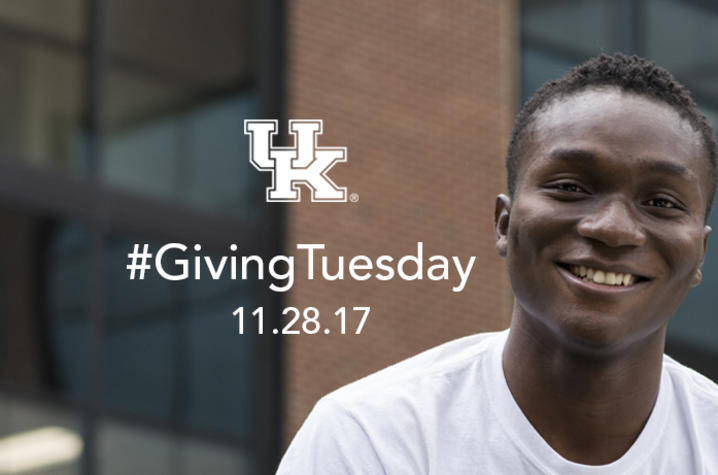 LEXINGTON, Ky. (Nov. 20, 2017) – Twenty-five thousand dollars in 24 hours. That's the goal set for the University of Kentucky's #GivingTuesday campaign as alumni, parents, friends, faculty and staff, and all of Big Blue Nation are invited to show their philanthropic and social media support for UK on Tuesday, Nov. 28.
For the third consecutive year, UK is joining universities and nonprofit organizations around the world participating in this international day of philanthropy.
According to Anne Lichtenberg, director of annual giving, UK's 2017 #GivingTuesday campaign encourages supporters to make a gift to colleges or programs that are close to the donors' hearts, including grateful UK HealthCare patients and families, parents of current UK students and UK Athletics fans.
"Our #GivingTuesday theme is 'Possibilities are Priceless.' There are no more loyal supporters than University of Kentucky alumni, parents, friends, faculty and staff, and fans. Their #GivingTuesday gifts will futher advance UK's ability to provide student scholarships and exceptional academic and research offerings."
Celebrated on the Tuesday following Thanksgiving, #GivingTuesday kicks off the "charitable season when many individuals focus on their holiday and year-end giving," she said.
This year's #PossibilitiesArePricelessUKY campaign is made even easier for those wishing to make their online gift through the university's recently launched fundraising platform, Network for Good.
According to Mike Richey, UK vice president for philanthropy, the enhanced online giving service "provides greater ease and convenience for the university's alumni and friends desiring to support college programs and projects that mean most to them, 24 hours-a-day, seven days a week." 
Lichtenberg said: "Social media has become a significant way for UK to reach out to our alumni, parents and friends. We encourage everyone who participates in this year's #GivingTuesday campaign post on their social media platforms by using the hashtags #GivingTuesday or #PossibilitiesArePricelessUKY. We want all of UK and its supporters to promote this as a day of celebration when the Big Blue community unites to give back to UK."
UK alumni, staff and faculty, parents and friends wishing to participate are asked to make their secure online gifts at https://uky.networkforgood.com.
#GivingTuesday was launched six years ago in response to the increased commercialization of Black Friday (the day after Thanksgiving) and the subsequent Cyber Monday, which have become the busiest shopping days of the year.