UK Celebrates Civil Rights, Journalism Pioneer Alice Allison Dunnigan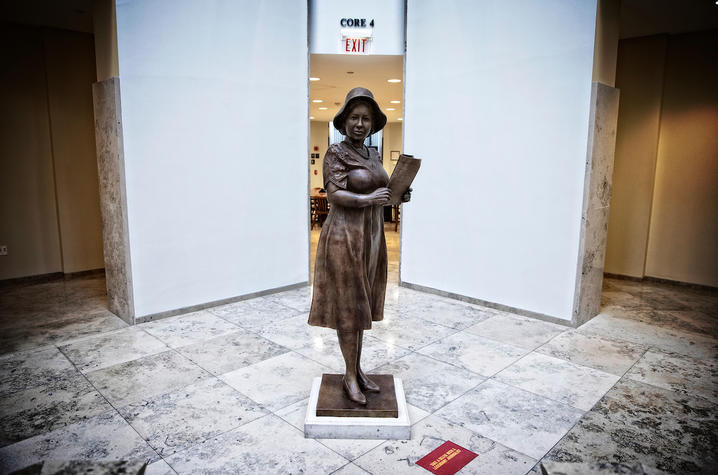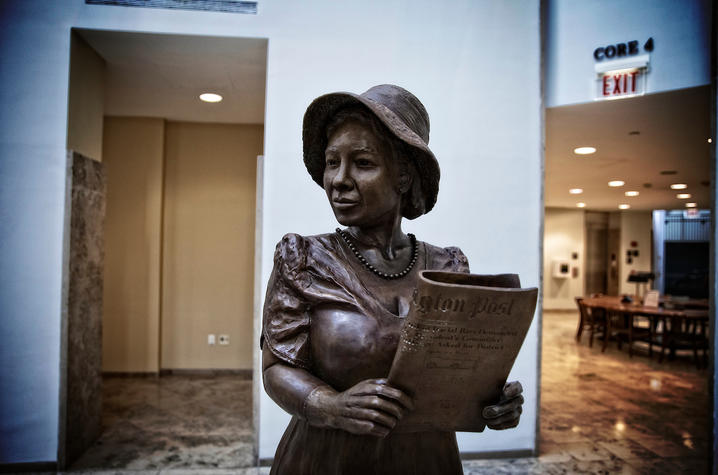 UPDATE:  The Alice Dunnigan Celebration Lecture originally planned for 6 p.m. Monday, Feb. 4, has been canceled. Instead a meet-and-greet will be held with the family of Dunnigan at 2 p.m. Monday, Feb. 4, at William T. Young Library. On hand for the program will be Dunnigan's niece, Katie Allison; great-nieces Penny Allison Lockhart and Angela Alice Stephens and their spouses and sons; and artist Amanda Matthews.
LEXINGTON, Ky. (Jan. 30, 2019) — A pioneer in civil rights has just arrived on campus, immortalized in the form of a six-foot bronze statue in the William T. Young Library. Alice Allison Dunnigan, a journalist from rural Western Kentucky, was a trailblazer who broke barriers for people of color in Washington, D.C., despite facing poverty, segregation and sexism.  
Born in 1906 to a Kentucky sharecropper, Dunnigan was raised in a strict household with parents that emphasized the importance of hard work. She began attending school once a week at age 4 and learned to read before entering the first grade. By age 13, she began writing for the Owensboro Enterprise, a first job that would cultivate a lifelong passion for journalism and reporting. 
As she struggled to win her place in the White House press corps, Dunnigan would often face unequal treatment and delayed pay, forcing her to raid restaurant garbage cans just to find a meal some days. 
Her unwavering dedication to her cause paid off though. On Jan. 1, 1947, Dunnigan became the head of the Associated Negro Press Washington Bureau where she spent the next 14 years writing stories that would be printed in over 100 African-American newspapers across the country. The year also saw Dunnigan become the first black female member of the U.S. Senate and House of Representatives press galleries. In 1948, she became a White House correspondent, making her the first African-American woman to hold a press pass to the nation's highest political forum.  
Dunnigan eventually left her seat in the press galleries in 1960 to join Lyndon B. Johnson's campaign for the Democratic nomination. Though John F. Kennedy won the nomination, Dunnigan was asked to continue working with the White House as the education consultant on the President's Committee on Equal Employment Opportunity. She went on to work for the U.S. Department of Labor as well as the President's Council of Youth Opportunity. 
After leaving the White House, Dunnigan returned to writing. She received more than 50 journalism awards throughout her life. Following her death in 1983, she was posthumously inducted into the Black Journalist Hall of Fame. 
The statue of Dunnigan, based on a photograph of the reporter on the steps of the U.S. Capitol, was created by Kentucky artist Amanda Matthews and debuted at the Newseum in Washington last September. Temporarily on display at UK, the statue will eventually return to Russellville, Kentucky, and be installed on the grounds of the West Kentucky African American Heritage Center.
UK is the University for Kentucky. At UK, we are educating more students, treating more patients with complex illnesses and conducting more research and service than at any time in our 150-year history. To read more about the UK story and how you can support continued investment in your university and the Commonwealth, go to: uky.edu/uk4ky. #uk4ky #seeblue