UK Celebrates Veterans Day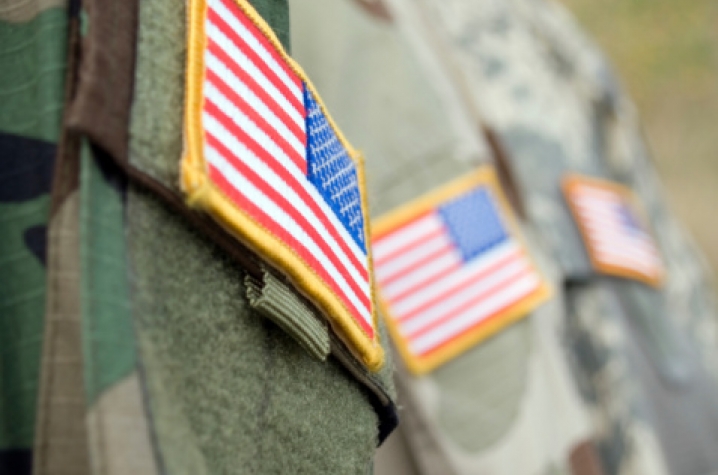 LEXINGTON, Ky. (Nov. 10, 2010) − The University of Kentucky will honor those who have served our country with a Veterans Day Observance outside the Main Building from noon-3 p.m. Thursday, Nov. 11. All UK veterans, including faculty, staff and students, will be provided a free lunch and recognized with a lapel pin. Speakers will include Tony Dotson, director of UK's Veterans Resource Center, and Ryan DeCoster, president of the UK Military Veterans of America student organization. Prize drawings for UK veterans will also highlight the event.
"Our veterans want to feel that their service was honorable, necessary and appreciated," Dotson said. "This observance by UK sends the right message to veterans and non-veterans alike."
Also in honor of Veterans Day, the UK Department of Theatre will present a play called "Bringing it Home: Voices of Student Veterans," at the Buell Armory at 8 p.m. Thursday, Nov. 11 and Friday, Nov. 12. The event is sponsored by the UK Veterans Resource Center, the Department of Theatre, and the Louie B. Nunn Center for Oral History. The play is free and open to the public, but seating is limited. Reservations are required by emailing ukbihtix@gmail.com.
UK's student veterans should also be aware of a Veterans Day community observance at Tates Creek Christian Church from 5:30-9:30 p.m. on Nov. 11, sponsored by the Bluegrass Military Affairs Coalition. Dinner will be served from 5:30-6:45 p.m. and is free for veterans with proof of military service, $5 for non-veteran adults and $3 for children. Five hundred meals will be served, and those interested must call (859) 971-8737. No tickets will be sold at the door. The church is located at 3150 Tates Creek Road.
A program will follow at 7 p.m. with Kevin Christopher of WLEX-TV serving as emcee. The program includes a Presentation of the Colors; the national anthem performed by the combined choirs of Tates Creek Christian Church, Centenary United Methodist Church and Immanuel Baptist Church; and a presentation and remarks by LCDR John RUDD CHC, USN entitled "Experiences with the 3/24 USMC - the last Marines to leave Iraq with the USMC flag."
Many businesses offer discounts, free meals and admission to events for veterans in honor of Veterans Day. A link to those opportunities, as well as full information about resources for UK student veterans, is available at the Veterans Resource Center webpage at www.uky.edu/Veterans.