UK College of Agriculture, Food and Environment Celebrates Renovation of Historic Home, Formation of James B. Beam Institute for Kentucky Spirits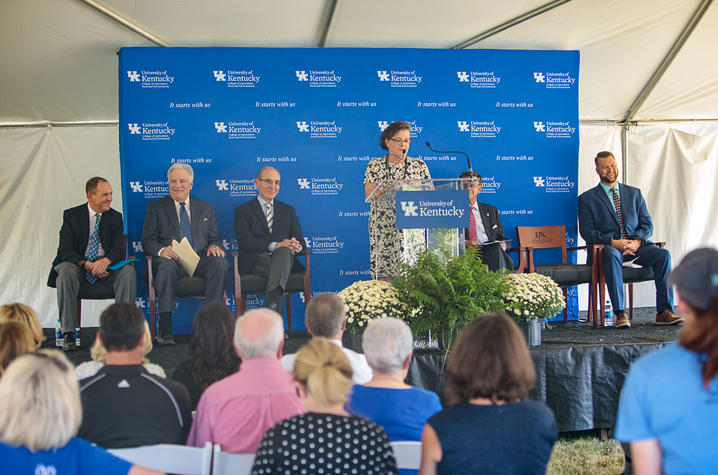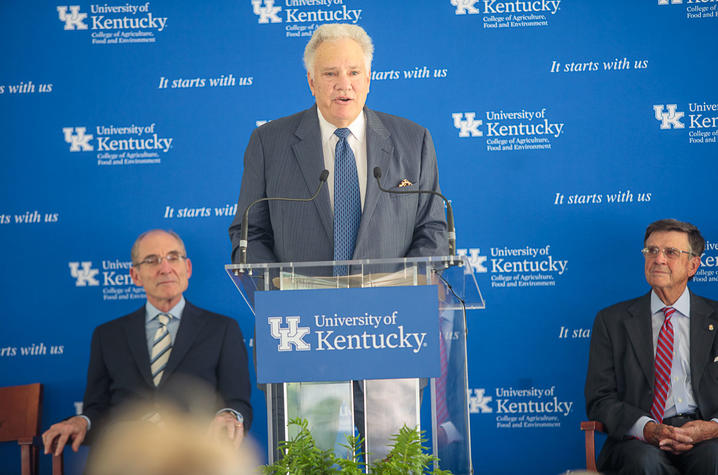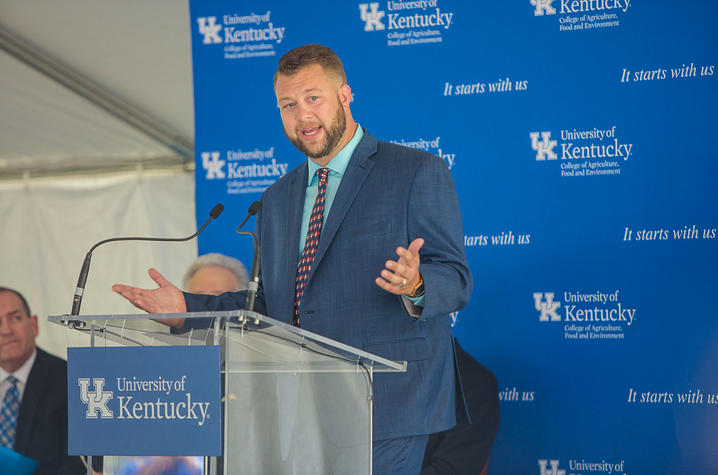 LEXINGTON, Ky. (Sept. 13, 2019) — University officials gathered beside the historic Cooper House on Friday afternoon to celebrate its rebirth as the new front door for the College of Agriculture, Food and Environment and to recognize the establishment of the previously announced James B. Beam Institute for Kentucky Spirits, which will lay the educational foundation for the future of the Kentucky bourbon industry.
Construction of the facility for the institute will occur pending UK Board of Trustees approval.
"These two projects are very exciting, as it is our vision for the area along Nicholasville Road and Cooper Drive, where these two facilities will be located, to be a gathering place for our students, faculty, staff and friends," said Nancy Cox, dean of the College of Agriculture, Food and Environment.
The Cooper House, named for longtime agricultural dean Thomas Poe Cooper, was constructed around 1865 and owned by the university for about a century. Cooper moved into the home in 1918 and lived there throughout his 33-year tenure as dean. Currently, the house is vacant. The renovation and restoration project will include reception areas to welcome prospective students, faculty, staff, visitors and industry partners and offices for the college's philanthropy and alumni staff. Work is tentatively expected to begin in early 2020.
Tom Hammond, UK alumnus, noted sportscaster and grandson of Thomas Poe Cooper, lived at Cooper House with his mother Catherine, Cooper's daughter, while Tom's father was away in the Army during the mid- to late-1940s. At the time, the home was surrounded by UK's research farm.
"It was a magical place to grow up. It was like growing up at Disney World, for a young kid to grow up on that farm. I'm very excited to see the home that holds so many wonderful memories for me, coming back to life and again playing an important role for the college and university," said Hammond.
Behind the Cooper House will be the future home of the James B. Beam Institute for Kentucky Spirits. The UK Board of Trustees earlier this year accepted a $5 million gift from Beam Suntory, parent company of the James B. Beam Distilling Co., to establish the Beam Institute. The Beam Institute will educate the next generation of distillers through a curriculum that develops the skills needed to succeed in the distilled spirits industry at the undergraduate, graduate and professional levels.
"At the University of Kentucky, we are asking ourselves what's possible—for our institution and for those we serve," said UK President Eli Capilouto.  "And, increasingly, we find that achieving what's possible is done in partnership with those who share our vision, values and commitment to Kentucky's future. We look forward to our continued partnership with Jim Beam, as we envision, together, ways to prepare our workforce and support economic development in the Commonwealth."
The facility will include a state-of-the-art classroom, conference room and quality laboratory as well as a world-class research-teaching still.
"So much of the spirits industry is taught from generation to generation, as I learned from my dad and grandfather. We are excited to partner with the University of Kentucky to document those generational learnings and take them to the next level," said eighth generation Beam distiller Freddie Noe.
UK and Jim Beam are dedicated to responsible consumption and together will develop and expand successful alcohol awareness programs statewide, including programming already funded by Jim Beam parent, Beam Suntory.          
The cost of the Cooper House renovation is estimated at $4 million, while the Beam Institute building is also estimated to cost $4 million. The projects also include a green parking lot and miscellaneous equipment, bringing the cost of the two projects to an estimated $9.5 million.