UK College of Education Hosts Educators from China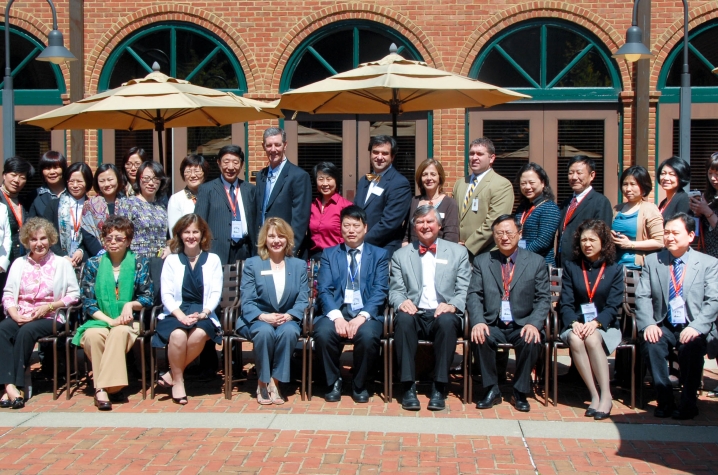 LEXINGTON, Ky. (May 15, 2013) — The University of Kentucky College of Education and UK Confucius Institute recently helped host visiting educators from China to learn more about private and innovative public schools in the U.S. Specifically, they wanted to know how the schools are organized, governed and led as well as gain an understanding of how curricula are developed, how expectations for students are set, and the key role parents play in the education of their children.
A delegation of 21 distinguished principals from private schools in Shanghai, China, faculty from East China Normal University and representatives from the Shanghai Commission of Education visited private and public schools in Lexington. The delegation observed classrooms, talked with students and teachers, and held in-depth conversations with heads of schools, administrators and members of boards of trustees at The Lexington School, Sayre School, Christ the King School, Lexington Catholic and Tates Creek Middle School.
Faculty in the Department of Educational Leadership Studies at the UK College of Education collaborated with private, parochial and innovative public school colleagues in conducting the week-long International Seminar on Private and Innovative Schools that focused on:
private and parochial school education in the USA
school leadership and governance in private schools
curriculum development in private schools
student expectations in private schools
choice reform in American education
international baccalaureate programs
Faculty member Lars Bjork has facilitated collaborations with East China Normal University for more than a decade. In 2012 he was appointed as an adjunct professor in the National Training Center for Secondary School Principals Ministry of Education, based at East China Normal University. 
"Lexington's private, parochial and innovative schools should be congratulated for making the Chinese delegation's visit a success," Bjork said. "School visits and an open exchange of ideas lay an important foundation for future collaboration with Shanghai private schools and with support from UK's Confucius Institute may lead to an expansion of Chinese language programs in Lexington schools."