UK, community partners bring untold Kentucky history to public's fingertips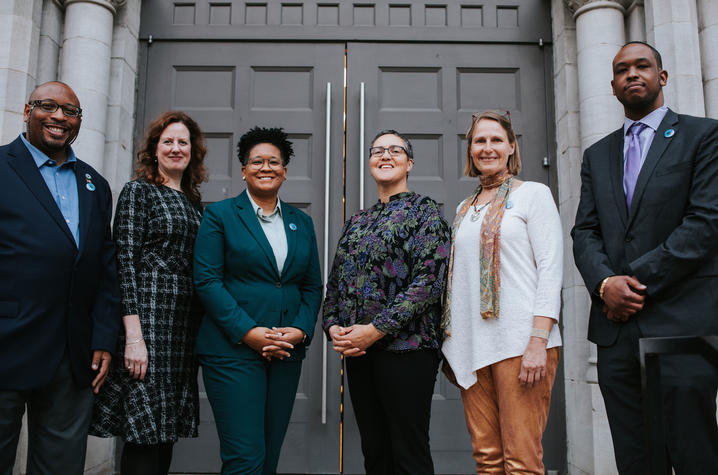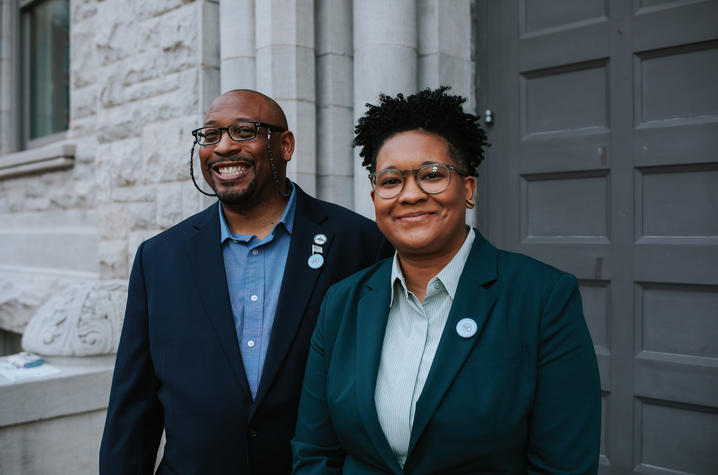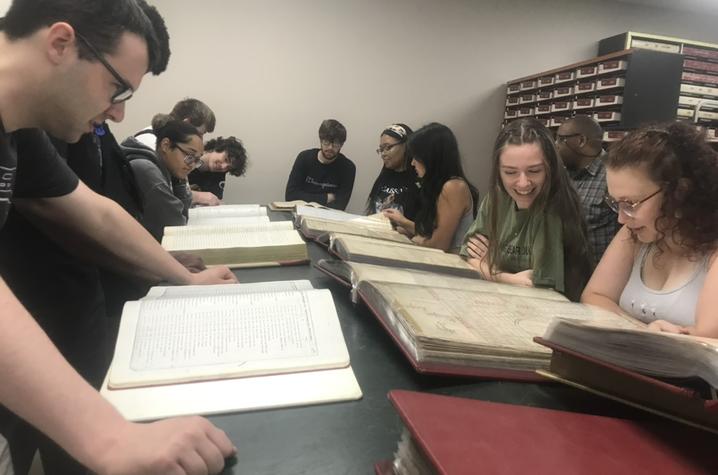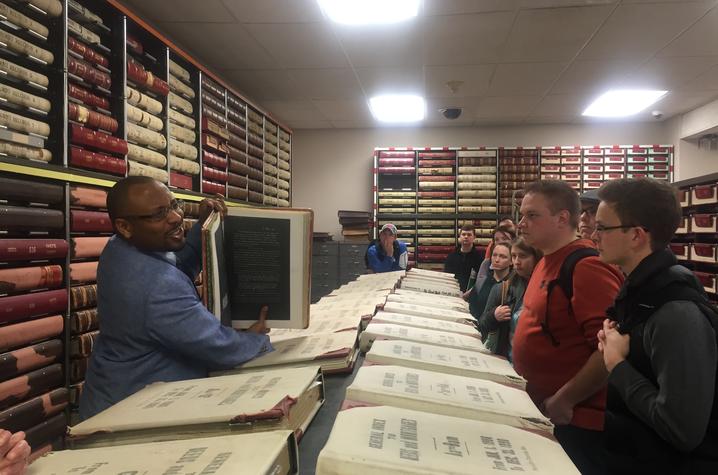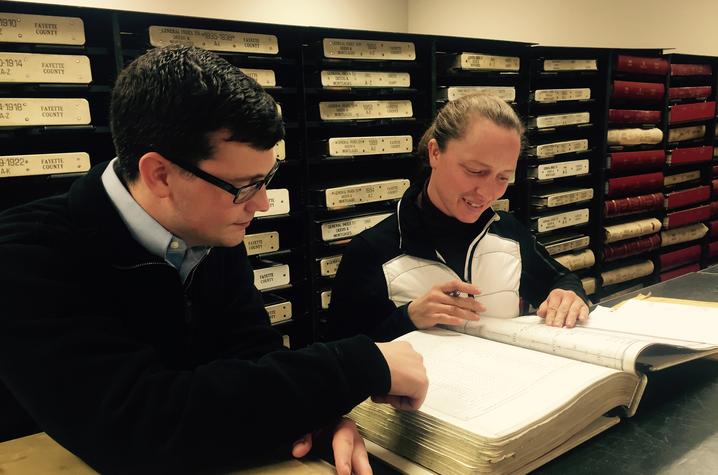 LEXINGTON, Ky. (Nov. 15, 2023) — More than 77,000 physical pages of Fayette County's historical records, spanning from the late 1700s through 1865, are now digitized and publicly accessible online, thanks to a major, first-of-its-kind project led by University of Kentucky scholars, students and community partners. The project aims to help families and researchers piece together information and previously unknown stories about enslaved people who lived in Central Kentucky.
First announced in June 2022, the Digital Access Project (DAP) celebrated the completion of this first major phase at a special event last night in downtown Lexington. Project partners and supporters include the Fayette County Clerk; faculty and students affiliated with UK's Commonwealth Institute for Black Studies (CIBS)' Central Kentucky Slavery Initiative; the Lexington Black Prosperity Initiative; and Blue Grass Community Foundation and its Knight Foundation Donor Advised Charitable Fund.
"When I first started the Central Kentucky Slavery Initiative in the summer of 2021, one of my goals was to develop a project that included the local community and served the Commonwealth — DAP has blossomed into that project," said Vanessa Holden, associate professor of history and African American and Africana studies at UK and director of the Central Kentucky Slavery Initiative. "Together with students, colleagues, community members, local officials and public servants we've provided better access to these important historical documents. I am so proud of phase one and I cannot wait to begin work on phase two."
Downtown Lexington was the site of one of the biggest slave markets in the Southeastern United States. Thousands of transactions recorded in Fayette County contain names of the enslaved population prior to emancipation and the official end of slavery on Dec. 6, 1865. In the late 1890s, newspapers across the country contained "information wanted" ads placed by formerly enslaved people looking for family members who had been sold and separated from them in Lexington. Generations of their descendants have been searching for biographical information to piece together their family histories, but these clues have only been accessible by viewing the handwritten paper records in person at the Fayette County Clerk's office, which are often difficult to read and locate.
Publishing these historical property records online will help answer these questions that still linger for many Black families today.
"This work makes it easier for descendants of enslaved people to locate loved ones in place and time, to reconstruct individual lives, to create family histories," said Chris Leadingham, a recent graduate from the UK Department of History's doctoral program who works on the project. "It is also an important tool for academic researchers writing about slavery and the slave trade. This project sets the standard for other digital access projects like it across the state and the nation."
Bringing these documents online and into a searchable database has taken a significant amount of human power, specialized equipment, historical expertise and funding. The process presents many challenges, including adjusting heavy, oversized books on the scanner; variability in the ink, print or handwriting quality from page to page; torn or deteriorating pages; etc. But thanks to the Digital Access Project, the team has created the best possible transcriptions and digitized images for public viewing, from anywhere in the world.
"The level of digitization challenges, the magnitude of the volume total of pages being digitized, the time period and sensitive information documented in the government records makes the DAP a difficult project to tackle," said Shea Brown, special projects deputy and supervising director of the DAP at the Fayette County Clerk's office. "But knowing the reason for having the records available online — and its positive educational impact on our communities — is a project worth tackling."
Fayette County is the first county in Kentucky to digitize its historical property records dating back to the late 1700s — and is one of the first in the nation.
"Fayette County is one of the three original Kentucky counties in 1780 that came out of the state of Virginia, and its records date back to the early history of Kentucky's establishment and document early transactions regarding the institution of slavery in Kentucky," Brown said. "It is important for (us) to be a state and national leader in these efforts of making historic property history available to the public digitally because of the wealth of information that can be found within Fayette County records."
"Kentucky is such an important place in the history of the United States, and these documents contain thousands of stories of ordinary Kentuckians, free and enslaved," Holden said. "I'm honored to make these sources more available, particularly because so many Kentuckians migrated to other parts of the country after the American Civil War and through the 20th century."
Accessing the new digital records
One of the next steps for the Digital Access Project is to focus on programming to expand accessibility and generate awareness and understanding for the community.
The team's "how-to" guide to get started is available here, or, the public may visit https://fayettecountyclerk.com/ for more information, including these instructions.
The team is also continuously working to improve users' experiences and invite those who have searched the records to provide feedback at fccprojects@fayettecountyclerk.com.
What's next
In addition to educating the public, the team will also move forward with the digitization process for records after 1865. When it comes to digitizing, Holden says most counties are starting from the late 1980s (just before everything became digitized in the 1990s) and working backwards. The DAP is unique in that it is starting from the beginning of Fayette County and Central Kentucky's history. The Fayette County Clerk's office is simultaneously working backward, and the DAP and clerk's digitization efforts should meet somewhere in the early 20th century.
"This (next phase) is going to provide us with invaluable information about newly freed people's businesses and lives here, and important information about the Reconstruction Era in Kentucky," Holden said.
The team also plans to expand the project to surrounding counties in Central Kentucky, providing the same service for a region where slavery has such deep historical ties.
"Slavery permeated so much of the economic structure that often even documents that don't include a single enslaved person still have implications for businesses," Holden said. "So we're taking a really holistic approach. We want to serve the county, and more broadly serve the Commonwealth, through this project. And to do that, you've got to do all of it."
An intergenerational effort
Holden says one of her favorite parts of the project is seeing people from all generations come together to help tell Kentucky's full history. 
"This has blended together a team of students and community members, some of whom are retirees, that is a really lovely sort of intergenerational exchange," she said. "For example, our retirees can read cursive — and our students are much more comfortable using a scanner to scan these documents. Folks who may have never met each other are working together on this project they're passionate about."
At UK, the DAP is part of the Central Kentucky Slavery Initiative, directed by Holden, which seeks to explore and better understand slavery and enslaved people in the Bluegrass region. Holden says the DAP is one of the initiative's most collaborative projects, involving students, faculty and staff across UK's campus (including UK Libraries, the J. David Rosenberg College of Law and the College of Arts and Sciences' Department of History), as well as community volunteers.
Another student involved with the project is Abigail Stephens, a Ph.D. candidate in the UK Department of History. While working on the DAP at the Fayette County Clerk office, she witnessed firsthand both the extensive interest and need for this information, and the struggles people often experience in trying to access it.
"One day a woman came in to look at property records for her great-great-great grandfather who had owned property in Fayette County soon after he was emancipated from slavery," Stephens said. "She came all the way from Indiana to find these records, and Shea was able to help her navigate them with the kindness and grace he displays to everyone. I only got to talk with her briefly, but meeting her brought home to me how crucial this project is to people whose family records have been obscured and scattered by slavery and its aftermath."
In addition to the records being inconvenient to access, the team also notes that generations of Black Americans were barred from accessing records like this in the past or told they simply didn't exist.
"I have learned through my own genealogical research how easy it is for me as a white person to find my family history though simple searches on the internet," Stephens said. "Digitizing these deed books will be a boon for historians and researchers of all kinds, but I believe it will be most impactful for people who will now be able to find ancestors whose names they might never have known. I'm so proud of the work we've accomplished, and I hope having these records online will help people from Kentucky and across the country find histories that would previously have been out of reach."
The Digital Access Project was made possible through Blue Grass Community Foundation, the Lexington Black Prosperity Initiative and the Knight Foundation Donor Advised Charitable Fund at BGCF.
"Blue Grass Community Foundation, the Lexington Black Prosperity Initiative and our Knight Foundation Donor Advised Charitable Fund are honored to fund the groundbreaking work of the Digital Access Project," said Lisa Adkins, Blue Grass Community Foundation president/CEO. "BGCF is committed to building more generous, vibrant, equitable and engaged communities and this philanthropic investment is central to our mission. We're excited about the project reaching this milestone and look forward to the next phase of work." 
This work is extensive and ongoing and volunteers and additional funding will be critical as the project advances. You can learn more about the Digital Access Project here, or donate to support it at http://bgcf.givingfuel.com/DAP.
To learn more about volunteer opportunities, contact Shea Brown at fccprojects@fayettecountyclerk.com.
As the state's flagship, land-grant institution, the University of Kentucky exists to advance the Commonwealth. We do that by preparing the next generation of leaders — placing students at the heart of everything we do — and transforming the lives of Kentuckians through education, research and creative work, service and health care. We pride ourselves on being a catalyst for breakthroughs and a force for healing, a place where ingenuity unfolds. It's all made possible by our people — visionaries, disruptors and pioneers — who make up 200 academic programs, a $476.5 million research and development enterprise and a world-class medical center, all on one campus.   
In 2022, UK was ranked by Forbes as one of the "Best Employers for New Grads" and named a "Diversity Champion" by INSIGHT into Diversity, a testament to our commitment to advance Kentucky and create a community of belonging for everyone. While our mission looks different in many ways than it did in 1865, the vision of service to our Commonwealth and the world remains the same. We are the University for Kentucky.