UK expands student mental health, crisis support, well-being services through new support hub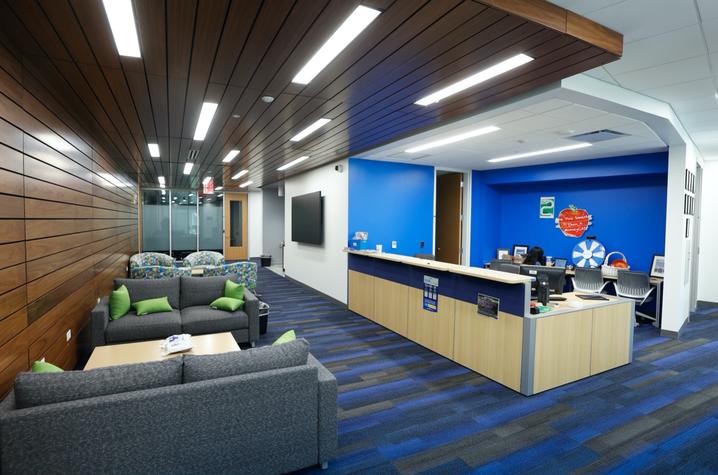 LEXINGTON, Ky. (Sept. 13, 2022) — At the University of Kentucky, we understand that ensuring the success of our students means being there for the whole student. 
It is important to provide an outstanding academic experience and opportunities for professional development, as well as address mental health and well-being concerns. It is also important to respond quickly and consistently when students are impacted by crises.
With those commitments in mind, UK is announcing a key expansion designed to increase mental health support and well-being services for students. 
The COVID-19 pandemic has disrupted and impacted our daily lives. This is apparent on our campus in the increased numbers of students seeking assistance from existing mental health resources. For example, from 2019-20, UK Counseling Center appointments were up by more than 17%. Local and national surveys also indicate students expressed growing levels of anxiety, depression and thoughts about suicide, in addition to asking for more support — from basic needs to stress and time management.   
"Perhaps one of the lights that has shone through the COVID cloud is that it has created greater awareness and understanding of the importance and acceptance of seeking help when you need it," UK President Eli Capilouto said. "Asking for help is a sign of strength, not weakness. And it is an important acknowledgment — we are all part of a compassionate community that cares deeply about everyone." 
From academic coaching and tutoring to food assistance and financial wellness — UK is committing the resources to do what we can, and what we must, for our community. 
This expansion includes the creation of a new support hub housed under Student Well-Being in the Office for Student Success. 
The work of countless faculty, staff, students and administrators has been essential in laying the basis for the moves UK is making to assist students — undergraduate, graduate and professional.
"Responding to student needs and building on the recommendations of multiple campus task forces, Student Success is investing significant new resources to maximize the responsiveness and ease of access for our mental health and well-being supports," said J. Kirsten Turner, vice president for Student Success.
TRACS 
The TRACS (Triage, Referral, Assistance and Crisis Support) hub is a physical and virtual one-stop shop where students can come for a quick referral to support services or receive direct clinical support for a range of mental health needs, basic needs and crises.
The process is simple: if you are a student with a mental health or wellness question, or a staff/faculty member assisting a student, you can show up in-person (third floor, east wing of the Gatton Student Center), call 859-21TRACS (859-218-7227) or fill out this form for assistance.
This will allow students to connect with a team member — removing barriers to entry and aligning all mental health and well-being services across campus. 
Here's more details on how it works: 
The TRACS Hub is primarily located in the new student support space on the third floor of the east wing in the Gatton Student Center. It is staffed with new positions — experts in case management and with clinical backgrounds — who can quickly assess a student's needs and make the appropriate referral.
TRACS reports to Corrine Williams, acting associate vice president for student well-being, who oversees the broad range of student services UK offers as part of the Office for Student Success. 
Services are offered in-person and virtually — with expanded hours (8 a.m.- 5 p.m.) to assure quick access. 
"We know, there is a growing number of students who need mental health therapy, while others who come to us are seeking support for basic needs, help with time management skills or tools that can assist them with stress reduction," Williams said. "While we have professionals doing remarkable, tireless and often unsung work across our campus to support students, there is more we can do with additional investment and a more strategic approach. In creating a hub such as this, we are helping get students to the direct support they need — quickly and seamlessly." 
Student Well-Being already includes longstanding units (Campus Recreation, the Counseling Center, Disability Resource Center, Financial Wellness and the Violence Intervention and Prevention Center) that continue to meet important student health and wellness needs.  
But often, knowing where to turn can be daunting. That's why UK is committed to streamlining the process.
Again, there is no question too big or too small. Students can show up in-person (third floor, east wing of the Gatton Student Center), call 859-21TRACS (859-218-7227) or fill out this form to be connected to a caring team member who is ready to listen and willing to help.
Faculty and staff are also encouraged to use the resources above if they are aware of a student with mental health and well-being needs.
For more information on how you can access resources, visit the Student Success website.
At the University of Kentucky, students are at the center of all that we do. From the moment you become a Wildcat through graduation and beyond, the Office for Student Success is committed to supporting you. Comprised of five areas and 25 units, together, they have one vision — to help students live a life of meaning. Student Success works through an equitable, holistic and inclusive lens to design and deliver unparalleled services and support a diverse community of learners in achieving their wildest ambitions. In the Office for Student Success this is what we do — this is who we are. You can explore resources available to you here. If you have additional questions, you can reach a Student Success team member by calling the helpline 859-218-YouK (9685).