UK Library Faculty Member Leaves a Legacy of Service and Support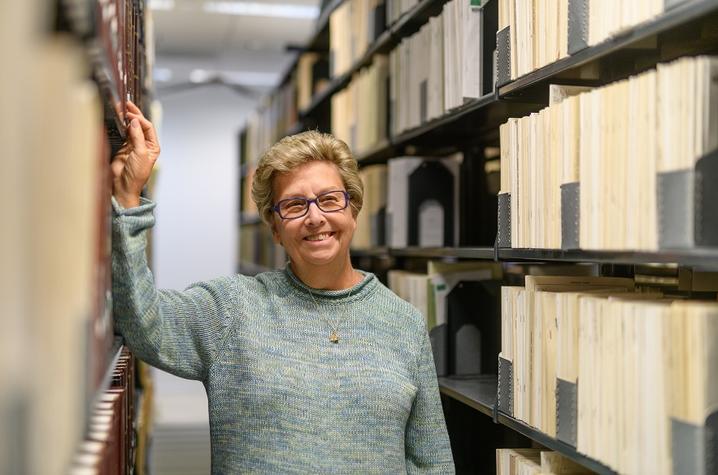 LEXINGTON, Ky. (Aug. 1, 2019) — Sandra McAninch has worked in a library nearly her entire life. She recently retired from the University of Kentucky after nearly 36 years of service, and although McAninch is now enjoying retirement with her husband, the legacy she leaves behind at UK and beyond will be felt for generations to come.  
McAninch created the Sandra McAninch Endowment Fund in Government Information to support the government information collection and services at UK.
As the former regional depository librarian and head of the Federal Depository Unit within the UK Libraries, McAninch wanted to ensure her work continued. After winning the UK Paul A. Willis Outstanding Faculty Award and the national American Library Association's James Bennett Childs Award, she put aside her award money and began contributing to it each year. Over time, the fund grew to a sizable amount, and she used it to create her endowment.
"This collection has always had to advocate for resources and support, so I'm hoping my endowment will give them some additional funds to work with down the road," she said. "It's important for all of us to support something we care about, especially if we've invested a lot of our own efforts in developing a service or other activity.
"By giving to the library, donors are supporting the entire campus," McAninch said. "There is not a unit on campus that has not been affected by the work we do in the libraries."
McAninch's love of libraries goes as far back as childhood when she volunteered for various jobs in her elementary school library. She says she has always loved organizing and problem solving, two skills she used throughout her career. Her interest continued as a humanities major at Florida Southern College, where she worked for four years in the library and became interested in all aspects of librarianship.
When she came to UK in 1983, she moved cautiously into the burgeoning digital age. With the advent of the personal computer, technology snowballed and McAninch delved right in over the next three decades, becoming an expert in her craft and developing innovative tools for research in UK's government publications collection.
For the first 15 years, she managed a large department of faculty and staff, students and graduate assistants for the Government Publications and Maps Department in Margaret I. King Library. She says people typically use federal government publications for research, such as historical, scientific, or current events, for finding out how to obtain services from federal government agencies, for proving a person's status in the armed services at any given point in time, for providing documentation on how a particular task was to be performed in cases where someone in federal employment was injured, for example.
"We did everything that involved government publications: reference work, library instruction, circulation, shelving, receiving and processing new material, etc. This work was done for all types of government publications: federal, state, local, Canadian, European Union, and the United Nations. Once we moved to Young, there were major reorganizations, so my unit became a smaller technical services and collection management unit in several departments over the next 20 years. The smaller unit is focused only on federal publications."
Throughout her career, McAninch had a lot of contact with students, doing reference work and conducting library instruction sessions until they became solely a technical service unit in the William T. Young Library. She taught the Government Publications course in the library school from 1985-1994 and coordinated the statewide Federal Depository services and represented the Commonwealth at the national Federal Depository Library Conferences.
"Sandee's outstanding leadership and her immense contributions will continue to impact the field of government information, UK Libraries' collections and all of us for years to come," said Mary Beth Thomson, senior associate dean for Collections, Digital Scholarship, and Technical Services. "Through her generosity, Sandee is continuing to support our efforts to provide ongoing access to government information."
While her endowment honors her life's work, it also pays homage to her parents. She says her spirit of giving probably comes from her upbringing in a Methodist minister's family where they were all expected to do volunteer work and help others whenever they had the chance. Her mother inspired her most.
"She raised a large family, worked in the church and was a registered nurse," McAninch said. "I saw her do kind things, meaningful things, on a daily basis, so I grew up feeling we should all have a commitment to help others."
Her endowment will serve as a safety net for the Government Periodicals Index, a commercial indexing service for articles in journals published by federal government agencies. Endowment funds can be used in the future to ensure that the subscription continues.
"As a member of our faculty, Sandee has contributed incalculably to our mission of making accessible resources for all of UK to use," said Daniel King, UK Libraries philanthropy director. "As a donor, her gift will continue beyond her career ensuring future generations have access to important government information."
To support the UK Libraries, contact Daniel King at daniel.shane.king@uky.edu. To support McAninch's fund, visit https://uky.networkforgood.com/causes/14857-sandra-mcaninch-endowment-fund-in-government-information. For more information about UK Libraries, visit http://libraries.uky.edu.
Kentucky Can: The 21st Century Campaign is a comprehensive campaign focused on increasing opportunities for student success, funding innovative research, improving health care, strengthening our alumni network, and supporting our athletic programs. For more information about Kentucky Can, visit kentuckycan.uky.edu.