UK Makes a Confucius Connection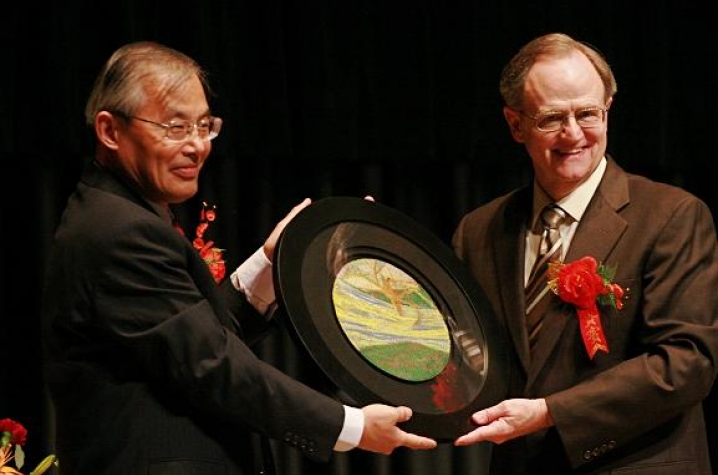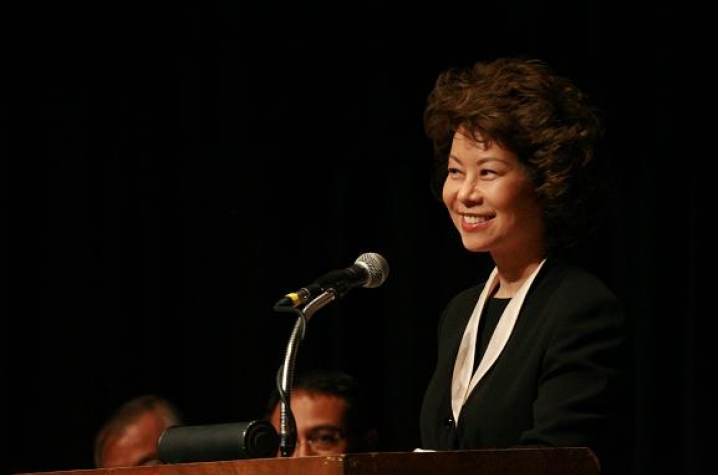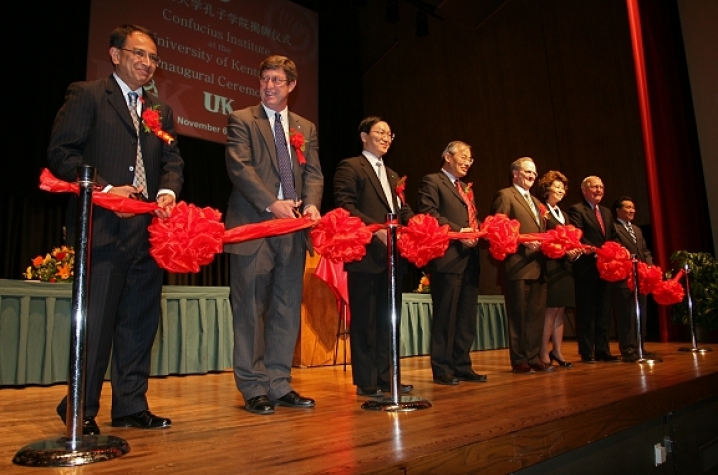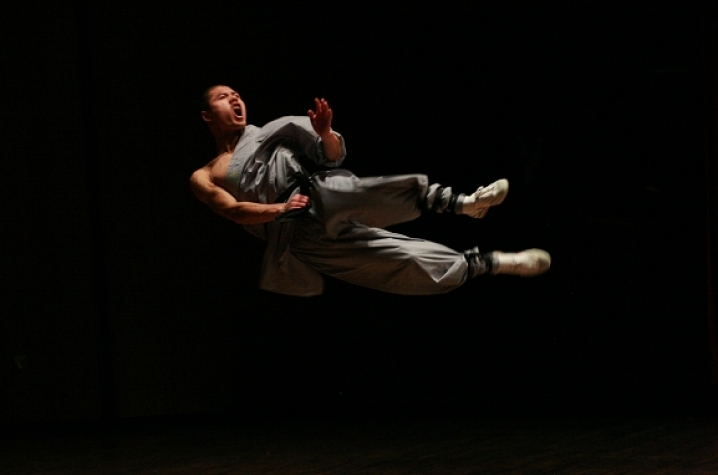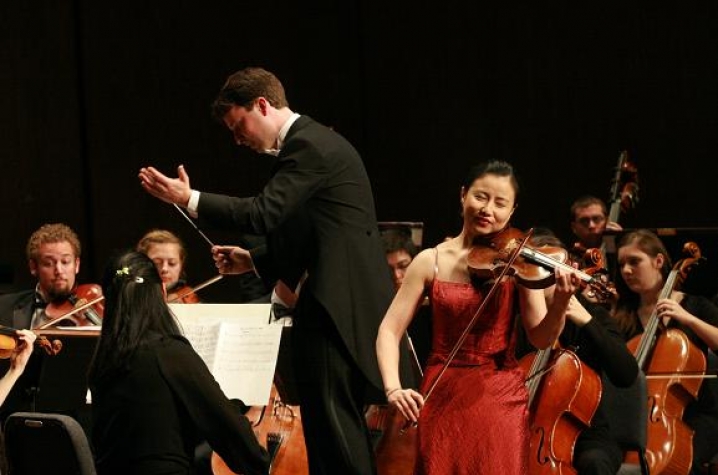 LEXINGTON, Ky. (Nov. 8, 2010) — The University of Kentucky joined universities from around the United States and the world to host a Confucius Institute on Nov. 6.

The distinction, initially granted to the University by the Office of Chinese Language Council International (colloquially known as the Hanban) in March, will provide Central Kentuckians, as well as UK students, faculty and staff the opportunity for a greater understanding of China through community classes, teacher preparation courses and events and services for the public.
"The Confucius Institute's purpose is to help U.S. students and communities become more knowledgeable about the history and culture of China," said Susan Carvalho, associate provost for international programs. "The array of visiting artists and lecturers who will come to Kentucky through this initiative will help us learn, and gain a greater appreciation for, that rich heritage."
The UK Confucius Institute and its accompanying partnership with Shanghai University (SU) will provide leadership, support and coordination for Chinese language and programs in K-12 schools as well as on the UK campus; assist in establishing and maintaining faculty and student exchange between the UK College of Fine Arts and SU's College of Fine Arts; conduct activities related to Chinese language and cultural exchange; and promote formal and informal education about China on campus, around Kentucky and throughout the region.
UK began its quest for Confucius in June 2009, when a contingent of UK faculty, with the support of UK's Asia Center, traveled to China in search of a partner university for a Confucius Institute.
Zixue Tai, a professor in the College of Communications and Information Studies, was the first link between SU and UK. Zixue, who taught and studied in Shanghai for eight years, had colleagues in the city and knew the university system in China well.
"To do a Confucius Institute well, you have to find a comparable institution, someone that matches our needs well," he said. Of the contenders for a Confucius Institute partnership, Tai knew of SU's strength in the fine arts. "Shanghai University has one of the top three fine arts colleges in China," he said. "The UK delegation was very impressed with everything they showed us and their vision at SU."
Both universities agreed to the partnership. UK submitted a proposal to the Hanban in September 2009 and was approved in March. 
"The relationship we're forming with China at UK is a great opportunity for our campus and the community," said Huajing Maske, director of the Confucius Institute at UK. "I look forward to strengthening the presence of Chinese language, arts and culture at UK's campus and beyond. Together we will succeed in bridging East and West through the power of education and culture."
A New Generation of Educating and Learning

As part of the Confucius Institute's goal to enhance the presence of Chinese language and cultural learning into the community and the Commonwealth, the UK College of Education will play a key role in the process. Particularly, the college's Kentucky P20 Innovation Lab: A Partnership for Next Generation Learning will help in educating the campus and community, but also train teachers, professors and K-12 administrators from around the Commonwealth and beyond.
"The College of Education could not be more excited to see the establishment of a Confucius Institute at UK," said Mary John O'Hair, dean of the College of Education. "When our college's students graduate and help shape the lives of Kentucky students, they will do so with a broadened view of the world and understanding of how our cultures interact. We look forward to continuing our work with the institute to not only ensure that more Chinese teachers will work in Kentucky's schools, but to also engage the institute with the P20 Innovation Lab. I hope the exchange between China and Kentucky provides a model for global exchange of educational practices between our two countries and beyond."
The P20 Lab, which launched earlier this year, has embarked on a powerful, broad-based effort of transforming Kentucky public education and addressing the heightened need to prepare Kentucky students for their future in higher learning.  Under the leadership of O'Hair, the college has been partnering with Kentucky schools, businesses, community leaders, higher education, industry and government to transform classrooms to engage students at an early age and better prepare them for college and careers that match their skills and interests.
The college's partnership with the Confucius Institute has already provided four elementary school Chinese teachers and one high school teacher to Woodford County schools. Additionally, 12 teachers from Fayette County will be visiting Beijing this month for a special training in Chinese language and culture.
A First in Fine Arts

As the university embarks on their new union with SU, the schools have chosen to expand on the usual language and cultural partnerships of Confucius Institutes to create the first institute that lists the fine arts as part of its core mission. 
The new relationship brings together two acclaimed university arts programs. "Our Confucius Institute partner, Shanghai University, is one of the elite Chinese universities," said Dean Michael Tick, of the UK College of Fine Arts. "Their fine arts college is the only professional art college of higher education in Shanghai that covers multiple disciplines: art design, traditional Chinese painting, oil painting, sculpture, art history and architectural design. With more than 200 courses that also include subjects like graphic design, environmental design, industrial design, advertising and printmaking, our collaborative endeavor can't help but yield rich opportunities for UK artists and scholars." 
Through the Confucius Institute at UK, faculty and students of the university's College of Fine Arts will participate in valuable exchanges with their counterparts in China. The college is already benefitting from two such exchanges, hosting a calligrapher and the noted violinistSha in weeklong campus residencies. During each artist's stay, students and faculty will be treated to master classes in various art mediums.
In addition to the exchanges, Shanghai University and UK anticipate presenting art and academic symposiums, as well as exhibitions that go far beyond their borders. The hope is both schools will be able to develop exhibitions of work by Kentucky and Chinese artists that not only visit the two schools, but travel to each of the 300 Confucius Institutes around the world. 
"I take great pride in welcoming the Confucius Institute to UK," added Tick. "This remarkable collaboration will provide extraordinary educational opportunities for our students, faculty and staff, as well as the surrounding community. Such an important initiative marks yet another major step forward in the university's commitment to multiculturalism and the globalization of our campus. "
Chinese culture abroad and in Kentucky

Educating UK's campus and the Central Kentucky community is a major goal of the Confucius Institute at UK.
Classes on topics such as cooking, Chinese business etiquette, language and culture will be offered starting in January at the Central Bank building downtown. UK students, faculty, staff and their children and spouses may take classes free. Others may take classes for a small fee.
Classes are a way for Central Kentucky residents and UK students, faculty and staff to get a taste of China and for UK students to see if they want to go further into Chinese studies at UK.
The UK Confucius Institute will also help UK students and faculty to study in China and at SU, through scholarships for those with the interest to travel and learn.
"The creation of a Confucius Institute at the University of Kentucky is milestone for the internationalization of our university," said Mark Kornbluh, dean of the College of Arts and Sciences. "Our students have grown up in a world that is interconnected as never before and the education that we offer them needs to be global."
The College of Arts and Sciences will be partnering with the Confucius Institute on a year-long engagement with China in 2011-12. "China and Kentucky: Different Lands, Common Ground" will bring a wide range of intellectual and cultural activities to Lexington. Students will have the option to take a unique course on global engagement with China and earn a special certificate from Arts and Sciences in international understanding of China.
"In a myriad of ways, China will have increasing economic, political and cultural influence on the 21st century," Kornbluh said. "Understanding and interacting with China is particularly important."
The Future of the UK Confucius Institute

"I expect that the Confucius Institute will become a kind of gateway for much of the China-related activity that happens in central Kentucky, as well as in other communities that would like to be involved across the state," said Carvalho. "When business groups want to explore opportunities or learn more about China, they will know that they can get advice from the Confucius Institute."
In addition to next year's global initiative with Arts and Sciences, UK is in the process of establishing a Chinese major, and those students will consult with the Confucius Institute about opportunities for programs in China.
Community members will be able to enroll in online instruction through the Confucius Institute, and area teachers will be able to exchange ideas, innovative programming and visitors among themselves. 
"As we think about UK's global presence, China is an increasingly important focus. It is a country of immense size, economic power and potential, at the same time that it is undergoing rapid and significant changes," said Carvalho. "Students in majors from business to the arts are looking for ways to become China-literate. The Confucius Institute offers us a bridge to understanding both the country and its people. I see the Institute as a network that can connect and enhance China-related business, language, education and cultural activities across the state."

For more information on the UK Confucius Institute, please contact Maske at (859) 257-4607 or huajing.maske@uky.edu.