UK MANRRS Three-peats With National Honors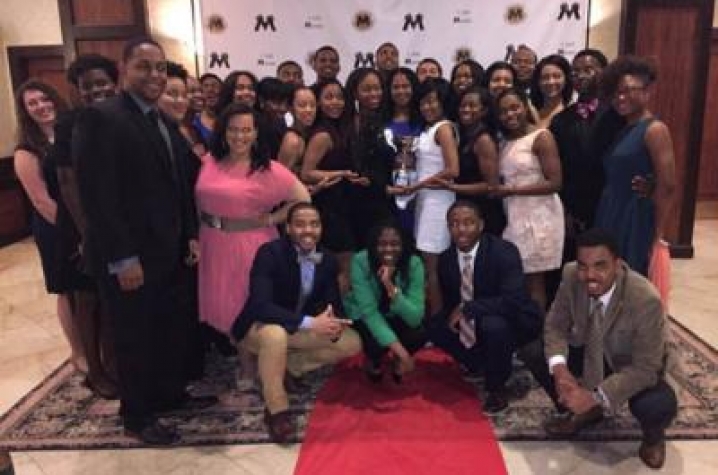 LEXINGTON, Ky. (April 8 2015) — The University of Kentucky MANRRS chapter has pulled off a three-peat as National Chapter of the Year at the recent 30th annual conference for Minorities in Agriculture, Natural Resources and Related Sciences. The chapter, housed in the UK College of Agriculture, Food and Environment, also brought home honors for students and Kentucky 4-H agents.
Last year was the first time in their history that the chapter received back-to-back recognitions as National Chapter of the Year. This year's honor added icing to the cake, said Quentin Tyler, UKAg assistant dean and director of the college's Office of Diversity. The chapter also won the Region III Chapter of the Year for the fifth straight year.
"This shows the continuity we have in place and the strong foundation we have to support our students," Tyler said. "The conference theme was 'Branching Out and Excelling to Greater Heights.' Our students represent that theme well. They are prepared, they're motivated, and they have the family structure here in the college to succeed."
Tyler and co-adviser Natasha Saunders took 27 students to Houston, Texas, for the conference. The students' written report and oral presentation to the national gathering described the chapter's membership, leadership development, community service and activities, and contained ideas for promoting the national society. They were among 75 chapters from 38 states who competed for the title.
In addition to the overall chapter recognition, UK MANRRS brought home a number of individual honors. They include:
Kierra Crawford, a junior dietetics major, took second place in the National MANRRS Public Speaking Contest.
Alexandria Burns, a junior merchandising, apparel and textiles major, took third place in the National MANRRS Written Essay Contest.
Tyler assumed the office of National MANRRS president.
Kelly Moore, a senior majoring in community and leadership development, was elected National MANRRS undergraduate student president.
Marcus Bernard, who is working on his doctorate in rural sociology, was named National MANRRS parliamentarian.
Ashley Holt, a doctoral student in education leadership and a 4-H youth development agent in Jefferson County, was elected to the office of Region III graduate vice president.
Marcus Tyler Jr., a freshman in agricultural economics, was elected Region III undergraduate vice president.
Antomia Farrell, 4-H youth development agent from Christian County, acted as the National Jr. MANRRS co-chair, organizing the Jr. MANRRS portion of the conference. Jr. MANRRS is a pre-collegiate outreach program geared toward promoting future career pathways and educational opportunities in the MANRRS fields of study.
Whitney McKoy, 4-H youth development agent in Franklin County received the National Jr. MANRRS Special Recognition Award for her years of service and leadership.
Jr. MANRRS students Fabian Leon, Montreale Jones and Diana Croney also came home with honors. Leon, from Woodford County, was awarded the only national John Deere Scholarship for a high school student. Jones and Croney, both from Christian County, took second place and third place respectively in the public speaking contest.
"These honors directly reflect the College of Agriculture, Food and Environment's commitment to our students," Tyler said. "Our administration, faculty, staff, 4-H agents and groups such as the UKAg and HES Alumni Association and Farm Credit Mid-America are vital in helping our students attain their goals."
For more information about UK MANRRS and the UKAg Office of Diversity, visit http://diversity.ca.uky.edu/.
MEDIA CONTACT:  Carol Lea Spence, 859-257-8324.