UK National Champs: Basketball Celebration at Rupp on Tuesday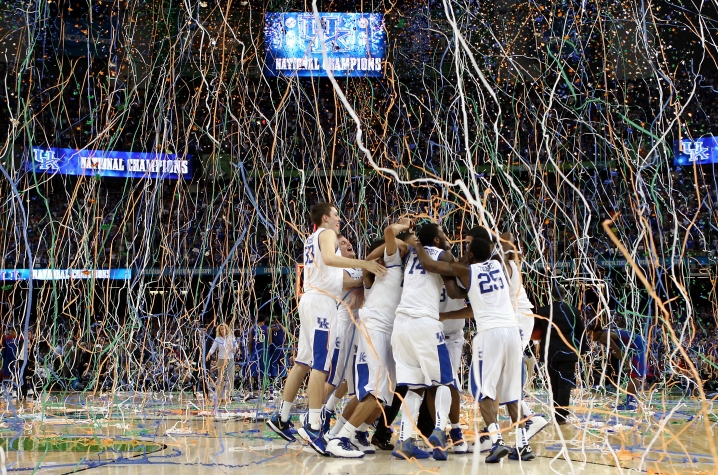 LEXINGTON, Ky. (April 2, 2012) –  The University of Kentucky men's basketball team won its eighth national championship with a 67-59 victory over Kansas.  Read more. 
The team will have a public celebration of the 2011-12 season Tuesday at 3:30 p.m. at Rupp Arena, immediately following the Wildcats' return from New Orleans.
Here are the details of the event:
Tickets are free and will be distributed Tuesday beginning at 8 a.m. at the Rupp Arena ticket office.
Fans wishing to acquire tickets may begin lining up at the Rupp ticket office immediately following the game. Security will be on-site to provide directions / assistance as fans arrive.
There is a limit of four tickets per person.
Persons must be at least age 14 to pick up tickets.
Tickets are available only at the Rupp Arena ticket office and CANNOT be ordered online or over the telephone.
UK students with ID may request tickets in a special student section while supplies last. Students can receive one ticket in these special sections when student ID is presented at the windows.
Children under the age of 2 do not need a ticket if the child sits on the lap of a parent.
Doors to Rupp Arena will open to the public at 2 p.m.
The event begins at approximately 3:30 p.m.
Paid parking will be available in all lots of Rupp Arena at the usual rate of $12 per car.
For those who will be unable to attend the event at Rupp but would like to cheer the team bus along its way to Rupp, here is the route:
Man-o-War to Versailles Road
Right on Red Mile Road/Virginia Ave
As announced last week, UK classes are being held as usual .  Any absences or requests for excused absences are a matter strictly between the student and his or her professor.
Lexington traffic officers and traffic engineers are preparing for a crowd of 10,000 or more to attend the celebration at Rupp Arena.
The traffic challenge in the early part of the day, said Steve Cummins, Lexington's
traffic signal system manager, will be for a crowd that large to find parking in mid-day in downtown Lexington. Normal parking near Rupp Arena and in the downtown area will probably already be in use, Cummins said. "We don't have the parking available at mid-day that we do when the games are underway at Rupp."
Later, the challenge will be to handle the crowd exiting from Rupp Arena at rush hour.  "We will adjust timing as best we can to make it smoother, but it's going to be a real challenge. The silver lining in this case, however, is that Fayette County Schools are on spring break, which will help us some."
There are a couple of steps fans can take to minimize the impact:
If you are coming downtown for the rally, come early - Lexington Center lots will open at 1 p.m. and there will be about 5,000 available spaces, according to Carl Hall, Lexington Center.
Plan on parking farther away and take a bus or the free trolley to Rupp Arena. Call LexTran at 253-4636 for more information or visit www.lextran.com.
If you are coming from campus, walk or take the trolley or bus.
If you work downtown and aren't going to the rally, leave early or leave late to avoid rush hour traffic.