UK Offers Scholarships to Rogers Graduates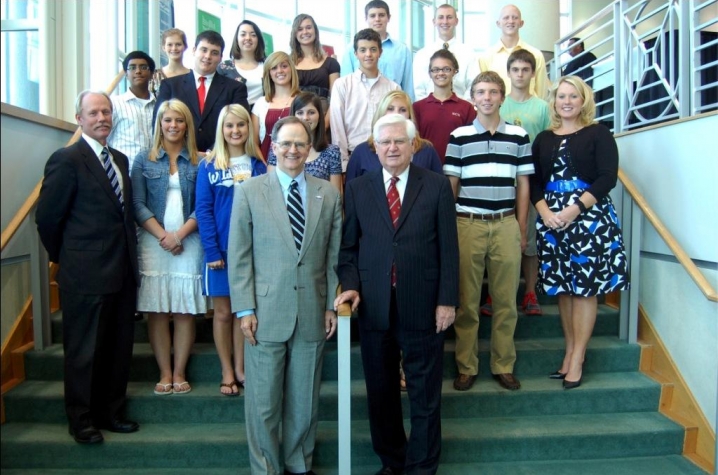 SOMERSET, Ky. (Sept. 20, 2010) -The University of Kentucky is partnering with The Center for Rural Development's Rogers Scholars summer youth leadership program in offering scholarship opportunities to the program's graduates.
UK President Lee T. Todd Jr. joined Lonnie Lawson, president and CEO of The Center, and U.S. Congressman Harold "Hal" Rogers (KY-05) on Friday, Sept. 17, at The Center in Somerset to announce that the university will offer scholarships to rising high school juniors from across southern and eastern Kentucky who become Rogers Scholars graduates.
"We are thrilled to have more Rogers Scholars graduates join the University of Kentucky family," Todd said. "The Rogers Scholars program is an ideal way to teach more Kentucky children how they can make a difference in their communities, and UK is pleased to partner with the program to help our best and brightest stay in Kentucky."
The scholarships will be made available to qualified applicants who graduate from a one-week summer session of Rogers Scholars held on the campus of The Center. During the summer of 2010, a record 73 students graduated from the program, which focuses on building leadership and entrepreneurial skills in participants as the region's next generation of leaders.
Named in honor of Rogers, Rogers Scholars—The Center's flagship youth program—was developed in 1998 as an action step toward meeting Rogers' goal that "no young person should have to leave home to find his or her future."
"These scholarships truly bring the dream of the Rogers Scholars program full circle," said Rogers. "Our students face more challenges and more competition today, so we must remain committed to offering them every possible resource close to home. Thanks to schools like the University of Kentucky, the extra efforts of our region's best and brightest students are being rewarded in a way that will add to their success. A competitive workforce starts with a well-educated generation."
"I applaud President Todd and the University of Kentucky for making a commitment to the youth of Southern and Eastern Kentucky through the Rogers Scholars youth leadership program," said Lonnie Lawson, president and CEO of The Center. "The scholarships awarded by the University of Kentucky will provide a great incentive for the region's youth to continue their education in the place where they call home."
Jessica Melton, who coordinates The Center's Rogers Scholars program, said the commitment from the university represents a significant investment in the future leaders of southern and eastern Kentucky.
"The goal of Rogers Scholars program is to challenge our students to use their skills and talents to make their home communities and this region a better place to live," Melton, associate director of leadership and training, said. "The Center shares Congressman Rogers' vision that we can change this region if we can keep some of the brightest and most talented students in Kentucky."
Rogers Scholars emphasizes technological skills development and fosters an entrepreneurial spirit, leadership, and commitment to rural Kentucky.
The Rogers Scholars program and its objectives work side by side with UK's new President's Scholarship Initiative (PSI). UK unveiled its initiative on February 13 during ESPN GameDay. With the theme, "See Blue. Make a Difference," the fundraising plan is designed to ensure a UK education remains accessible to all Kentuckians.

The Center for Rural Development provides economic and community development programs to residents in a 42-county area of southern and eastern Kentucky and is home to several statewide and national technology-based programs.
For more information on scholarship opportunities available at UK, visit www.uky.edu/AcademicScholarships.