UK Program Engages Appalachian Students in Cancer Research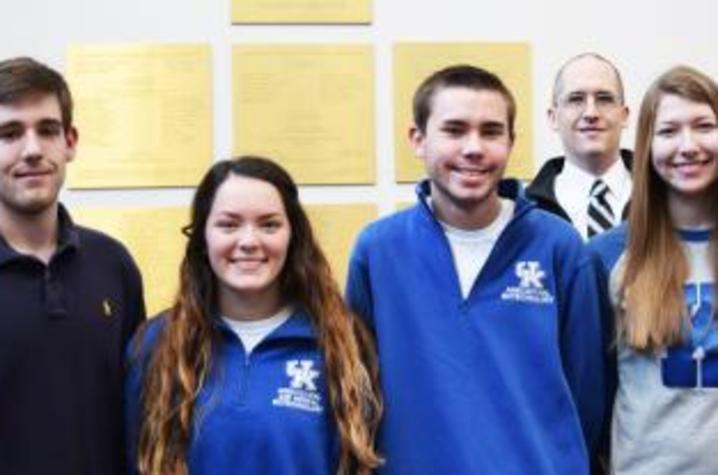 LEXINGTON, Ky., (April 7, 2017) — Kentuckians like to be No. 1 in many things; cancer is not one of them. However, the fact is the state ranks first in the nation in overall cancer incidence and mortality according to the Centers for Disease Control and Prevention. The rates are highest in Eastern Kentucky, so a new University of Kentucky program recruited UK students from Appalachian counties, including four in the agricultural and medical biotechnology degree program, to pursue oncology-related careers through the Career Training in Oncology Program, or CTOP.
The statistics are more than numbers to UK College of Agriculture, Food and Environment (CAFE) sophomore Katie Bernardo. The agricultural and medical biotechnology major lost her grandmother to lung cancer about six years ago. She said she originally wanted to be part of CTOP because of the opportunities it would open up for her as a pre-med student.
"I became very excited to learn about the disparities in my own hometown of Corbin and our Eastern Kentucky region and other areas," Bernardo said. "I'm thankful for the opportunity to serve my region in a way that is unique to someone my age. This program gives me a way to see the needs of my home region in a very honest way."
Through CTOP, Bernardo and her peers are paired with both a research and a clinical faculty mentor. The students must be native to one of the 54 Appalachian Kentucky counties and a current UK freshman, sophomore or junior to be eligible for the program.
Nathan Vanderford, CTOP director and assistant professor in the UK College of Medicine, said students in the program have a unique opportunity to gain valuable research, clinical, outreach and education experiences that will support their pursuit of a cancer-focused career.
"We hope the students will become dedicated to fighting cancer in their future careers," he said. "The program also teaches them to give back to their communities, as it is designed to provide them with opportunities to interact with cancer patients and community members."
CAFE sophomore agricultural and medical biotechnology major Kristin O'Leary is from Metcalfe County. When she was younger, she watched her grandmother struggle through and ultimately survive breast cancer.
"She showed me that cancer does not discriminate, and it made me realize I wanted to be a part of the fight against cancer," O'Leary said. "I have always been interested in understanding how cancer works, and now I know that I want to be a medical researcher in the field of cancer."
Another agricultural and medical biotechnology sophomore participant, Trevor Farmer, is unsure of his exact career path. He does have a keen interest in oncology, and CTOP will help him decide. Farmer, from Pulaski County, said he's fortunate that no one in his immediate family has had to deal with cancer. However, kidney cancer does run in the family, so that's always in the back of his mind.
"I am looking forward to learning what interventions we can implement in the future to combat this growing health concern," he said.
Henry Moore is also from Corbin. A junior in agricultural and medical biotechnology, he wants to be part of the cure for cancer.
"Cancer in general has always been an interest and concern for me, as I have had several family members struggle with it," Moore said. "This program is very hands-on and educational through the resources that it grants us — clinical shadowing, research experience, seminars and professional guidance."
Regardless of their specific interests, all CTOP students are focused on fighting cancer and turning the numbers around for the better in Eastern Kentucky.
CTOP currently has eight students involved. Vanderford hopes that it will continue and even expand in the future, and he is grateful for funding from the National Cancer Institute that has allowed for the creation of the program.
"Many of our students have a personal connection to cancer," Vanderford said. "That drives them to make a difference, get out there in the real world and fight cancer as future doctors, nurses, pharmacists, researchers and more."
A CAFE degree in agricultural and medical biotechnology gives undergraduates a start in their pursuit of careers in health care and life sciences. For more information about pursuing a degree in agricultural and medical biotechnology, visit https://abt.ca.uky.edu. For more information about CTOP, visit https://ukhealthcare.uky.edu/markey/ctop/.