UK's Phi Kappa Phi Chapter Welcomes 50 New Inductees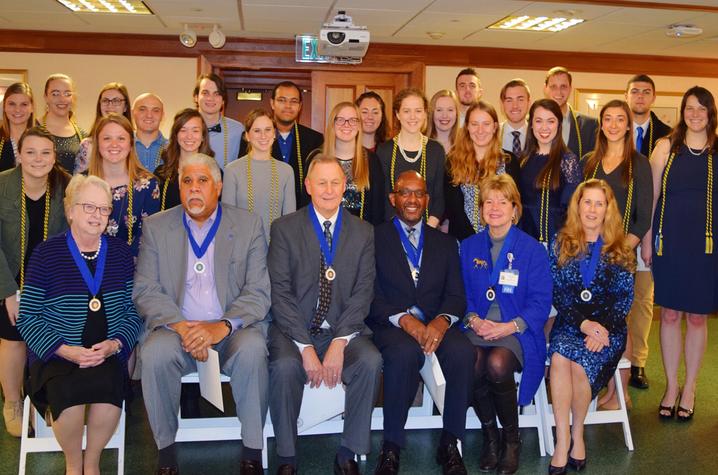 LEXINGTON, Ky. (Dec. 5, 2017) — The University of Kentucky chapter of the honor society of Phi Kappa Phi recently inducted a total of 50 new members in ceremonies at the E.S. Good Barn on campus.
Forty-four students together with six faculty, administrative and community honorees were welcomed into the nation's oldest and most selective all-discipline honor society.
The faculty, administrative and community inductees are:
Mary Chandler Bolin, who is now in her 20th year as the director of the UK Counseling Center: Consultation and Psychological Services and is a board member for the national organization for counseling center directors.
Robert "Bob" Bradley, who has worked 40 years at UK, and is associate athletics director for student services and founding director of UK Athletics' Center for Academic and Tutorial Services (CATS), the first such center of its kind in the nation.
Victor Hazard, now in his 29th year at UK, who is associate vice president for student engagement in UK's Office of Institutional Diversity and former dean of students at UK.
Janie Heath, dean and Warwick Professor of Nursing for the UK College of Nursing, a widely published researcher with 40 years of experience in acute and critical care nursing.
Rev. Nancy Jo Kemper, who is the retired executive director of the Kentucky Council of Churches, where she served for 18 years, and the first female graduate of Yale University Divinity School to be honored with the Peace and Justice Award.
Steve R. Parker, now in his 40th year in education, who is associate dean for undergraduate advising and student success, as well as associate professor of kinesiology and sport leadership at the UK College of Education.
The 44 student inductees represent both undergraduates and graduate students: Grace Anderson, Alma Banks, Manish Bhojwani, Emilia Bustle, Katelyn Cox, Julianna Dantzer, Daniel Dopp, Shane D'Souza, Leovarda Nunez Eminoski, Morgan Etienne, Bailey Fessler, Angelina Grosso, Usman Hamid, Andrew Harris, Rebecca Henry, Colleen Hosmer, Hollyann Huber, Joel Huether, Huner Jelf, Briana Katinic, Honour McDaniel, Ansley McElroy, Matthew Melton, Matthews Mills, Julian Mok, Katherine Myers, Lana Proffitt, Joshua Pulliam, Jennifer Rawe, Kristina Rosen, Kourtnie Ruber, Jared Schmal, Kaelyn Short, Max Shrout, Weilan Song, Kara Tauer, Martha Tillson, Sarah Tytus, Elizabeth Van Curen, Madison Von Deylen, Caroline Will, Elizabeth Wnek, Sarah Wood and Abigail Woolums.
The mission of Phi Kappa Phi (PKP), which was founded in 1897, is "to recognize and promote academic excellence in all fields of higher education and to engage the community of scholars in service to others."
Membership is strictly determined by the standards set forth in the society's bylaws. Juniors must be in the top 7.5 percent of their class, seniors in the top 10 percent of their class, and graduate students in the top 10 percent of their class.
The characteristic of Phi Kappa Phi that makes it unique among the leading honor societies is its policy of electing undergraduate and graduate members from all schools, divisions, or departments of the institution. Faculty, professional staff, alumni and community members who have achieved scholarly distinction also may qualify.
Strong participation by members in campus and national activities has resulted in UK's PKP chapter being named a Chapter of Excellence and Chapter of Merit by the national organization on several occasions.
"The University of Kentucky chapter of the honor society of Phi Kappa Phi continues to distinguish itself," said Pat Whitlow, director of UK's Office of Nationally Competitive Awards and president of PKP on campus.
Phi Kappa Phi's robust award programs give more than $1 million nationally each biennium to qualifying students and members through fellowships, undergraduate study abroad grants, grants for literacy initiatives, and member and chapter awards. To learn more about these programs, visit www.PhiKappPhi.org/Awards.
For more information on the UK Chapter of Phi Kappa Phi, go to www.uky.edu/Chellgren/Phi-Kappa-Phi or visit www.PhiKappaPhi.org. 
UK is the University for Kentucky. At UK, we are educating more students, treating more patients with complex illnesses and conducting more research and service than at any time in our 150-year history. To read more about the UK story and how you can support continued investment in your university and the Commonwealth, go to: uky.edu/uk4ky. #uk4ky #seeblue