UK Seeks to Set GameDay Attendance Record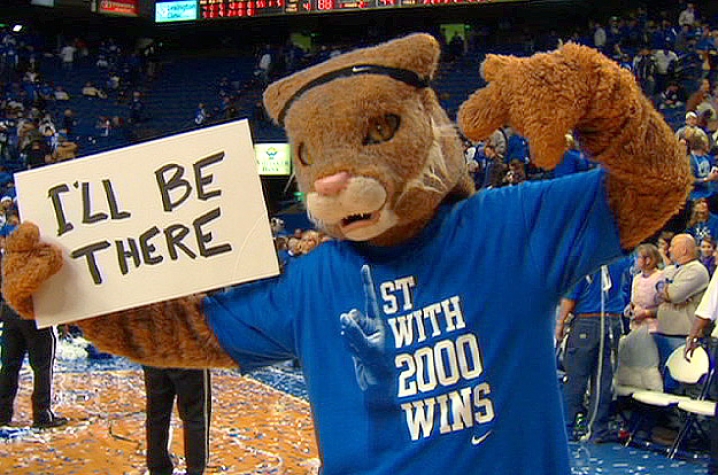 LEXINGTON, Ky. (Jan. 15, 2010) – The University of Kentucky was the first college basketball team to win 2,000 games. Now, UK hopes to be the first to pack its arena for ESPN's College GameDay.
To accomplish that feat, UK needs your help.
"I know our fans are the greatest in the world," said Coach John Calipari. "They have proved that to me from the moment I arrived on campus. But College GameDay provides us a platform to show the rest of the nation what makes University of Kentucky basketball so special. I personally invite all of our fans – from across the Commonwealth and beyond – to join me and members of the Big Blue Nation at Rupp Arena to show everyone that the greatest tradition in college basketball is alive and well in Lexington, Kentucky."
ESPN's hit Saturday morning show is returning to Lexington this year and will be held at Rupp Arena from 11 a.m. until noon Saturday, Feb. 13 – the day of the UK-University of Tennessee men's basketball game, which begins at 9 p.m. that evening.
Following the broadcast, UK is planning a series of special events and activities to celebrate the event.
 - Coach Calipari and UK President Lee Todd will address the crowd;
 - Former UK players will be on hand to take part in basketball competitions, interact with fans, and sign autographs;
 - UK will be handing out a commemorative, limited edition UK2K poster that will only be available to GameDay attendees.
Calipari also will use this opportunity to illustrate how UK Athletics is committed to enhancing the entire university community. He will help the university launch and promote the President's Scholarship Initiative, a major fundraising campaign that is aimed at providing young Kentuckians with the greatest gift – the opportunity to attend the University of Kentucky and learn from UK's world-class faculty. Calipari is a co-chair of the President's Scholarship Initiative.
The first 2,000 UK students with a valid UK ID will receive a ticket to GameDay at the already scheduled student basketball ticket lottery in Memorial Coliseum Jan. 19.
General public GameDay tickets are free of charge (attendees will have to pay the Ticketmaster convenience fee). Tickets will be available starting at 10 a.m. Monday, Jan. 25. There is a limit of eight tickets per transaction.