UK, Toyota Join Forces to 'Lift Up' KCH Patients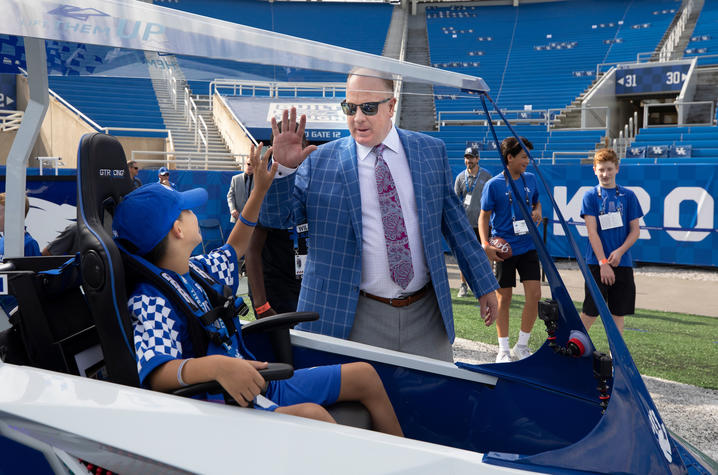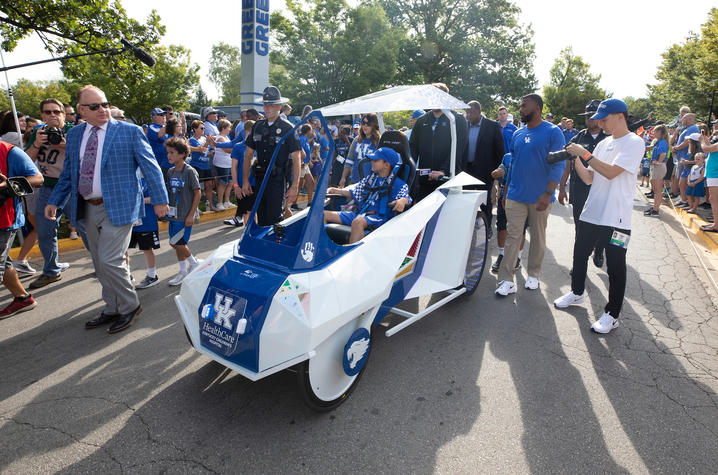 LEXINGTON, Ky. (Sept. 5, 2019) — On any given game day, thousands of University of Kentucky Football fans decked out in blue fill Kroger Field. It's an electric atmosphere that is better felt in-person than through a TV screen. But for some young Wildcat fans, attending a game and cheering on the Cats can be challenging.
Luckily, for patients of the Kentucky Children's Hospital (KCH), engineers are experts at solving complex problems.
"Work has a new meaning when it's for something bigger than money or a company," Luke Fortner said. "When it's for people who really need your help, it's a lot easier to get up every day."
If you're a UK Football fan, you know Fortner as number 79 — the dogged offensive tackle. In 2018, the redshirt sophomore played in 11 of 13 games and became a key member of the Wildcats' dominant offensive line.
But did you know, Fortner was also named to the SEC Academic Honor Roll? As a junior pursuing a degree in mechanical engineering, he is equally as determined off the field as he is on. So, when Fortner was approached to work on an innovative project that intertwined both of his passions, he seized the opportunity.
"Freddie Maggard started to describe how we could help out children in need through both engineering and football — my interest was automatically piqued."
In that moment, a unique partnership was formed.
UK Athletics, UK College of Engineering, UK HealthCare and Toyota Motor Manufacturing of Kentucky (TMMK) came together with a common purpose: to provide an honoree chosen by KCH with a life-changing experience through a mobility project dubbed "Lift Them Up."
"We wanted to utilize our engineering skills and expertise to impact the community in a positive way," Matt Kubarek, the lead engineer on the project and an assistant manager in TMMK's stamping department, explained. "We landed on a unique and exciting opportunity for a child to lead the team into the stadium — who otherwise might not be able to attend the game at all."
Collaboration is Key in the Design Phase
Nelson Akafuah, associate director of the UK Institute of Research for Technology Development, gathered a team of talented students to work hand-in-hand with Toyota to design, manufacture and test a one-of-a-kind pushcart vehicle. The goal was to have a child "drive" the cart and be an integral part of the Cat Walk before every home game.
"I thought, pairing passionate students with the engineers from Toyota would be such an unforgettable experience and would really impact their career," Akafuah said. "Talent, that I never saw in class, started to emerge when they interacted with the engineers. The more we can give students this type of exposure — the better engineers we will produce."
"Lift Them Up" would put the students' mechanical skills to the test.
The challenge was to construct a cart with all the exciting bells and whistles, that would also be safe for a child battling a health condition. The team spent countless hours conducting research to assess the wants and needs of KCH honorees.
"We integrated a suspension as well as a racing seat that contained speakers and a seat belt for more comfort during the ride. We included a roof shaped like a paper airplane for protection from the elements," Austin Adams, a senior in mechanical engineering, explained. "GoPros were also added to give the child a memorable experience. We are also looking to make modifications for wheelchair accessibility and to integrate 360 cameras to include even more children in the Cat Walk in the future."
The design also relies heavily on themes that are prominent throughout KCH. Current patients were asked to contribute by submitting drawings that could be added to the vehicle's ever-changing paint scheme.
To implement these features, the team leaned on the expertise of Toyota engineers. "Taking advantage of opportunities like this are what set you apart," Adams said. "Not only does this project give you an idea of the expectations you will have in your career field, but it gives you a chance to work with experienced professionals and learn skills you can't gain in a classroom setting."
"The experience I gained in this project was critical in my development as an engineer," Fortner added. "To have the opportunity to work with professional engineers was eye opening and taught me a lot of crucial skills no matter what I decide to do later in life."
"Lift Them Up" Comes to Life, Teaches an Invaluable Lesson
Accomplished athletes are often seen as role models. Having this larger-than-life status, gives the Kentucky Wildcats a chance to have an immense impact on the community.
Through "Lift Them Up," some of the youngest fans will see their heroes in a personal setting. Leading up to kick-off, the KCH honoree is provided an opportunity to interact with the team — creating memories that will last a lifetime.
Throughout his tenure, UK Football Coach Mark Stoops has preached giving back. He intends to instill a lasting culture of community service. "Giving back keeps things in perspective for them — to just appreciate the opportunities and to appreciate where they are."
"I am thankful and humbled by the generosity of our friends at Toyota, the ingenuity of our engineering students and the dedication of the UK Football team," Dr. Scottie B. Day, physician-in-chief at Kentucky Children's Hospital, added. "These individual groups came together in a unique way to create an unforgettable experience for the children of Kentucky. We know our patients are champions, and now every fan in Kroger Field knows it too."
While the players are giving out smiles and selfies, the honorees are providing something much more priceless. "Life is a constant battle, and how they persevere through difficult times is kind of what shapes them for the rest of their lives," Stoops continued. "We can all learn a thing or two from these kids on how to never give up."
Perseverance — the ability to keep going in the face of adversity — is what Fortner says he will take with him and apply in the classroom, on the field and in everyday life.
"We all have something to play for. But making someone's day — maybe even their whole life — that's something that you can't replicate," he said. "Doing something for someone who needs it, like these kids, it's just incredible."
The pushcart, which made its debut on Saturday, Aug. 31, with Maximo Shemwell in the driver's seat, will become a staple among UK game day traditions.