UK's Sullivan Award Winners Make Impact on Lives of People They Serve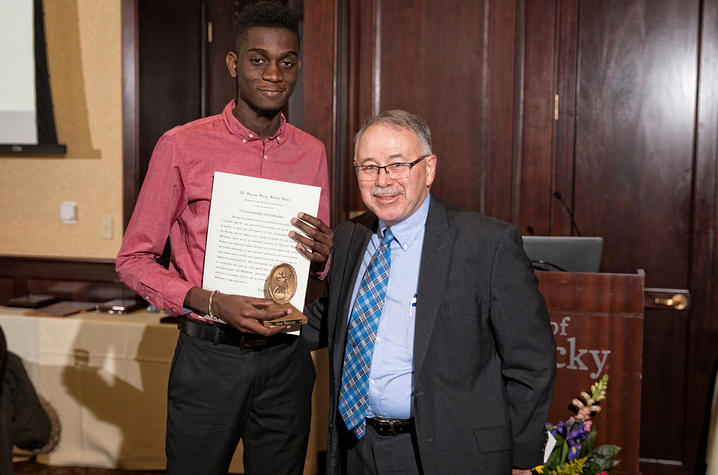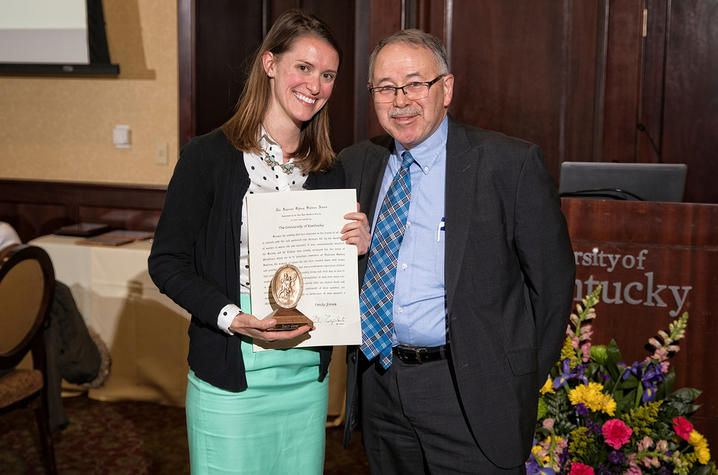 LEXINGTON, Ky. (April 16, 2018) — The University of Kentucky's highest honor for humanitarian efforts was presented last week to two UK students and one local citizen who have dedicated their time and energy to making a difference in people's lives.  The Algernon Sydney Sullivan Award was presented to Madison Conroy, Esias Bedingar and Emily Jones during the University Honors and Recognition Awards Program April 11.
Established by the New York Southern Society in 1925 and named for its first president, Algernon Sydney Sullivan, the award recognizes those "who exhibit Sullivan's ideals of heart, mind, and conduct as evince a spirit of love for and helpfulness to other men and women." After the society closed, the award has lived on through the Sullivan Foundation and is given at several universities in the South.
At UK, the Sullivan Award is bestowed each year on one graduating senior woman, Madison Conroy; one graduating senior man, Esias Bedingar; and one citizen who has a connection to UK, Emily Jones. 
Conroy, of Naperville, Illinois, will graduate with a degree in elementary education from UK's College of Education.  In addition to an impressive academic record, she has exhibited a remarkable dedication to service and philanthropy.  Over the course of her UK career, Conroy has been heavily involved in DanceBlue, UK's major dance marathon fundraising effort for the DanceBlue Kentucky Children's Hospital Hematology/Oncology Clinic serving pediatric cancer patients.  She served as fundraising chair last year when the effort raised $1.7 million and was overall chair this year when $1.8 million was raised.
Conroy's service as a UK student also included four mission trips to Haiti, assisting with earthquake reconstruction and volunteering with an orphanage; working as a student intern focusing on empowering students and teachers in rural Kenya; serving as a mentor for at-risk children in Lexington; and volunteering at Kentucky Children's Hospital.  She also served as service chair for her sorority, Delta Zeta.
One of her nominators said that in carrying out these many service accomplishments, Conroy "does not seek the spotlight for herself but always shines that spotlight on the important causes she champions and the wonderful people she has met along the way."
Bedingar, of Dono Manga in Chad, will graduate with a degree from UK's College of Public Health and will begin work on his master's degree at Harvard's T.H. Chan School of Public Health in the fall, with plans to attend medical school after that.  His lifetime goal is to eradicate malaria in his home country, which he says has a prevalence rate of 30 percent, resulting in devastating economic and social impacts.  He is founder and CEO of Motocross for Malaria, based in Chad and created to educate people in rural areas of the country about malaria and to provide them with anti-malarial treatment.
"Motocross for Malaria fills my heart with joy because I can dream of a better country," Bedingar said. "Eradicating malaria will stimulate economic growth and unlock human potential in Chad, and that is why it has become my lifetime goal."
Among Bedingar's other activities and accomplishments as a UK student, he is a Chellgren Fellow, an International Student Ambassador at UK, and an award-winning researcher who has participated in the Clinton Global Initiative University and the World Bank Group Youth Summit. He founded the UK chapter of the American World Health Organization; has volunteered in hospitals in both Lexington and Chad; and has been heavily involved in fundraising for Refuge Place International in Monrovia, Liberia.
Since 2013, Jones, a UK graduate with degrees in French, political science and law, has been the senior immigration attorney at Kentucky Refugee Ministries in Lexington. As the legal counsel for the agency responsible for refugee resettlement in Lexington, Jones has a caseload of more than 300 clients.
Jones' nominators said she "continually goes beyond the call of duty of her day job" by organizing fundraisers for the benefit of refugees and asylum seekers; participating in events that support refugees as well as DACA students; and attending naturalization ceremonies as a demonstration of her personal support. "Emily's tireless work on behalf of refugees, immigrants, and asylum seekers contributes greatly to making the Bluegrass region a more welcoming place for newcomers," her nominators wrote. "As a legal practitioner and as a member of our community, Emily Jones sets a bright and shining example of how to be a good citizen."
"I believe that everyone deserves high quality legal representation regardless of their ability to pay. This is grounded in my belief that all people have dignity and value," Jones said. "As hard as it is to walk beside our clients while they suffer through the bureaucratic obstacles that our immigration system hurls at them, it is a privilege. I receive far more from my service to our clients than I give. Our clients have been through unimaginable horrors and loss, yet their resilience keeps them (and me) hopeful and positive."