UPK Book Celebrates Group of Renegade Poets Who Started at UK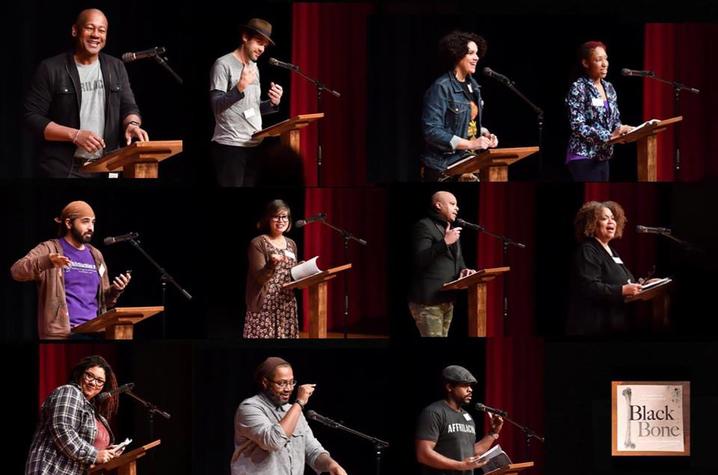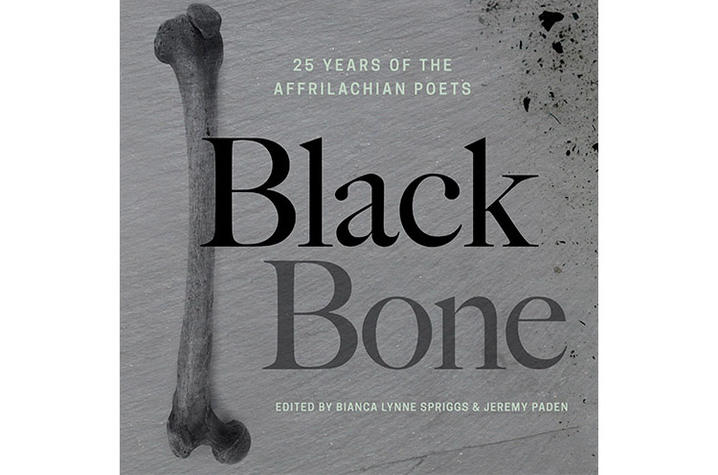 Watch Frank X Walker talk about the founding of the Affrilachian Poets in the 2014 interview above. Video produced by UK Public Relations and Marketing. To view captions for this video, push play and click on the CC icon in the bottom right hand corner of the screen. If using a mobile device, click the "thought bubble" icon in the same area. 
LEXINGTON, Ky. (Feb. 23, 2018) — When Frank X Walker coined the culturally encompassing term "Affrilachian" 25 years ago, he had no idea the group of colleagues who got their start inside a University of Kentucky elevator would transform into a radically influential social movement.
The Affrilachian Poets emerged out of a desire for solidarity and to advance the visibility of diverse voices through the cultivation of writing that is both challenging and evocative. This innovative band of artists and activists number nearly 40 today and continues to shape the literary and social landscapes of the Appalachian region and beyond.
In "Black Bone: 25 Years of the Affrilachian Poets," editors Bianca Lynne Spriggs and Jeremy Paden curate a groundbreaking anthology of poems, essays and stories that provide a historical, aesthetic and thematic overview of the movement that in its early years called its spiritual home UK's Martin Luther King Jr. Cultural Center (now the Martin Luther King Center), where Walker, currently a professor of English at UK, previously served as a program coordinator. This essential, cohesive collection celebrates a collaboration built on artistry, political engagement and enduring friendship.
"This anthology makes the 25 plus years of squeezing poems out of our hearts even more real," Walker said. "Reading through the pages and appreciating the high quality of our collective works makes me extremely proud of what we birthed those many years ago."
Published by University Press of Kentucky (UPK), "Black Bone" contains pieces from National Book Award-winning poet Nikky Finney, who helped found the group during her time as faculty member at UK Department of English; Crystal Wilkinson; Kelly Norman Ellis; Walker; and others. The anthology, which features 33 writers ranging from aspiring undergraduates to award-winning authors, serves as a vital resource for highlighting the diversity and rich traditions of Appalachia.
This first-ever collection captures the broad cultural reach of the group, which extends beyond genre and discipline, to reveal interwoven relationships between family, identity and society.
"Black Bone" is divided into three parts — Root, Limb and Tongue. In Root, poets act as witnesses as they engage in the prophetic act of claiming and naming identity within the Appalachian region.
The theme of identity carries over into Limb, as works are curated to exemplify the multifaceted nature of identities that are entangled with family, history and politics.
The writings featured in Tongue are explicitly aware that poetry is inherently political but also speak to a multitude of audiences. Linguistically daring collections of words are cultivated throughout the anthology in ways that tell compact yet visceral depictions of what it is like to be born and raised Affrilachian.
The Affrilachian Poets have dedicated two and a half decades to producing work with the distinctive poetics of liberation, acting as an ongoing literary and political concept, shaped by the intent to amplify the voices of those previously extinguished. The Affrilachian Poets have changed society's view of what the word Appalachia entails. Through "art, life and activism, these writers have managed to mold the region and country in indelible and extraordinary ways," as noted in the book's preface by poet and scholar Shauna M. Morgan.
The anthology encompasses Finney's sentiment, "Any portrait of land worth its salt must also include a landscape of its people worth its weight in blood, sweat and tears," as it documents and gives voice to the underrepresented while also celebrating their rich heritage. "Black Bone" is a testament to the work of this trailblazing group which has created a poetic revolution by demanding recognition and promoting racial justice through dynamic and impactful writing.
UK English literature alumna Bianca Lynne Spriggs is an award-winning writer and multidisciplinary artist from Lexington. The author of four collections of poetry, her most recent are "Call Her By Her Name" and "The Galaxy Is a Dance Floor." She is the managing editor for pluck! The Journal of Affrilachian Arts & Culture and the poetry editor for Apex Magazine.
Jeremy Paden is an associate professor of Spanish at Transylvania University and teaches literary translation in Spalding University's low-residency MFA. He is the author of two chapbooks of poems, "Broken Tulips" and "ruina montium," and a chapbook of translated poems, "Delicate Matters."
UPK, currently celebrating its 75th anniversary, is the scholarly publisher for the Commonwealth of Kentucky, representing a consortium that includes all of the state universities, five private colleges and two historical societies. The press' editorial program focuses on the humanities and the social sciences. Offices for the administrative, editorial, production and marketing departments of the press are found at UK, which provides financial support toward the operating expenses of the publishing operation through the UK Libraries.
UK is the University for Kentucky. At UK, we are educating more students, treating more patients with complex illnesses and conducting more research and service than at any time in our 150-year history. To read more about the UK story and how you can support continued investment in your university and the Commonwealth, go to: uky.edu/uk4ky. #uk4ky #seeblue