What's Your Favorite Color, Baby?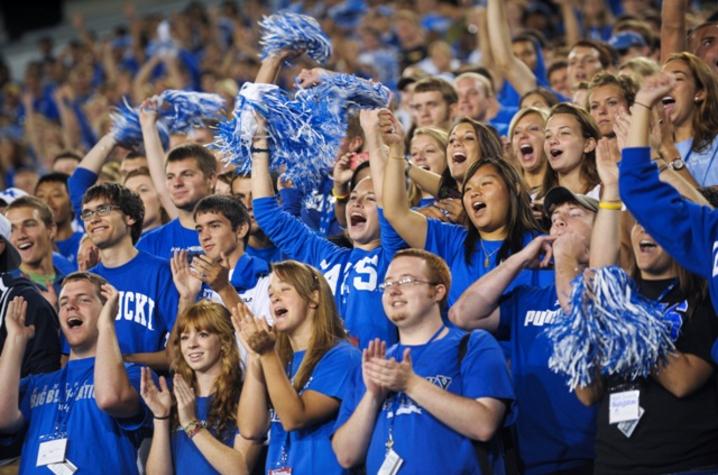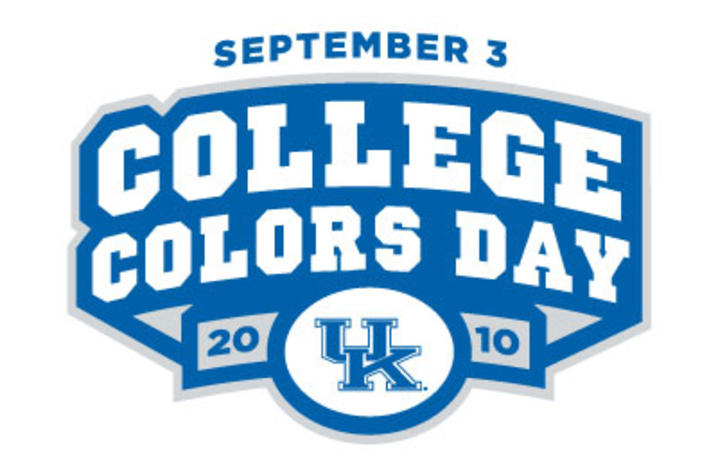 LEXINGTON, Ky. (Sept. 2, 2010) – Wear blue. That's the simple message that the University of Kentucky is embracing as it kicks off a new initiative – "see blue. wear blue. EVERY FRIDAY." – in conjunction with national College Colors Day this Friday, Sept. 3.
Headed by UK's Student Government (SGA), "see blue. wear blue. EVERY FRIDAY." is a fun, easy way to show school spirit and support all of UK's athletic teams.
"It's such an awesome sight to walk into Commonwealth Stadium or Rupp Arena and see the stands full of blue," SGA President Ryan Smith said. "We thought 'why not start that spirit a day early' and that's where the idea for 'see blue. wear blue. EVERY FRIDAY.' came from."
[IMAGE4]
UK is kicking off 'see blue. Fridays' with College Colors Day. College Colors Day is an annual celebration dedicated to promoting the traditions and spirit that make the college experience great by encouraging people across America to wear apparel of their favorite college or university throughout the day.
Additionally, College Colors Day, which coincides with "back to school" and the kickoff of intercollegiate athletics, strives to advocate higher education through increased public awareness, and celebrates the achievements of colleges and universities, acknowledging their fundamental importance.
Since its inception in 2005, College Colors Day has grown rapidly across the country. Thousands of organizations and millions of individuals participate annually by donning their team colors and sharing in the college spirit with friends and colleagues.
Kentucky Governor Steve Beshear, Lexington Mayor Jim Newberry and University of Kentucky President Lee T. Todd, Jr., have all proclaimed this Friday "College Colors Day" and fans across the Commonwealth and on campus are encouraged to wear their favorite college gear.
"This is a great opportunity for us to show the rest of the collegiate world who has the best fans around," said UK President Lee T. Todd, Jr. "I commend Ryan Smith and his colleagues in Student Government for sponsoring this initiative, and look forward to seeing a sea of blue across campus each and every Friday this year."
Students who need some new blue gear should stop by the UK Bookstore and check out the 2010 Traditions T. The Traditions T, sponsored by the UK Alumni Association, is the official student section shirt of the 2010-11 season and was designed by UK sophomore Zac Adams.
"We hope that College Colors Day serves as a great launch for 'see blue. Fridays,'" Smith said. "We also hope that not only students, but faculty, staff and fans across the state will join all of us in blue each Friday to support our Wildcats."
[IMAGE2]
"UK Athletics is proud to support SGA in their initiative to deepen the bond and passion UK students and fans share around Kentucky Athletics," Jason Schlafer, director of marketing and licensing for UK Athletics, said. "We look forward to seeing blue throughout the Commonwealth this and every Friday."
College Colors Day comes on the eve of the University of Kentucky Football Wildcats' showdown with intrastate rivals, the University of Louisville Cardinals. The "Battle for the Governor's Cup" is at 3:30 p.m. on Saturday, Sept. 4, with national coverage on ABC.
For a complete schedule of all UK Athletics events, visit here.