When a Walk in the Woods Turns Dangerous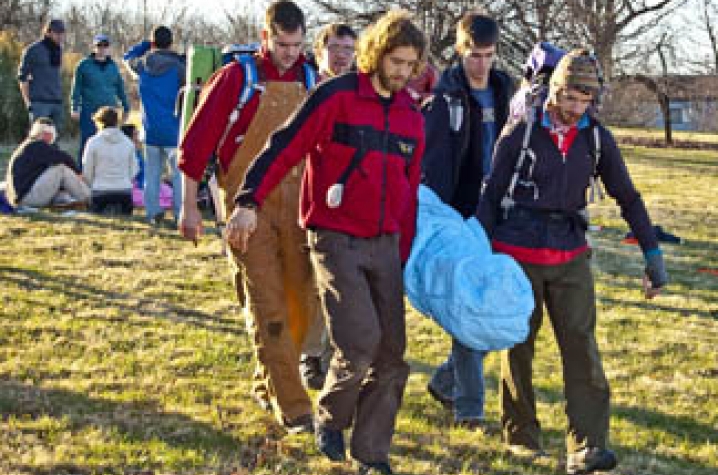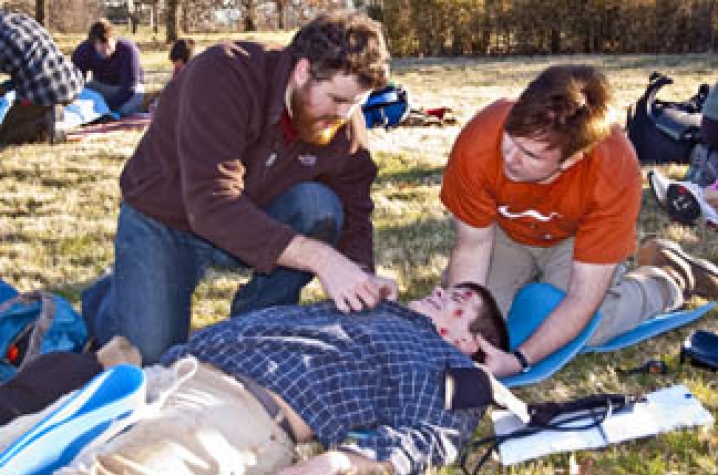 LEXINGTON, Ky. (Jan. 23, 2012) ― It's a beautiful day in the forest. The trail is good, the sun bright and warm: a perfect day for hiking. Suddenly a front goes through and the temperature plummets. Maybe there's a downpour or a rockslide. An ordinary walk in the woods on a perfect day can suddenly turn into a nightmare. Far from help, that's when medical knowledge can play an important role.
The Natural Resources and Environmental Science program in the University of Kentucky College of Agriculture and Outdoor Pursuits from UK Campus Recreation recently brought in instructors to teach a nine-day course in wilderness emergency medicine. Instructors from Landmark Learning, based in Cullowhee, N.C., taught the curriculum as outlined by the National Outdoor Leadership School for certification as a wilderness first responder. Most sessions were taught in the UK Department of Forestry's building, and The Arboretum supplied the "wilderness" environment for training exercises.
"Many of our students in Natural Resources and Environmental Science choose to work in field positions where they'll be outside in wilderness locations for days, weeks or possibly even months at a time," said Geri Philpott, academic coordinator for the undergraduate degree program. "Having a wilderness first responder certification will prepare them to react if a medical emergency happens to them or to someone they're with in the field. It will also improve their ability to get a job after graduation as many employers require this certification."
Those who enroll in the class typically have to travel to participate, which means, on top of the tuition, they often have lodging and food expenses. Philpott said being able to offer the course on campus made it more affordable for UK students. But the local course also attracted participants from across the country. Joe Cleinmark came from as far away as Onalaska, Wash. Other participants came from Georgia, Ohio, Pennsylvania, Tennessee and New York.  Of the 21 participants, five are majoring in Natural Resources and Environmental Science at UK.
Eric Hope, a junior NRES major from Louisville, got more than he expected from the course.
"We just never really stopped for nine days straight," he said. "…the hands-on, the learning and the practicals. We had a nighttime scenario over at The Arboretum. When it happened, you just feel prepared now. That's something I really didn't know I would feel just after nine days. It was very cool."
"This is really the industry standard for outdoors educators, people who guide or lead trips in the outdoors education field or outdoors recreation," said Rob Barham, one of the course's instructors. "What we teach here is common sense first aid and accepted pre-hospital care kinds of things. We're just adjusting it to be a little bit more long-term patient care and prevention than might be focused on in an urban first-aid course."
Because someone with a serious injury might not be evacuated for 24 hours, and it's also impractical to load an 80-pound backpack with 40 pounds of medical gear, the course focuses on improvisation.
"It's always important for people to look at the gear they're carrying and know how they can reasonably use that to create the tools that they need," Barham said.
The techniques the students learn can also transfer to their lives back in a more urban setting.
"We're teaching CPR. We're teaching basic wound care. We're teaching recognizing health problems that people see regularly on an everyday basis," said Eric Wakild, the other instructor.
They also teach a patient assessment system, which Barham said would help them to relax and be precise in a high stress situation.
"They might not know all the details about how to treat everything, but there are great field guides out there that they can carry in the first-aid kits when they're hiking," he said. "But if they can do good patient assessment and be methodical and stay within our format (for assessment), I think it will enable them to make decisions they need to make."
Cleinmark found the system invaluable. "By going through this step-by-step process you can get a good idea of the best plan of action for any sort of accident," he said.
Hope felt as if he could take this knowledge back with him to his major classes and benefit from it. Since many of his college classes are field based, there is always the remote chance of injury.
"There are a lot of situations that before this, I would have thought you'd have to go get help," he said. "But even if they've got a bone sticking out of their leg, you can fix it up well enough that they can survive for a good amount of time. It's definitely going to make me feel more confident in my own abilities and especially around other people."