Former Truck Driver Seeks to Improve Working Conditions, Safety for Women on the Road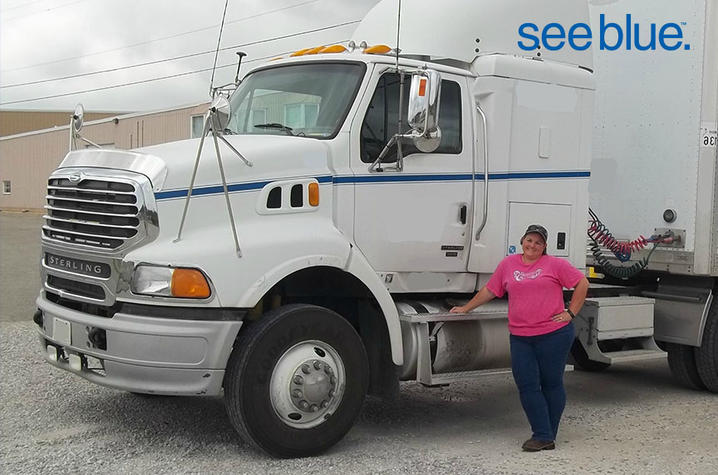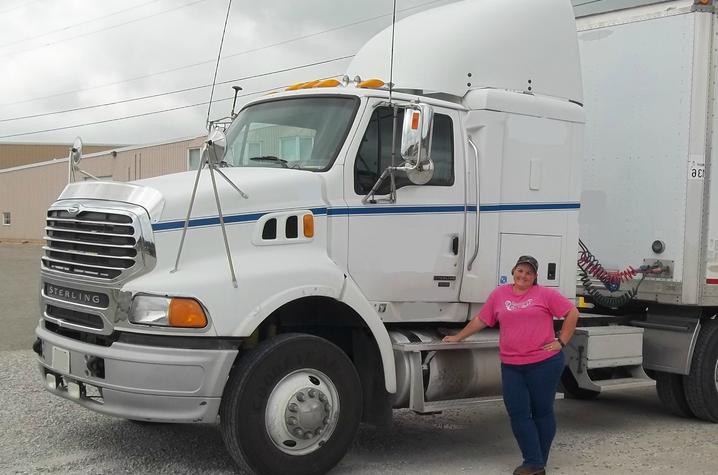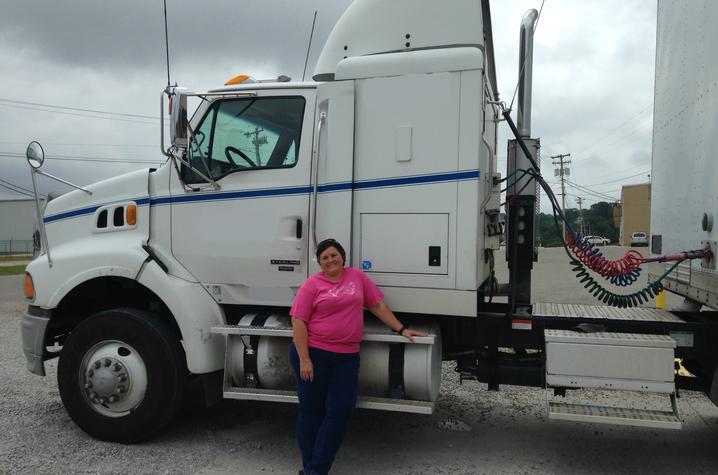 LEXINGTON, Ky. (June 22, 2016) — After 13 years working as a trauma, emergency room and flight nurse in Western Kentucky, Kim Bourne decided it was time to put rubber to the road — 18 gargantuan wheels of rubber to be exact.
Bourne, a doctoral student in the UK College of Nursing, broke away from her routine as a double-time nurse in 2008 to join her husband Ricky in the cab of a semi-truck. The transition to the truck driving profession also positioned Bourne as a gender minority in the workplace. Of the 3.5 million truck drivers in America, an estimated 200,000 are women.
"I got really burnt out of nursing and needed a break," Bourne said. "I thought, 'You know, I've always wanted to do this.'"
After Bourne earned her trucking license, which required hours on the road with a trainer and a series of tests to show her ability to maneuver a 53-foot trailer carrying as much as 80,000 pounds of freight, she and Ricky started accepting runs as a driving team. About a year after teaming up as drivers, the couple married on a Friday night in 2009 and hit the road first thing the following Saturday morning. They started running their favorite route transporting packaging material from Owensboro, through the heartland of America, and ending at their drop-off location in California. They returned to Kentucky every other weekend, in time for Bourne to work a couple nursing shifts at the hospital and spend a few hours with her children.
Life as a truck driver demanded long stretches of time at the wheel, strict delivery schedules and a constant alertness on the road, as the couple were always trying to anticipate dangerous conditions and erratic drivers. But the couple also romanticized the truck-driving profession. Working as a truck driving team allowed the newlyweds to exercise free-reign and explore America's vast landscape together.
"When he and I went out on the road, it was a lot of fun," Bourne said. "We have been all over the United States and Canada. We'd occasionally get to bobtail and go to dinner and the movies."
Every workday took the couple to new locations with new challenges. They dug their semi-truck out of blizzards in Cheyenne and Laramie, Wyoming. They fell in love with the tiny border town of Laredo, Texas, where they made a ritual of dropping the trailer at the company yard and parking the bobtail at the mall to see a movie. Since their drop-off location was usually in the pristine city of San Diego, they bought season passes to Sea World where they boarded Bourne's Pomeranian, the third passenger who was their faithful "truck dog."
While Bourne enjoyed the traveling aspect of the truck driving profession, she also witnessed a darker side of her profession. She noticed the fellow women in the male-dominated profession were often victims of sexual harassment and assault. Truckers used CB radios to make harassing or threatening remarks to women drivers they encountered on the road. Truck stops were often unsafe places for female drivers, and many women suffered from sexual assault and oppression. Bourne remembers being solicited by a male truck driver who offered his wife for sexual services in exchange for money, essentially acting as her pimp in unmonitored environments. Bourne and Ricky deliberately avoided some truck stops in the West because of the known threat to women.
"I would get snide comments about a being a woman and going into a truck stop," Bourne said. "It's just a different mindset in trucking. Women are intruders in a male-dominated world, and a lot of the men don't like it."
Bourne also recognized domestic violence as a common, but unspoken, occurrence among truck driving teams who were also couples. A female colleague who finished orientation at the same time as Bourne reported to the truck terminal with signs of abuse from her partner. Bourne said when couples share tight living quarters, tension eventually mounts between them and confrontations can lead to abuse and violence. Women are often helpless in these situations, which is why reporting rates of abuse and violence in trucking are low. In addition, women have limited accessibility to support resources or health care services while on the road.
Yearning for more time with her children, Bourne retired her role as a truck driver to attend graduate school at Western Kentucky University in 2010. She aspired to teach nursing at the college level. Ricky continued truck driving for a local company, which allowed him to come home every evening. When she advanced to the doctoral program at UK College of Nursing in 2015, her encounters with gender inequality, assault and domestic violence on the road resurfaced in her mind. She knew her doctoral studies should concentrate on an issue for which she felt a personal connection and deep understanding, so she founded her scholarly work on the topic of health disparities among female truck drivers and domestic violence in the trucking industry.
"It had always bothered me, what had happened on the road," Bourne said. "We saw the intimate partner violence within the trucks going on and heard sexual harassment over the CB radio — even now it irritates the fire out of me."
Bourne plans to conduct research in this vulnerable population of America's workforce with the ultimate goal of informing policies to protect women drivers and prevent domestic violence on the road. Bourne also wants to develop transitional programs and interventions to help women access health care services and domestic violence support while traveling from state to state. Insurance coverage discrepancies and inconsistency in health care policies have prevented women from receiving adequate care while on the job.
She also hopes to look at methods for preventing human trafficking, which has been facilitated by the truck driving industry. She thinks heightened awareness about these critical dangers and injustices will encourage trucking companies to reinforce safety policies and implement programs to make truck driving more conducive for women, like her, who are bold enough to get behind 18 wheels. 
"The research I'm doing is something I'm passionate about — nobody should have to work in those conditions," Bourne said. "Nobody should have to do their job and know they are not safe."
MEDIA CONTACT: Elizabeth Adams, elizabethadams@uky.edu