Gill Heart Institute Cardiovascular Research Day Presents Scientific Achievement in Heart Health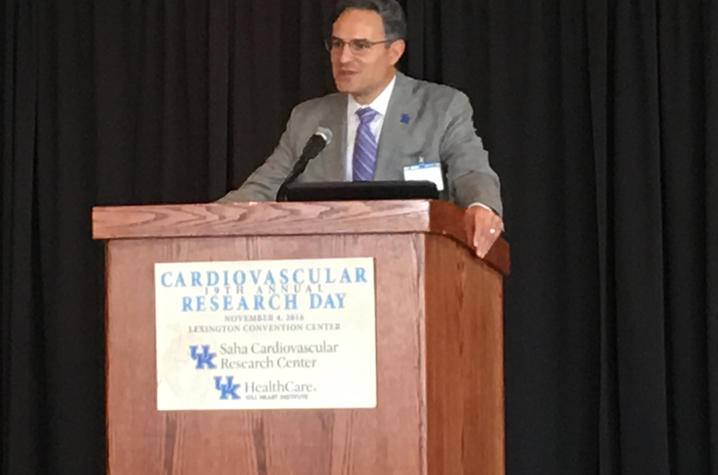 LEXINGTON, Ky. (Nov. 7, 2016) — Clinicians and basic scientists convened to discuss challenges, triumphs and future directions in cardiovascular disease research during the 19th Annual Gill Heart Institute Cardiovascular Research Day on Nov. 4.
Hosted by the UK Gill Heart Institute, the annual research day showcased scientific advancement in understanding and treating the various diseases of the blood vessels and heart. Topics presented at the conference ranged from identifying genomic markers correlated with heart disease to urging members of the public to put CPR training to action during an emergency. Burgeoning scientists and trainees throughout the region were provided the opportunity to present their cardiovascular scholarship during poster sessions and program presentations.
Heart attack and stroke are leading causes of death in America, and, according to the American Heart Association, heart disease accounts for more than $300 billion in annual medical costs. Researchers at the Gill Heart Institute are dedicated to translating scientific evidence into clinical efforts to prevent and manage the causes of these major killers, such as myocardial infarction and arthrosclerosis.
Dr. Barry Coller, vice president for medical affairs and David Rockefeller Professor at The Rockefeller University, and Dr. Helen Hobbs, an investigator at the Howard Hughes Medical Institute, delivered the annual Gill Award Lectures. UK alumnus Brian Eigel, the senior vice president of emergency care programs at the AHA, proposed a formula of science, education and action for reducing the burden of cardiovascular disease during the Alumni Presentation. Keynote speaker Mark Creager implored scientists to reverse the burden of global vascular disease in his keynote lecture, "Vascular Disease and the Journey to Vascular Health."
"As we learned through today's presentations, cardiovascular diseases are among the most critical public health problems in this country, with the spectrum of heart attacks, strokes, and other vascular diseases being the major causes of death and disability." Alan Daugherty, associate dean for research in the UK College of Medicine, said. "We've made progress in prevention, but many questions regarding the precise mechanisms that cause cardiovascular disease remain unanswered. Basic science and clinical researchers at UK span the realm of cardiovascular diseases in search of findings that can help reverse or prevent these common killers." 
MEDIA CONTACT: Elizabeth Adams, elizabethadams@uky.edu