Global Health Case Competition Tackles Child Obesity in Mexico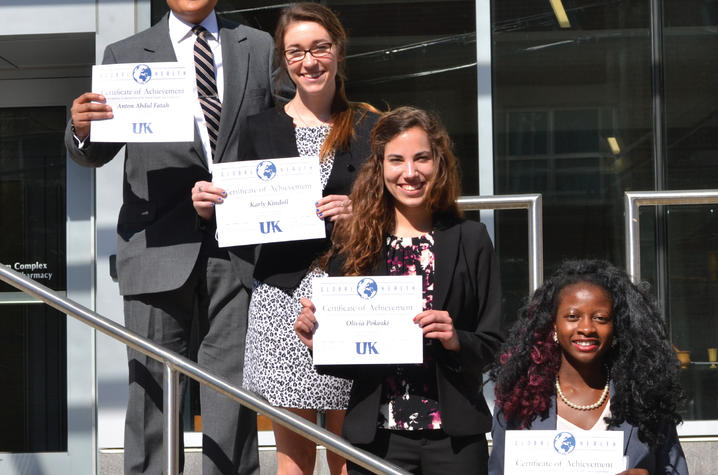 LEXINGTON, Ky. (March 16, 2016) — Multi-disciplinary University of Kentucky student teams recently vied for the honor of competing in the second annual Global Health Case Competition, which this year is focused on finding solutions to tackle childhood obesity in Mexico.
The competition was hosted on the UK campus by the Global Health Initiative, whose goal is to provide advanced research and educational programs for students to improve the health of people throughout the world.
Each year, UK teams are challenged to create strategies that address a global health issues and then present their plans to a panel of judges. From those presenting, a winning team is selected to represent UK at the International Global Health Case Competition, which takes place in April at Emory University in Atlanta, Georgia. The winning national team will share $6,000.
Team 12 won the UK competition with members:
·       Karly Kindoll, of Louisville, Kentucky, an undergraduate in human health sciences in the College of Health Sciences; 
·       Anton Abdul Fatah, of Indonesia, a graduate student in the Martin School of Public Policy and Administration;
·       Olivia Pokoski, of College of Wildwood, Missouri, a freshman in the College of Public Health 
·       Nadine Stella Achenjang, of Lexington, a first-year medical student in the College of Medicine 
"Our job was to come up with solutions for the childhood obesity crisis that Mexico is facing right now," said Kindoll. "They have unprecedented rates of childhood obesity nationwide, especially in school-aged children. So, our task was to come up with a comprehensive approach involving the communities as well as a governmental approach."
Team 12 won the competition with their three-level plan. At the national level, they would use the ANSA task force to "act as a collaborator between all branches of the government," said Pokoski.
The second (local) level would enact a community health leader program. "The goal of this program is to motivate the individuals in the different communities to live a healthier lifestyle," she said.
The third solution the team proposed was to increase the national soda tax.
After all presentations were completed, four teams were selected to be finalists. Those teams were then given a "twist" to include in their presentations. The twist was that the Secretary of Health was worried that the president of Mexico's cabinet as well as other influential stakeholders would not fully support the solutions.
Team 12 members said they were fortunate in that they already had a plan in place to get the government and other key players working together all on the same page.
Fatah said it was, however, difficult to change the language "from convincing just one person to convincing all persons."
Achenjang said she thought her team won the competition because her team had "a simpler approach than the other participants.
"It was very cost-effective and also it was something that involved a lot of people," Achenjang said. "And it targeted a lot of different aspects of the issue: the food part, exercise part, and the cultural awareness part."
Other UK teams competing included:
Second Place: Team 11
·       Sean Butterbaugh, College of Medicine
·       Shreya Berlia, College of Public Health
·       Holly Pan, College of Pharmacy
·       Joy Coles, College of Nursing
Third Place: Team 9
·       Devon Collins, College of Public Health
·       Samjhanaj Shakya, College of Public Health
·       Sarah Tabayehnejad, College of Pharmacy
·       Lucy Hollingsworth Williamson, College of Nursing
Fourth Place: Team 6
·       Leila Mende, College of Medicine
·       Kai Zhang, College of Public Health
·       Jennifer Walch, College of Public Health
·       Jade Daugherty, College of Pharmacy
·       Christopher Kositzke, College of Arts and Sciences
The UK teams were evaluated by guest judges: Monica Kennison, chair of nursing at Berea College; Keith Martin, executive director of Consortium of Universities for Global Health; M. Raynor Mullins, faculty emeritus, UK College of Dentistry; Richard Clayton, faculty emeritus, College of Public Health; Perry Pugno, former chair of the Association of Family Medicine Residency Directors; and Javier Sevilla Martir, Indiana University Department of Family Medicine.
UK is the University for Kentucky. At UK, we are educating more students, treating more patients with complex illnesses and conducting more research and service than at any time in our 150-year history. To read more about the UK story and how you can support continued investment in your university and the Commonwealth, go to: uky.edu/uk4ky. #uk4ky #seeblue
MEDIA CONTACT: Gail Hairston, 859-257-3302, gail.hairston@uky.edu