Helping a Co-Worker in a Time of Need Deepens UK IBU Employees Desire to Give Back to the Community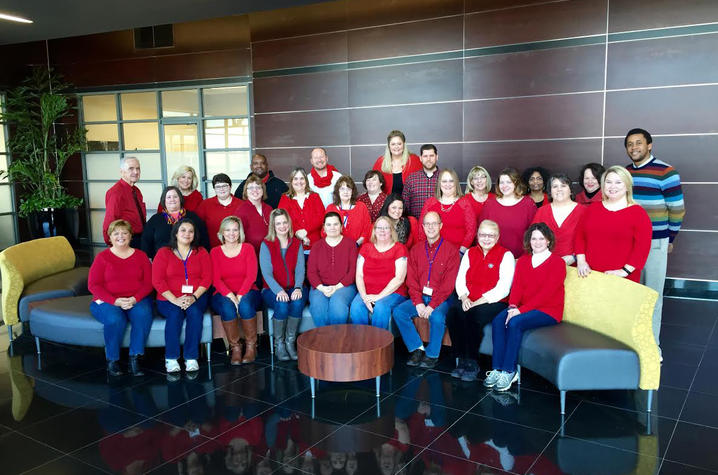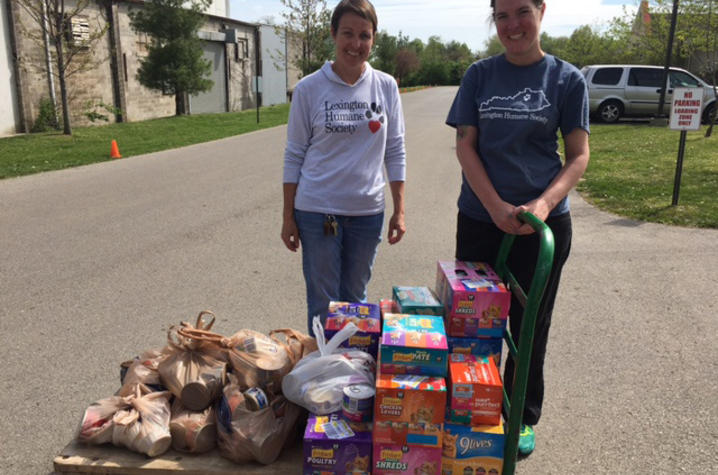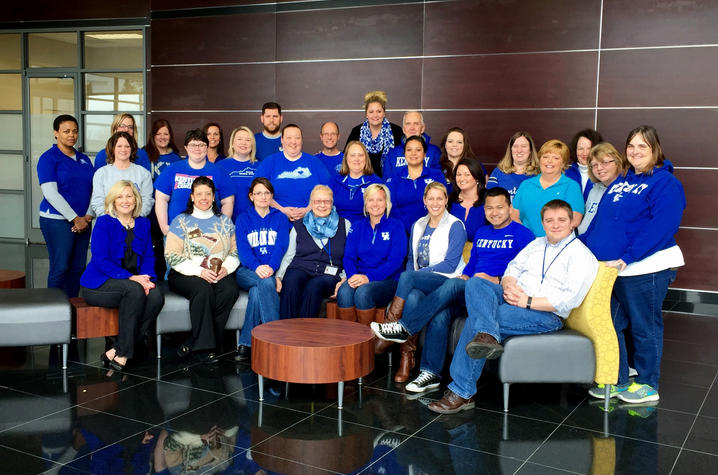 LEXINGTON, Ky. (May 12, 2016) -  Participating in community service activities has always been a priority for a group of University of Kentucky employees in the Integrated Business Unit (IBU) for the UK College of Medicine.  However, when one of their own faced a serious illness and was unable to return to work, their desire to help others took on a more personal meaning. 
The IBU employees realized their colleague faced a huge financial burden and came up with the idea of collecting donations from employees in exchange for the privilege of wearing jeans to work.  A series of 'jeans weeks' over the months raised $2,000 and helped bridge the financial gap for their friend and co-worker. Eventually a 'GoFundMe' page was created. Out of their desire to help, a discussion evolved about how they could help others in their community.
"Our staff members have really been the driving force behind this effort and I'm so proud of the sense of community it has created within our team.  Projects like this that are born at the employee level and grow into something that benefits not only our department, but also the community we live in, are very inspiring.  It's a fun way to boost morale and give back at the same time," said Amy Longeway, UK Healthcare IBU Business Operations Manager  
During a staff meeting, team members began to suggest charities to support on a monthly basis. A list of charities was created that will cover the remainder of 2016 and into 2017.
The project kicked off this past April with the Lexington Humane Society (LHS), Central Kentucky's largest pet adoption agency, as the month's designated charity.
The IBU employees made $5 donations or gave five cans of cat food during the week of April 18-22 for the privilege of wearing jeans that week. The money was used to purchase additional cat food and by the end of the week, 520 cans were donated, enough for the LHS to feed their feline friends for 13 days.
The LHS relies on the donations of individuals and organizations to help keep up their life-saving work for pets. Every year, their needs increase as they work to save more animals and expand community based programs.
"Wet food is a critical part of our enrichment program for our cats, and is also important for our feline friends who may be unable to eat regular dry food for medical reasons. We go through 40 cans of cat food a day so any support we receive is appreciated by not only staff but of feline friends as well!" said Ashley Hammond, LHS's senior development manager.
This month, the employees chose the Hope Center for their charity. The Hope Center in Lexington provides daily services to around 800 of Lexington's homeless and most at risk citizens per night. The designated jeans week is set for May 16 - 20, when employees will either contribute $5 or the equivalent in new personal hygiene items.
In the coming months, employees plan to support The Nest, Kentucky Children's Hospital, The Ronald McDonald House, Wives Behind the Badge, Big Brothers/Big Sisters of the Bluegrass, the Big Blue Food Drive, Lexington Rescue Mission, The Greater Kentucky and Southern Indiana Chapter of the Alzheimer's Association, Autism Society of the Bluegrass, UK Healthcare Circle of Love and The Chrysalis House.
The IBU team also enjoy supporting UK sponsored activities like 'Go Red for Heart Health' and "Go Blue for Child Abuse Awareness' months.
Media Contact: Ann Blackford at 859-323-6442 or ann.blackford@uky.edu
###
UK is the University for Kentucky. At UK, we are educating more students, treating more patients with complex illnesses and conducting more research and service than at any time in our 150-year history. To read more about the UK story and how you can support continued investment in your university and the Commonwealth, visit uky.edu/uk4ky. #uky4ky #seeblue