A Scholarly Word from the President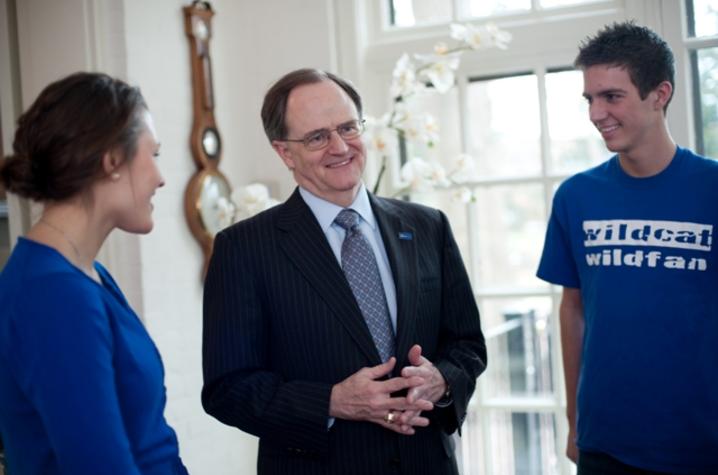 LEXINGTON, KY. (Nov. 15, 2010) - One of the largest obstacles our students and their families face today is paying for a college education. With rising costs of higher education and cuts in state funding, the need for scholarship assistance for our students has never been greater. Recently, President Lee T. Todd, Jr. sat down to answer questions regarding the President's Scholarship Initiative.
1)     Why did you launch the President's Scholarship Initiative this past February, with all of the University of Kentucky's other financial needs?
Scholarships provide students with the greatest gift anyone can donate: They provide opportunity – a chance to show that they can compete.
And as higher education costs continue to rise, we must do all we can to ensure the doors of Kentucky's land-grant university remain open to all Kentuckians. In the 2008-2009 academic year, more than 7,500 UK undergraduates (40 percent of all undergrads) were in need of financial aid to cover the cost of their college education.
After aid from all available sources was awarded that year, more than 5,300 undergraduate students (28 percent of all undergraduates) had remaining unmet, unfunded need totaling more than $29 million. This was an average unmet need of $5,470 per student.
 We launched the President's Scholarship Initiative to increase the scholarship support available to our students. The campaign is called, "See Blue. Make a Difference," and that's exactly what scholarships can do for students pursuing an education and their academic dream.
2)     Will the President's Scholarship Initiative continue, despite your impending retirement this summer?
Yes, of course. Scholarships will be even more important in the future than they are now. However, it will be up to the future president on how that fundraising focus will be shaped.
3)     Do you think that lack of financial aid keeps students from attending college, even with student loans available?
Scholarships can ease the financial burdens of students and enable them to focus on their studies and meet their goals. Student loans and grants are also helpful…don't get me wrong…but the knowledge that these will have to be repaid a year after graduation is quite a bit more unsettling, especially for students interested in graduate school.
4)     As far as attracting talent and high-achieving students to UK, what role do scholarships play?
UK's Singletary Scholars program is our top academic scholarship. Recipients receive tuition, room and board and a $1,500 stipend. To qualify for the scholarship, students must have a 3.75 GPA and a 31 on their ACT.
 We award about 25 such scholarships each year. This past year, we had 637 students apply for the scholarship, meaning more than 600 top students were turned away.
This shows us that the state's and the nation's top scholars are considering UK. If we want to retain our best and brightest and attract others to Kentucky, we need to offer more high-end merit scholarship programs.
5)     Do you have a favorite UK scholarship success story that you'd like to share?
There are so many great scholarship success stories that I have encountered over the past decade. One story that comes to mind is that of Lesley Mann from Calhoun, Kentucky, a western Kentucky town with about 900 residents. Lesley was a Singletary Scholar who majored in agricultural biotechnology. She performed well in the classroom and got involved in undergraduate research from the moment she set foot on campus.
During her time here, Lesley received was honored by some of the nation's most prestigious external scholarship programs. She was named a Beckman and Goldwater Scholar. And, during her senior year, she was one of only 29 students in the nation to be awarded the Bill and Melinda Gates Scholarship. The Gates Scholarship is allowed Lesley to receive her Master's degree at the University of Cambridge in England. After she receives that degree, Lesley will pursue her Ph.D. at MIT.
6)     What did scholarships do for you as you were pursuing an undergraduate education?
I received a couple of small scholarships as an undergraduate, and they really provided me with confidence. Being the first member of my family to pursue a higher education, college was an intimidating place. Knowing that there were other people out there who not only believed in me but invested in me, provided me with a belief that I was prepared for this academic challenge.
7)     You and Mrs. Todd are scholarship donors...share why this is so important to the both of you.
Patsy and I are thankful for the opportunities we have had in life, and we want to give back to those who deserve a similar change to compete in this world. Scholarships are one in which we can do that.
8)     Does the PSI offer scholarships to students from all over the country, or just Kentucky?     
Scholarship donors may specify base criteria to be used when selecting a recipient, but nonspecific PSI funds will be used for scholarships available to any and all students in need around the state, the country, and the world.
9)     Does the PSI have a monetary goal?
We do not have a monetary goal, but we hope to establish 2,000 new scholarships.
10) Does a scholarship have to be named or does it have to be a certain amount to be included in the PSI?
Every donation helps, no matter the size. And there are a number of ways to give to the PSI: from an outright gift via check or credit card, to establishing a charitable trust or giving real property. Please contact Remona Edenfield, Special Programs Officer at (859) 257–7893 or rmeden2@email.uky.edu in the UK Office of Development for more information.
11)   Where can I find more information on the PSI?
The President's Scholarship Initiative has its own website at www.uky.edu/PSI. Check it out!