Social Work Student Creates Community Dinners From Vision of Unity and a Garden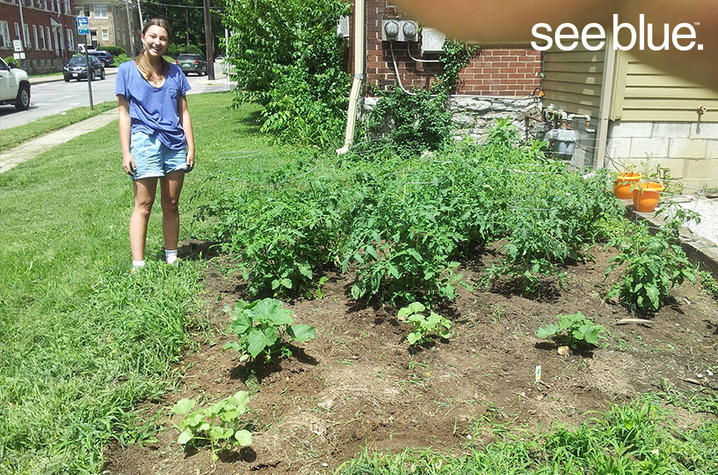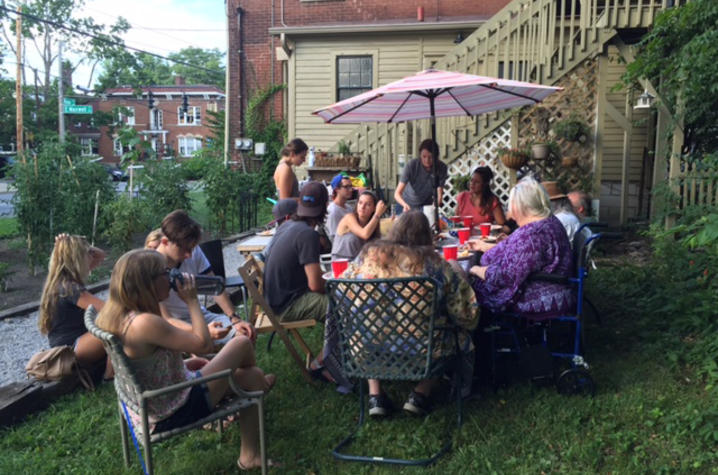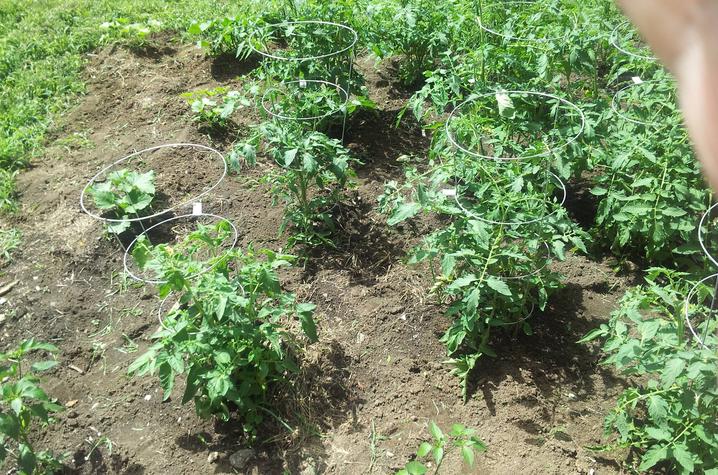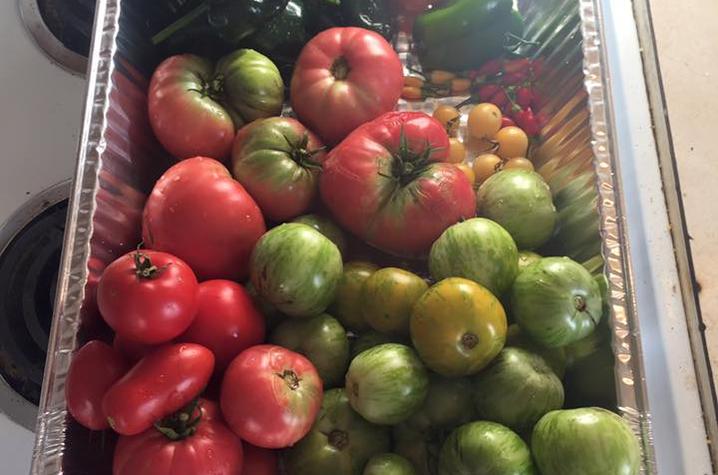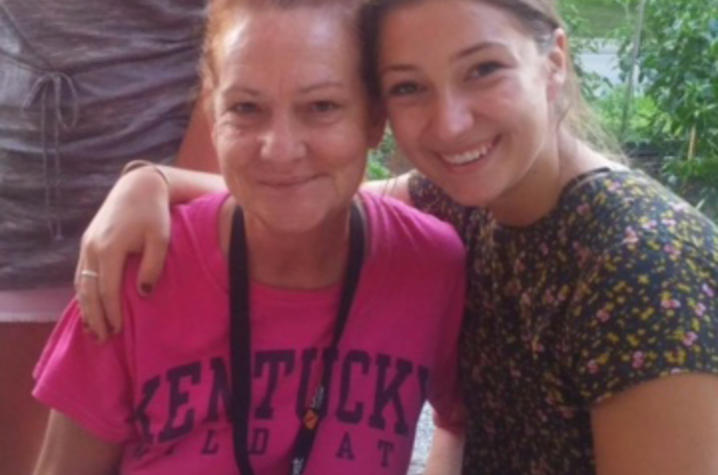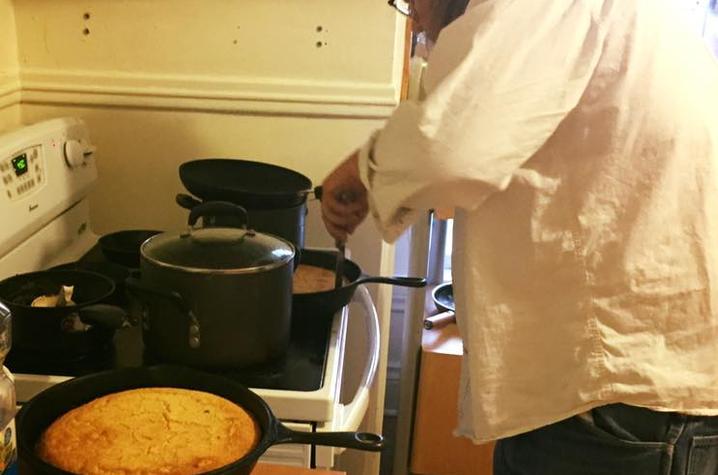 LEXINGTON, Ky. (Sept. 16, 2016) — Food not only nourishes the body, it can nourish the soul, especially when shared in the company of other people. As Sidney Peard, a senior in the College of Social Work at the University of Kentucky, tended the garden she and her neighbor started this summer with a couple of heirloom tomatoes, a vision of unifying people in her community through food took root and began to grow.
Peard lives near UK's campus and the heart of downtown Lexington. Residents of the community represent an eclectic mix of people from multiple generations and all walks of life. The centralized location also makes it a natural passageway for a segment of Lexington's homeless population.
"I really feel the Lord laid it on my heart that day in the garden to prepare a meal to bring people together from different populations and share a meal in community – the young, the older, the homeless," Peard said.
The idea of a vegetable garden developed from Peard's friendship with her neighbor, Nick Stump, a 67-year-old widower, UK graduate, Vietnam War veteran, and local musician. The two often meet on the front porch of the duplex they share.
"I listen to the amazing stories of his life. We have met each other's friends. He feels like family."
When Stump mentioned that he could no longer raise his heirloom tomatoes because of bad knees, Peard offered to do it for him. Since the first tomato plant, the neighbors have added peppers, cantaloupe, sweet potatoes, cucumbers and squash.
Peard said she didn't set her expectations too high for the first community dinner and her only advertisement at the time was word-of-mouth. She bought plates and utensils, and borrowed tables from UK's Christian Student Fellowship where she works.
"I thought if no one comes and it's just Nick and myself, then we'll share dinner in the back yard."
The first community meal was in early July, a small gathering of Peard's and Stump's friends who shared a meal of pasta salad and conversation. The meals, always held on Tuesdays, became known as "To Gather Tuesdays" and now has a Facebook page. Stump fully supports Peard's community endeavor with his attendance, his gardening expertise, and occasionally he will help cook.
As news of Peard's community dinners spread, the number of guests began to increase.
"One evening as I was putting out food, a homeless man slowly walked by my yard and asked if this is where meals are served," Peard said. "He attended regularly after that and some of his friends have since joined him."
Peard has poured her heart into bringing her community together over the course of the summer through her community meals. People who might not otherwise share a meal together, seem more like friends. She developed a special bond with one guest in particular; a neighbor she met because the woman often cuts through the vegetable garden on her way home.  Peard says that she is always walking, usually carrying grocery bags, and usually physically affected by alcohol. Their friendship has developed over many a Tuesday evening meal, and outside the community dinner as Peard often walks her or gives her a ride home.
"I found out she had a birthday coming up, and I told her that I was going to bake her a birthday cake. At first she resisted the idea but finally gave in," Peard said. "She told me she hadn't had a birthday cake in years. We all celebrated after dinner."
Peard's compassion for others was instilled in her as a young child growing up in Chicago, Illinois, and she remembers going with her parents to inner city Chicago to hand out sandwiches to the homeless.
"I consistently heard "I love you" from my parents and received a sense of belonging from them by those words being a constant. They taught me the importance of being that love for other people."
Social work seems a natural fit for Peard, who says her love for others and fire for justice and service are what motivate her. Ultimately, Peard credits her faith and beliefs as the guiding force in her life.
"To Gather Tuesdays" has taken on a life of its own over the summer and Peard couldn't be more pleased when she looks around the cloth covered table filled with food and smiling faces. Conversation abounds between the homed and the homeless, the younger generation with the older.
"The meals are served family style," Peard said. "The layout forces people to interact with each other."
No one at the table is related by blood, but these people who were once strangers have become a family of sorts.
The sole source of funding for the dinners comes directly from Peard with a little help from the vegetable garden. While she would welcome help from local businesses, they can't donate because she is not a 501c tax deductible charity. She recently set up a GoFundMe page in hopes of raising enough funds to continue the community dinners.  
"I see a lot of growth in this and I have a lot of dreams for it. I love the idea of a community together at this corner spot to share a meal and spend time together. However, growth means more plates at the table and less money for Sidney. I sometimes wonder what I'm going to eat on Thursday!"
This past Tuesday, 30 homeless were guests at Peard's table.
"I will continue the meals while the weather is still warm, and if the Lord provides a way after that, I'll continue," she said.
UK is the University for Kentucky. At UK, we are educating more students, treating more patients with complex illnesses and conducting more research and service than at any time in our 150-year history. To read more about the UK story and how you can support continued investment in your university and the Commonwealth, go to: uky.edu/uk4ky. #uk4ky #seeblue
MEDIA CONTACT: Ann Blackford at 859-323-6442 or ann.blackford@uky.edu 
###
UK is the University for Kentucky. At UK, we are educating more students, treating more patients with complex illnesses and conducting more research and service than at any time in our 150-year history. To read more about the UK story and how you can support continued investment in your university and the Commonwealth, visit uky.edu/uk4ky. #uky4ky #seeblue