UK Environmental Health Students Join State, County Officials in Response to Arsenic Contamination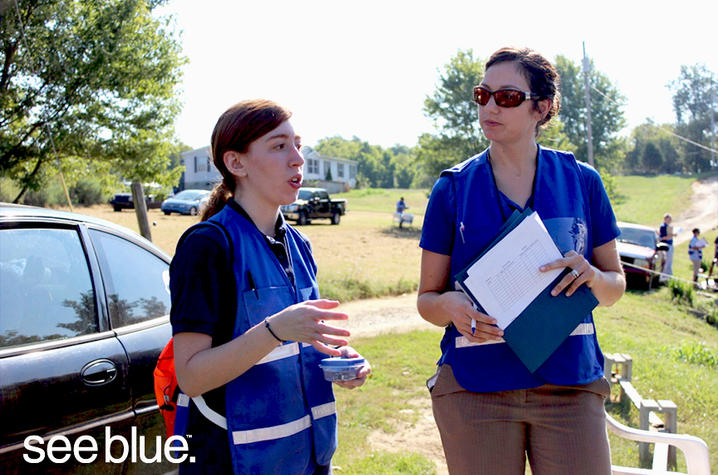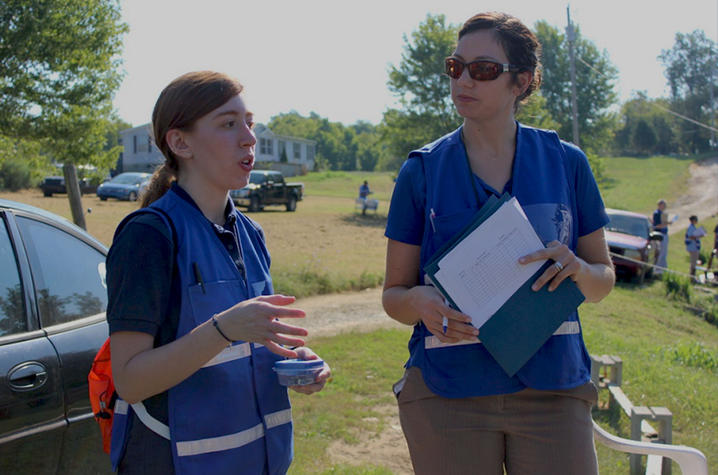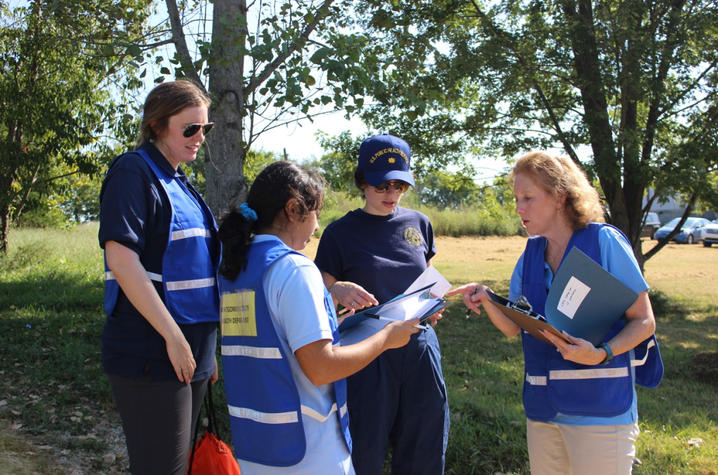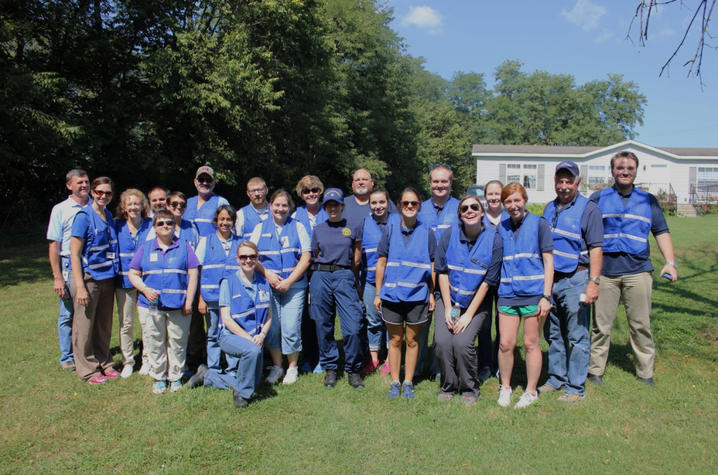 LEXINGTON, Ky. (Sept. 15, 2016) — Responding to an environmental health emergency requires public health workers to enter the field, work alongside community members, and educate residents about risk-reduction measures.
And, as a group of UK College of Public Health students learned on Sept. 7, sometimes fieldwork involves unusual tasks, such as asking a complete stranger for toenail clippings.
Armed with baby wipes and sterile toenail clippers, seven UK College of Public Health students went door to door interviewing and taking biological samples from Long Lane residents in Mount Sterling, Kentucky. They joined an emergency response team from the Kentucky Department for Public Health and the Montgomery County Health Department after dangerous levels of arsenic were detected in the soil of the residential community. The interviews and samples were collected for an assessment of arsenic exposure levels and other health risk factors that public health officials must monitor in response to the residential contamination.
Two weeks ago, a manager from the Department of Environmental Protection (DEP) measured high levels of arsenic, a poisonous metal, in a sample taken from Long Lane. Public records showed that the residential area, classified by the DEP as a Superfund section, was the site of a wood treatment plant until the early 1990s. The wood was treated with arsenic for commercial use. Local officials believe the former owner of the plant destroyed the facility and burned the supplies, contaminating the soil with high amounts of arsenic. The property was divided and sold as residential space in the 1990s, and many of the families residing on Long Lane have lived in the community for years, unaware of the presence of arsenic in the soil. Arsenic is a toxic metal associated with respiratory disease and cancers. 
"Residents are very concerned about their health," Jan Chamness, director of the Montgomery County Health Department, said. "They are wondering if it's going to be safe to continue living here."
The Kentucky Department for Public Health developed a questionnaire to collect demographic, behavioral, lifestyle and health history information from each resident through oral interviews. Students were paired with a state or county health department official to assist with conducting interviews and collecting samples. Residents were asked to provide a sample of toenail clippings to be tested for arsenic exposure.
Wayne Sanderson, a professor of epidemiology, preventive medicine and environmental health and the director of the National Institute for Occupational Safety and Health/Centers for Disease Control-funded Education and Research Center (ERC) at the UK College of Public Health, supported the students' work, coordinated students' participation in the emergency response in collaboration with local and state agencies. Jason Unrine in the UK College of Agriculture, Food, and Environment will lead the analysis of the nail samples.
Unrine, Sanderson and students from both colleges will then assist with coding, analysis, and the drafting and editing of the final report. They will report the results of the analysis and tests to state officials, who will determine the appropriate response. While the students acquired hands-on experience on the frontlines of an emergency response, they also provided expertise, knowledge and resources to help an underserved community.
"I think it's important for both our state and our university community to know we are people of service, and service is an important component of our training ground," Sanderson said. "This is clearly an important responsibility that falls to the state and county agencies, but it's an opportunity for our students to learn and participate, and help and contribute."
For many of the students, the project was their first experience working in the field during a real environmental health emergency response. Maria D. Politis, a second-year doctoral student, said participating in fieldwork allowed her to understand the impact of the arsenic contamination on families and individuals living in the community. Residents reported regular contact with the contaminated soil through gardening, yard maintenance or playing with children. Many residents expressed concern for the children in the community.
"You really don't know until you come out," Politis said. "You're seeing where they live and what they are going through. They do care about this issue, and they are also worried about their children."
Student April Ballard said she was encouraged to see public health workers actively engaged in communities exposed to a health threat. Fieldwork was one of the aspects of environmental health that interested her in the public health profession. She said making people aware of the risk can help them monitor their health in the future.
"If anything, it's just building awareness," Ballard, a master's of public health student, said. "Public health always goes back to awareness and education."
Long Lane residents will receive the results of their tests, feedback and long-term support from the state and county health departments.
UK is the University for Kentucky. At UK, we are educating more students, treating more patients with complex illnesses and conducting more research and service than at any time in our 150-year history. To read more about the UK story and how you can support continued investment in your university and the Commonwealth, visit uky.edu/uk4ky. #uk4ky #seeblue
MEDIA CONTACT: Elizabeth Adams, elizabethadams@uky.edu