UPK Author Receives Academic Excellence Award from Chinese Historians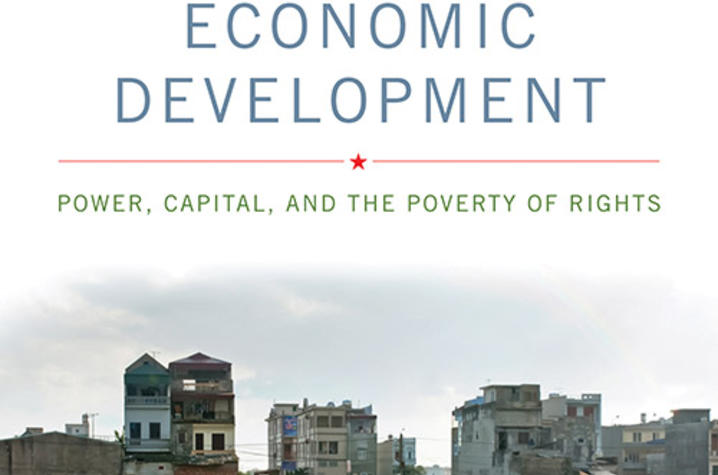 LEXINGTON, Ky. (Feb. 23, 2016) — Zhaohui Hong, University Press of Kentucky (UPK) author and economic historian, has been honored with the 2015 Academic Excellence Award from the Chinese Historians in the United States (CHUS) for his new book, "The Price of China's Economic Development: Power, Capital and the Poverty of Rights."
Hong, the director of the Center for Global Studies at Purdue University Calumet and the co-director of the Center on Religion and Chinese Society, published the book as part of UPK's Asia in the New Millennium series, which is edited by Shiping Hua, the Calvin and Helen Lang Distinguished Chair in Asian Studies at the University of Louisville.
Established in 1987, CHUS is an international academic organization of Chinese and Chinese-American history professors in the U.S. and American history professors who are teaching and studying Chinese history. The association seeks to promote scholarly exchange among its members as well as among colleagues in both China and the United States and to contribute to the advancement of Chinese historical studies and Asian studies. The Academic Excellence Award is awarded to the top book in the field each year.
In "The Price of China's Economic Development," Hong assesses the sociocultural consequences of the economic reforms begun under Deng Xiaoping in 1978. He charts the effects of these broad changes — from agrarianism to industrialism, from isolation to internationalism, and from centralized planning to market-based economics — on the lives of ordinary citizens. He argues that social progress should be measured qualitatively, with justice its ultimate goal and fair allocation of resources and opportunity as the main index of success. This sophisticated analysis introduces English speakers to the varied and significant work of contemporary Chinese scholars and substantially enriches the international dialogue.
Hong was recognized at the annual conference of the American Historical Association held Jan. 9, in Atlanta, Georgia. The award was presented by the president of CHUS, Xiaobing Li, who is the author of "Voices from the Vietnam War" and "A History of the Modern Chinese Army," and co-author of "Voices from the Korean War," all published by UPK.
UPK is the scholarly publisher for the Commonwealth of Kentucky, representing a consortium that now includes all of the state universities, five private colleges and two historical societies. The editorial program of the press focuses on the humanities and the social sciences. Offices for the administrative, editorial, production and marketing departments of the press are found at UK, which provides financial support toward the operating expenses of the publishing operation.
MEDIA CONTACT: Whitney Hale, 859-257-8716; whitney.hale@uky.edu