Using Sports to Empower and Connect People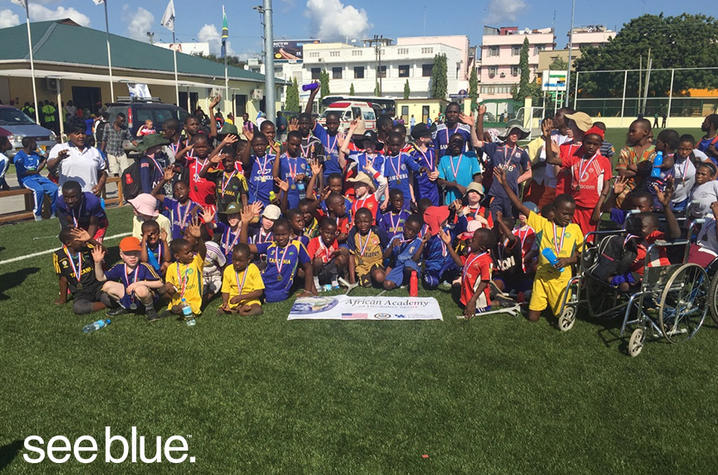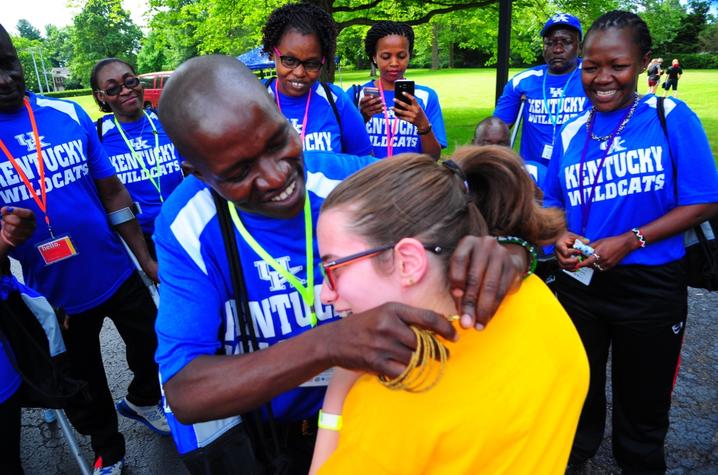 Photos of the UK Global Center for Sport Diplomacy's visit to Tanzania and emerging disability sports leaders' visit to the University of Kentucky. 
LEXINGTON, Ky. (Sep. 19, 2016) — Sports are an intrinsic part of the American life — bringing folks together on the field, in the backyard and around the TV. But sports are also bringing people together in an even bigger way — people from different continents, cultures and walks of life — thanks to a concept called sports diplomacy.
"Sport is a powerful vehicle," said Carol Mushett, a clinical assistant professor at the University of Kentucky College of Education and director of the UK Global Center for Sport Diplomacy. "It transcends languages and cultural differences and can teach many valuable lessons."
The Global Center for Sport Diplomacy, a new initiative led by Mushett and Ben Johnson, who is professor and chair of the UK College of Education's Department of Kinesiology and Health Promotion, is focused on using sports to connect people and empower them with confidence, health and wellness, and visibility. 
"For women and girls in particular, sport can build confidence, and for those with disabilities it can do that and more," Mushett said.
Mushett and Johnson have led sport programs in many countries across the world for marginalized communities and sport and education leaders. They follow a similar model each time, but adjust it according to a country's culture. This summer, the pair, along with two College of Education students and Assistant Professor Mindy Ickes, traveled to Tanzania, an East African country, to promote human rights and positive social change through sports for people with disabilities. The program was funded by the U.S. Department of State's Bureau of Educational and Cultural Affairs' SportsUnited division.
"In Africa, less than one percent receive any rehabilitation," Mushett said. "Sport can't be a substitute for that, but it can produce many of the same outcomes."
The U.N. estimates approximately 80 million people are living with disabilities in Africa, and many have been fighting for rights, services and dignity for decades.
"We know that when it comes to human rights, invisibility is at the core of an absence of those rights," Mushett said. "Sports create visibility."
While they were in Dar es Salaam, Tanzania, the UK College of Education team led more than 130 participants — mostly emerging disability sports leaders from Tanzania and Kenya — in workshops and lectures. The team also helped build the country's Paralympic committee and finished the trip with a sports festival where 600 people attended, Mushett said.
Eleven of those East African leaders traveled to UK the following month to gain advanced training and learn more about using sports to rehabilitate disabilities and promote tolerance. The group attended the Shriners No Limits Sports Clinic and toured the facilities of Central Kentucky Riding for Hope.
"They started thinking, 'How can we adapt what they do with horses to zebras?'" Mushett said, referring to the therapeutic activities Riding for Hope offers for people with disabilities.
The visitors also took note of adapted activities and equipment used at Shriners Sports Clinic.
"After gaining some specialized training from a U.S. university, they go back and have some power in that area," Mushett said.
Although fairly new to UK — having joined faculty a year ago — Mushett and Johnson are veterans in the sports diplomacy field.
In fact, Johnson said, someone they trained in 2002 became a minister of sport 11 years later.
From leading a sports program for women in the Middle East to organizing a soccer program in Colombia combating gang participation — the pair has long used sports as a commonality between countries and different types of people.
Mushett has served on the International Paralympic Committee; the Board of Trustees of the Salt Lake Organizing Committee for the 2002 Olympic and Paralympic Winter Games; and the International Olympic Committee Commission on Cultural and Olympic Education. She also oversaw the organization of global sport operations for four International Paralympic Games and 13 Paralympic World Championships. And she is a recipient of the Paralympic Order, the highest tribute awarded within the Paralympic Movement.
Johnson also has vast experience in the sports diplomacy world. He is the co-founder of the African Academy of Disability Sport and founder of the International Academy for Disability Rights. He was a member of the International Olympic Committee (IOC) Medical Commission and coordinated the IOC's Sport Science Research Projects during the 1996 Atlanta Centennial Olympic Summer Games. Johnson also works with athletes of all ages and abilities in improving their sport performance and minimizing chances for injury.
As the two continue to establish the UK Global Center for Sport Diplomacy, they look forward to conducting more research on the effects of sports, strengthening partnerships with domestic and foreign partners and engaging the Lexington community. 
"If we can train one person and that one person impacts another … and if we can give our students these experiences … we can make a significant difference," Johnson said. 
UK is the University for Kentucky. At UK, we are educating more students, treating more patients with complex illnesses and conducting more research and service than at any time in our 150-year history. To read more about the UK story and how you can support continued investment in your university and the Commonwealth, visit uky.edu/uk4ky. #uk4ky #seeblue
MEDIA CONTACT: Whitney Harder, 859-323-2396, whitney.harder@uky.edu