A Different Kind of '300'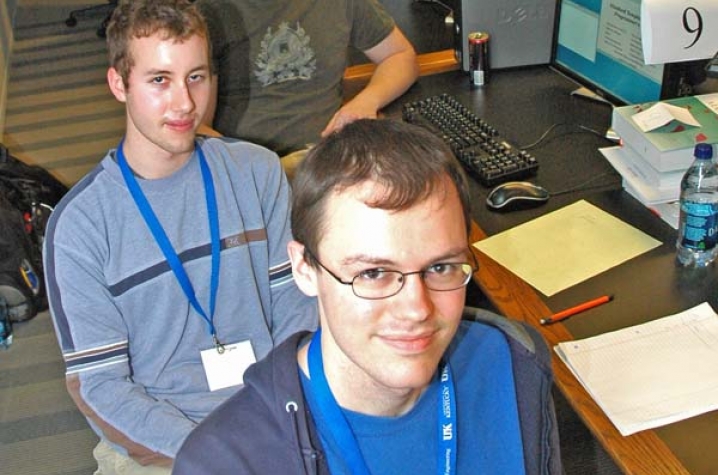 LEXINGTON, Ky. (Dec. 9, 2009) — This Thanksgiving, Mark Hays, Stefan Kendall and Tom Dodson had a special reason to give thanks. They're going to China as part of an elite group.
"I got a call from Professor (Jerzy) Jaromczyk on the Monday before Thanksgiving. He said, 'Congratulations, you're going to China,'" said Hays, a University of Kentucky computer science doctoral student.
The reason? Hays, Kendall and Dodson comprise a team that won a spot in the 34th annual Association for Computing Machinery (ACM) International Collegiate Programming World Finals, Feb. 1-6, 2010, at Harbin (China) Engineering University.
They join 297 others -- a total of 100 teams of three -- from universities around the world in a test of programming skills under deadline pressure.
Hays, Kendall and Dodson were chosen for the international contest after they outperformed other teams in a regional satellite competition held at UK's William T. Young Library Oct. 24. The three -- all students in the College of Engineering's Department of Computer Science -- spent five hours solving programming problems to earn the trip to China.
"It was intense," recalled Kendall, a junior majoring in computer science.
How impressive is their feat? They are one of 100 teams culled from more than 7,100 teams who competed at regionals around the world.
Team adviser Jaromczyk, a professor of computer science who has coached UK teams since 1999, expressed pride in the team, one of four UK squads to qualify for the international finals since he took the coaching reins.
"Carnegie Mellon, MIT -- everyone knows those names. We are once again helping put UK on the map," Jaromczyk said.
Kendall, Dodson and Hays had competed previously in the ACM annual contest, so they knew what to expect. "It's five hours of hard-core programming. You have to dive into the problems and be prepared for six hours of concentration," Hays said.
Now that they've won spots in the finals, the three are looking forward to serious preparation.
"Dr. Jaromczyk wants to meet over the Christmas break for rigorous studying," Kendall said.
And there's the paperwork involved -- applying for passports and visas, processes that are new to Kendall. "I've never been outside the country. I've never been on an airplane," he said.
Hays has a bit more experience overseas. His West Jessamine High School class went to London and western France on a class trip before his 2005 graduation.
He's not only excited about competing, he's also looking forward to seeing a special art display in the Chinese city.
"I'm going to Harbin to compete, but I'm still keen to see what Harbin and the Snow Sculpture Festival have in store," Hays said.