Martin School, Gatton College Faculty Member David Agrawal is Featured in Podcast by The Economist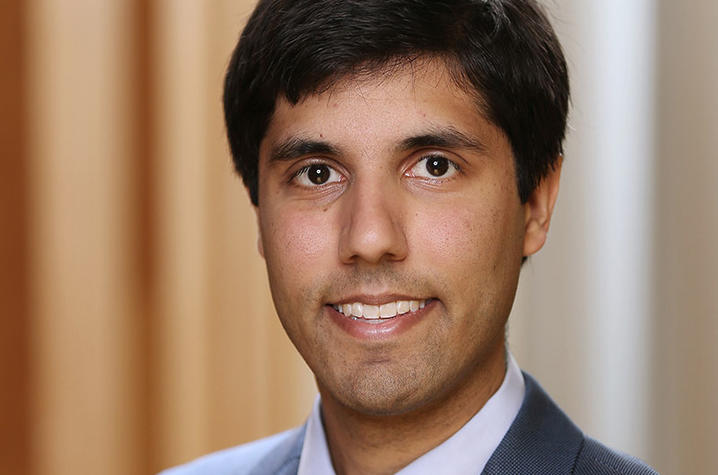 LEXINGTON, Ky. (Sept. 28, 2017) — Research co-authored by University of Kentucky faculty member David Agrawal is drawing international interest via a recent podcast produced by The Economist.
Agrawal, who holds a joint appointment as an assistant professor in UK's Martin School of Public Policy and Administration and as an assistant professor of economics in the Gatton College of Business and Economics, came to Lexington in 2015 from the University of Georgia where he worked for three years. Together with Dirk Foremny, assistant professor at the University of Barcelona in Spain, Agrawal completed a detailed study titled, "Relocation of the Rich: Migration in Response to Tax Rate Changes from Spanish Reforms," which was featured in The Economist's "Money Talks" program. A link to the program containing audio from Agrawal and Foremny can be found here.
While this research focused on Spain, it has potential applications to other countries, including the United States.
"In our research we study the mobility of top-income earners as it relates to income taxes," Agrawal said. "In particular, do the rich move following income tax increases by state governments? This is an important question because if the rich are very responsive to state income taxes, this limits the ability of states to raise revenue. Our results provide evidence that taxes matter, but that the mobility responses are small enough that increasing taxes results in tax revenue increases. This result has important policy implications for many countries around the world with respect to whether states and localities or federal governments can most effectively tax income."  
Agrawal's work on this research project first began several years ago while he was a visiting scholar at the Institut d'Economia de Barcelona at the University of Barcelona.
"Earlier this year, we were selected to present our research in front of several Nobel Prize-winning economists at the Lindau Nobel Laureate Meetings," Agrawal said. "At this conference, The Economist took an interest in our work. Obtaining media attention on research generally requires an interesting topic that is accompanied by policy relevant results."
Agrawal, 34, is an excellent example of the talented young faculty who have come to UK in recent years. He received his doctoral degree in economics from the University of Michigan and a master's degree from the Goldman School of Public Policy at the University of California, Berkeley. His research focuses on public economics with an emphasis on taxation, fiscal federalism, and fiscal policy in urban and regional contexts. At UK, Agrawal teaches courses in public policy economics and tax policy.
"I am glad to have a joint appointment in the Gatton College and the Martin School," Agrawal said. "The reason the University of Kentucky appealed to me was because there is a very strong group of researchers working on issues related to taxation, public finance and urban economics."
Agrawal, who is also an affiliate member of the Center for Economic Studies and Ifo Institute in Munich, Germany, received the Peggy and Richard Musgrave Prize in 2011 and the Young Economists Award in 2012, both from the International Institute of Public Finance.
"Doing research on tax policy is exciting and important," Agrawal said. "Given that tax reforms impact millions of people, it's vital we have research that can inform how best to design policy. I enjoy doing research that sheds light on important policy debates and training students to do research of their own."
UK is the University for Kentucky. At UK, we are educating more students, treating more patients with complex illnesses and conducting more research and service than at any time in our 150-year history. To read more about the UK story and how you can support continued investment in your university and the Commonwealth, go to: uky.edu/uk4ky. #uk4ky #seeblue