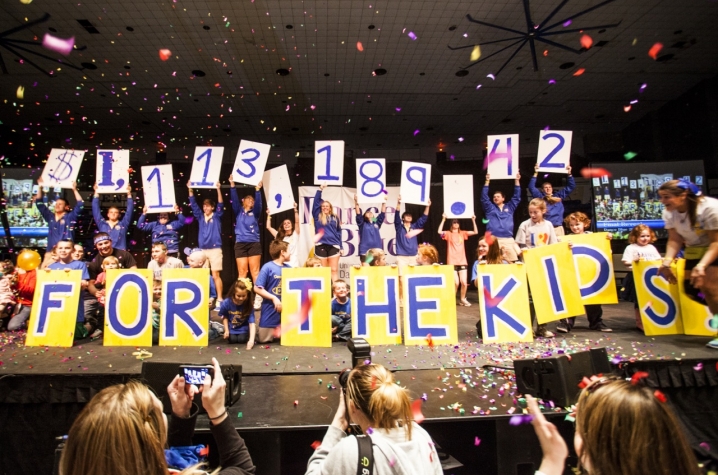 LEXINGTON, Ky. (March 11, 2013) - In today's Herald-Leader, an opinion piece that I wrote was published about UK's 24-hour dance marathon, DanceBlue. Over the past eight years, the student-led philanthropy has raised more than $5.1 million for pediatric cancer research at the Markey Cancer Center and for patient care at the DanceBlue Kentucky Children's Hospital Pediatric Oncology Hematology Clinic. Record-breaking for collegiate dance marathons, the students involved with this amazing program raised $1.1 million this year alone. Thousands of students, across organizations and backgrounds, come together "For the Kids" and exemplify the Kentucky Promise – preparing themselves for lives of leadership, meaning and purpose. I am continually impressed by their work, and DanceBlue is just one example of how our students are working to make the Commonwealth, and our world, a better place.
Student-led charity inspires as it raises money
By Eli Capilouto
You may have read a recent Sunday front-page story about some of University of Kentucky Athletics' most generous donors who make up our Wildcat Reserve. They give of their time and money to provide opportunities for nearly 500 student athletes in the Southeastern Conference's most comprehensive program, one that is succeeding on the field and in the classroom.
But tucked away deep inside the paper was another story about generosity — generosity of time, money and heart.
It was the story of DanceBlue.
On Feb. 23, more than a thousand people erupted into an ovation of cheers and joyful tears as more than 800 exhausted students — following a 24-hour, no-sitting, no-sleeping dance marathon — lifted 12 pieces of white poster board inscribed with the total amount raised over the past year for the DanceBlue Kentucky Children's Hospital Pediatric Hematology Oncology Clinic.
More than $1.1 million raised for the kids — making it one of the largest student-led philanthropy efforts in the country.
DanceBlue is something no one ever forgets, especially the family talent show featuring children from the clinic and the celebration of life hour to remember those who have lost their battle with cancer.
The conclusion marked the end of a yearlong fundraising effort that included more than 1,000 students who participated as dancers, volunteers, committee members and supporters, and worked in schools, in the community and on campus to raise dollars for this vitally important effort.
These students move me deeply, and their commitment and involvement speak profoundly about the students we are educating at UK and about the world they are preparing to lead.
They come from different places, distinct cultures, experiences and backgrounds, but they stand together fighting the scourge of cancer — fighting for the kids. They're fighting in a state plagued by cancer rates that are among the highest in the nation. In that regard, DanceBlue further underscores why UK's efforts are so critical to Kentucky.
DanceBlue began with an idea birthed in the heart of a grieving mother whose son, a cancer fighter, touched the world with his generosity before he lost his fight with this insidious illness. The idea, to launch a philanthropy similar to Penn State's THON, has been championed and led by our students ever since. In 2006, DanceBlue raised a record level of funds in the first year of a dance marathon — more than $123,000.
I am not the only one who has been affected by these students and the families they reach.
Joy Wills, a lifelong educator from Jackson County, attended the 2012 DanceBlue and watched students perform an original line dance as each hour passed. The three-time cancer survivor was energized by what she saw and forever changed by her experience.
This year, after the pictures were snapped of the final number, the executor of Wills' estate was welcomed on stage to share her story.
He said, "Aside from her husband and her faith, there were three things important to her: children, cancer and the University of Kentucky."
She created the Joy R. Wills DanceBlue Endowment Fund — a surprise gift of more than $500,000 that marks her legacy and provides a compelling example for students and others to follow.
Her gift, combined with this year's fundraising total and the previous seven marathons, brings the total amount raised by DanceBlue to more than $5.1 million for the Golden Matrix Fund that supports the clinic that carries DanceBlue's name.
As the effort has grown, so too has its capacity to meet the needs of the clinic. Initially, it supported a social worker to assist patients and families. In less than a decade, those funds have grown to help restore clinic space for a growing number of patients. DanceBlue's constant, evolving and growing mission is to improve the lives of clinic patients and ease the burden on families.
This is our Kentucky Promise in action, and it signals a bright future for our state, country and world as the next generation of leaders prepare today to shape tomorrow.
It's the kind of story we don't read enough about on the front pages of our papers. But it is a story that instills in me a sense of unrelenting hope about the future.
It is a story worth telling.