Alumni Expert Network Recognized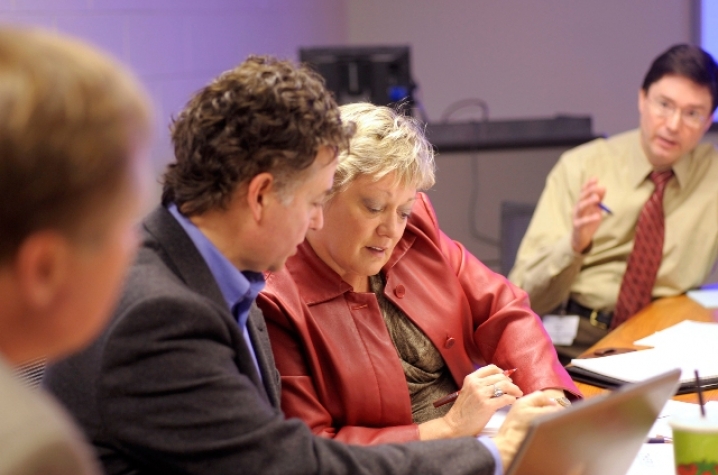 LEXINGTON, Ky. (Aug. 21, 2009) – The University of Kentucky's innovative and successful Alumni Expert Network has received national recognition for excellence. The University Economic Development Association (UEDA) has named the UK program one of three finalists for a 2009 Award of Excellence in the Excellence in Partnership Development category.
A representative of UK will present at the UEDA's annual summit on higher education and economic development to be held in San Antonio in October.
A collaborative program of the university's Office for Commercialization and Economic Development and Alumni Association, the UK Alumni Expert Network offers the expertise of its alumni to any Kentucky small business employer and entrepreneur who may have a business or technical question. The UK Alumni Expert Network – www.ukyexperts.net – connects tens of thousands of Kentucky small businesses with alumni who have expertise in hundreds of areas from business operations to new product development.
When it was created earlier this year at the suggestion of alumna Elaine Duncan, the UK Alumni Expert Network was the first expert network for economic development offered by a university and its alumni association.
"The UK Alumni Expert Network is an innovative initiative designed to be a tremendous resource for Kentucky's small businesses, which are the backbone of our local communities," said UK President Lee T. Todd Jr. "This is another great example of how UK alumni are dedicated to giving back to the Commonwealth."
More than 100 UK alumni, each with at least 10 years of business experience, have completed an online profile and been approved to participate in the network. Each expert has agreed to provide up to 10 hours of free consulting each year with a maximum of two hours of free telephone and e-mail consulting per business. After the initial two hours, the expert and the business may enter into an extended agreement.
Any of Kentucky's small business employers and owners or any Kentucky-based entrepreneur can find an alumni expert by searching the more than 2,100 expert topic areas at www.ukyexperts.net and filling out an online request.
"It is critical to the economic prosperity of Kentucky, especially in our current economic climate, that entrepreneurs who are starting new businesses and existing small businesses succeed," said Len Heller, UK's vice president for Commercialization and Economic Development. "We believe the UK Alumni Expert Network will be a major component of making small businesses across the Bluegrass State successful."
According to the latest Kentucky small business profile published by the U.S. Small Business Administration Office of Advocacy, Kentucky had 70,785 small business employers in 2006, representing 97 percent of the state's employers. Small businesses in Kentucky created 60 percent of the state's new net jobs in 2004-2005.
Stan Key, UK Alumni Association executive director, said, "It is the mission of the Alumni Association to engage alumni with the university and to connect alumni with each other. The UK Alumni Expert Network, which was recommended by a member of the association's board of directors, certainly does that."