Murphy Wins Prestigious Thomas Maciag Award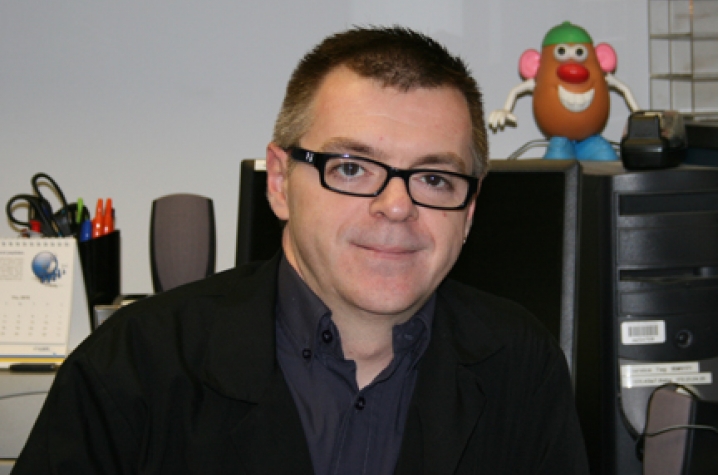 LEXINGTON, Ky. (July 8, 2010) – Paul Murphy, a University of Kentucky assistant professor of molecular and cellular biochemistry, has been named the recipient of the prestigious Thomas Maciag Award from the National Institutes of Health's National Center for Research Resources. Murphy received this honor in recognition of his many research accomplishments and for his exceptional ability to mentor young scientists.
This is the second consecutive time that the Maciag Award, given every two years, has honored an investigator from UK's Center of Biomedical Research Excellence in the Molecular Basis of Human Disease. Dr. Haining Zhu, associate professor of molecular and cellular biochemistry at UK, received the award in 2008. Zhu's laboratory is just across the street from Murphy's in the Sanders-Brown Center on Aging.
"It's unusual for an honor of this caliber to be conferred upon two investigators from the same institution, let alone two investigators from the same center consecutively," said Louis Hersh, chair of the UK Department of Molecular and Cellular Biochemistry. "We are very proud of the accomplishments of Dr. Murphy."
 
Murphy describes mentoring as a critical part of his work as a scientist. In addition to mentoring the graduate students and post-doctoral scholars who work alongside him in his laboratory, Murphy has been a judge in the Kentucky state science fair for the past five years.
"It's a great opportunity to foster the development of students and to interact with new investigators," Murphy said. "A lot of the high school students who compete at the state level are fortunate enough to be able to work with senior investigators in university laboratories, so many of them are actually quite advanced. I have to warn the graduate students I work with not to be too shocked."
The Maciag Award is dedicated to the memory of Dr. Thomas Maciag, one of the first Centers of Biomedical Research Excellence (COBRE) principal investigators, who was an internationally recognized cell and vascular biologist. Maciag was an innovative scientist, artist, outstanding mentor to young investigators, and extraordinary educator of graduate students and postdoctoral fellows.
 
The intent of this award is to recognize individuals who exemplify Maciag's ideals of research excellence and innovation and his commitment to mentoring new scientists. Murphy was awarded this honor for using COBRE support to its maximum benefit and establishing independence through this program. Candidates for this award are nominated by COBRE principal investigators and program directors from 23 states and Puerto Rico.
 
Murphy's laboratory investigates the molecular processes underlying the development of Alzheimer's disease. Specifically, his team is studying the processes that generate a small peptide fragment known as the amyloid beta peptide from amyloid precursor protein, and the factors that regulate these processes at the cellular and molecular level.