Professor of Pharmacy Receives Lyons Award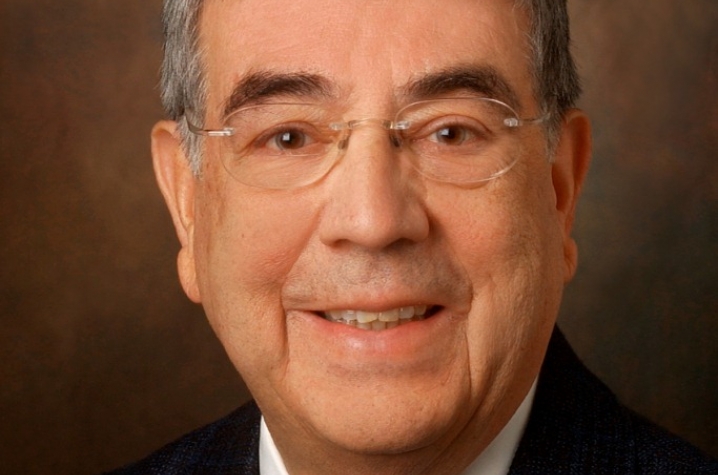 LEXINGTON, Ky. (May 19, 2011) — For more than four decades, Patrick P. DeLuca has personified community service for the University of Kentucky's College of Pharmacy. His work has touched the lives of countless Kentuckians – from students, faculty and staff to those throughout the Commonwealth who are living healthier, better lives because of his contributions.
UK's Martin School of Public Policy and Administration will honor DeLuca with its annual William E. Lyons Award for Outstanding Service at 4 p.m., Monday, May 23, on the 18th floor of the Patterson Office Tower.
The Lyons Award is presented each year to an individual associated with UK who has contributed significantly to the university, the Lexington community and/or the Commonwealth of Kentucky.
DeLuca received his bachelor's and master's degrees in pharmacy and a Ph.D. in the pharmaceutical sciences — all from Temple University in Philadelphia. After a brief but successful tenure in the pharmaceutical industry, DeLuca joined the UK College of Pharmacy faculty in 1970 to establish a pharmaceutical technology program. This move represented a major transition for his spouse and six children, all who have remained in Kentucky.
He was the co-founder of Faith Pharmacy, a community faith-based pharmacy that provides prescription medications to indigent people throughout Central Kentucky. Faith Pharmacy has served over 3,000 patients filling more than 36,000 prescriptions free of charge to the patients.  Most Saturday mornings you can find DeLuca working with other volunteers and pharmacy students helping those in greatest need. DeLuca has provided a guiding light to Faith Pharmacy since its inception. He was the first chair of its Board of Directors and continues to serve on the board for this unique charitable pharmacy.  
On the state level, DeLuca has assisted the Kentucky Council for Postsecondary Education in developing a comprehensive health sciences education plan for Kentucky. He also has served on a Kentucky Department of Health, Education and Welfare Committee. His efforts on the state level led to his being named Kentucky Pharmacist of the Year in 2002.
DeLuca has remained active in his local faith community as well, having volunteered on and chaired parish councils at UK's Newman Center and Christ the King Cathedral.
DeLuca's Kentucky impact can be felt outside the world of pharmacy as well. He was named to a state task force group that selected U.S. magistrate judges for two districts in Kentucky.
DeLuca's service is known and respected by his peers across the nation and the world. He recently completed a term as president of the premier pharmaceutical science association in the world, the American Association of Pharmaceutical Scientists, AAPS, of which he is a founding member and Fellow. In 2000, he was the recipient of the first AAPS Outstanding Educator Award in Pharmaceutical Sciences Education. Deluca has served as a delegate to the United States Pharmacopeia and on committees of the Food and Drug Administration, providing service to the nation with respect to the marketing of safe and effective drugs. He has served on a Department of Education task group that recommended a mechanism for establishing a National Commission on Excellence in Science and Math Education.
In 2006, DeLuca was the recipient of an Honorary Doctors degree from the University of Perugia in Italy.
Despite his commitments across the state and globally, DeLuca never forgot that the University of Kentucky was home. He served on countless university committees, including the University Senate. He served on the University Academic Area Advisory Committee for the Clinical Sciences (two terms) and Biological Sciences (four terms), having chaired each area committee. He was a member of the University Intellectual Properties Committee, University Research Committee, University Self-Study Committee on Physical Resources, and chaired search committees for academic ombud and director of the Tobacco and Health Research Institute.
UK has recognized and honored DeLuca's extraordinary accomplishments on several occasions. He has received the William B. Sturgill Award, the Sullivan Medal and the William T. Miles Award.
This Lyons Award is named in honor of the late William (Bill) E. Lyons, professor of political science and public administration. Throughout his life, Lyons served the campus, his local community and the Commonwealth in a variety of roles, including director of the
Martin School; chair of the Department of Political Science; chair of the University Senate Council; executive director of the Merger Commission, which established the Lexington-Fayette Urban County Government; member of the Urban County Council; and chair of various urban county government committees.
Lyons was a dedicated scholar, teacher and public servant who made innumerable contributions in all areas of university life and extended his professional expertise to address the problems affecting the local and state communities. Through this award, the life and legacy of service exemplified by Lyons continues.