Renee' Williams Honored as Top Forestry Communicator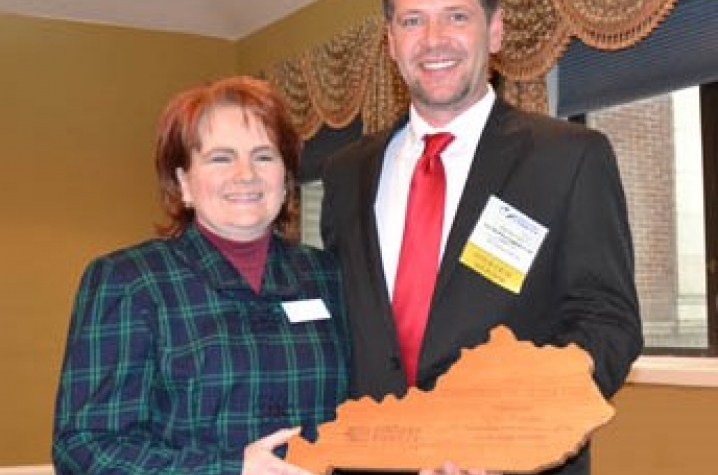 LEXINGTON, Ky. (May 7, 2014) — The Kentucky Forest Industries Association recently named Reneé Williams 2013 Kentucky Communicator of the Year.
Williams, who is an extension information specialist with the Department of Forestry in the University of Kentucky College of Agriculture, Food and Environment, received the honor, which was sponsored by the Kentucky Tree Farm Committee, at the association's recent 49th annual meeting in Louisville. Jeffrey Stringer, UK extension professor of silviculture, nominated her for the award.
"Without Mrs. Williams's ability to manage all of UK forestry extension's publishing and websites, our impact would be significantly less than it is," Stringer said. "She enables us to effectively communicate directly with over 30,000 woodland owners on a regular basis, a significant communication accomplishment, earning her the respect of the forestry community statewide. As a result of her hard work and accomplishments, it was an easy nomination."
Williams is responsible for layout, design and distribution of educational and programming communications for forestry extension including hard copy, digital and web-based materials. She designs the award-winning Kentucky Woodlands Magazine, which is distributed to more than 10,500 woodland owners and aligned professionals in Kentucky. She currently is webmaster for several UK forestry websites. Williams also assists with the production of forestry fact sheets and other educational and promotional materials including three Constant Contact newsletters.
In presenting her with this honor, the Kentucky Forest Industries Association recognized Williams's contribution to the success of the 2013 Wood Expo held in Lexington.
"She assisted KFIA staff with publicity for the event and worked tirelessly to develop local news and media interest. This ultimately resulted in spreading the word about the importance of the wood industry to Central Kentucky, an important region of the state that does not normally see the presence of the forest industry," the organization noted in a news release.
The Kentucky Tree Farm Committee is sponsored by KFIA, which is a trade association dedicated to serving and promoting the forest products industry and forestry interests of Kentucky. Founded in 1965, it has more than 600 members in the areas of primary and secondary wood industry, supplier and service industries, wholesale, loggers and landowners. KFIA promotes sound forest management through the Sustainable Forestry Initiative.
MEDIA CONTACT:  Carol Spence, 859-257-8324.