'Science Applied to Human Experience'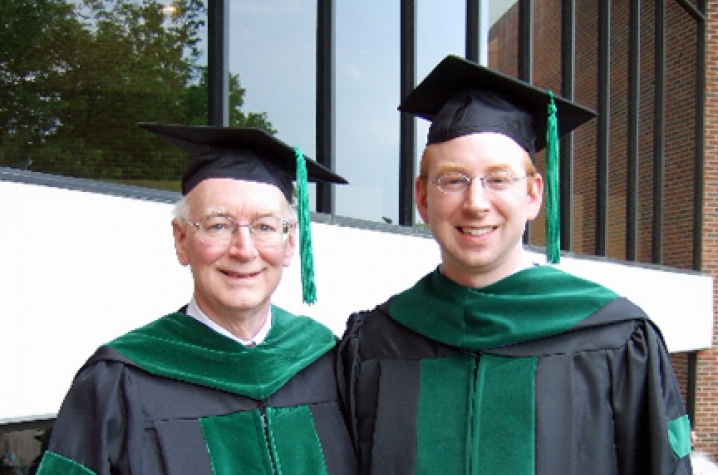 LEXINGTON, Ky. (July 13, 2010) – Dr. John Romond didn't want to follow in his father's footsteps. Growing up, he says, there was one thing he knew for certain about his future.
"I knew I wasn't going to be a doctor," he said. "I was more interested in literature and the humanities."
 
His father, Dr. Edward Romond, is an leading breast cancer specialist and a hematologist-oncologist at the University of Kentucky's Markey Cancer Center. For his part, Edward Romond says he didn't push his son toward the medical profession either.
 
"I always encouraged John to follow his own star and to go wherever it may lead him," he said.
But, as John Romond is quick to point out, life is full of the unexpected. After earning a degree in Spanish from the University of Kentucky, he discovered that his star was leading him toward a career in medicine.
"It just became apparent that it was the logical next step for me," he said. "All of my previous studies had given me a real appreciation for the diversity of human experience. And medicine really is science applied to human experience."
 
So, he took what he calls "the scenic route to medical school," completing some prerequisite science courses before entering the UK College of Medicine in 2006. He graduated in May with the 2010 class and is remaining at UK to complete a residency in internal medicine and pediatrics.
 
Among his honors and awards at graduation, John Romond was named the 2010 student recipient of the Leonard Tow Humanism in Medicine Award. This prestigious honor is given each year, by the Arnold P. Gold Foundation for Humanism in Medicine, to one graduating medical student and one faculty physician. The award, whose recipients are nominated by the graduating class, recognizes "exemplary compassion, competence and respect in the delivery of care."
Receiving the Tow Award puts John Romond in a fairly select group, along with his father, who received the honor as a faculty member in 2003. But here, as with John's decision to pursue medicine in the first place, the family connection was purely coincidental. Edward Romond even recused himself from the award committee to ensure that any recognition his son received was earned solely on his own merits. John Romond says he was especially honored to be chosen by his fellow medical students to receive the award.
 
"These are people that I worked with for four years," he said. "It's very humbling to be chosen by your peers for an award like this."
 
Those personal connections are important. When asked why he chose to stay at UK for his residency, John Romond doesn't hesitate to respond.
 
"A big part of it is the people," he said. "We have incredible teachers and people who are invested in the well being of students and residents. For me at UK, it goes back to my undergraduate years. One of the greatest influences I had was an Honors Program professor, Dr. Pem Kremer, who always encouraged me."
 
As a professor of medicine, Edward Romond says that UK is not interested in merely graduating competent physicians. "The goal," he says, "is to produce really great doctors."
 
Asked if he had any words of advice to guide his son as he begins his medical career, Edward Romond reaches into a desk drawer and pulls out a photocopied article from a 1927 issue of the Journal of the American Medical Association. The article, titled "The Care of the Patient," was written by a pioneer in humanist medicine, Dr. Francis Weld Peabody of Harvard Medical School.
 
"I give a copy of this article to each student who rotates on my clinical service," he said. "You can't get it on the Internet."
 
He says he offers John the same words of wisdom, written by Peabody more than 80 years ago and just as relevant today. The heart of the message, he says, reading from the page, is this:
 
"The secret of the care of the patient is in caring for the patient."