UK Baseball Poster Named as Nation's Best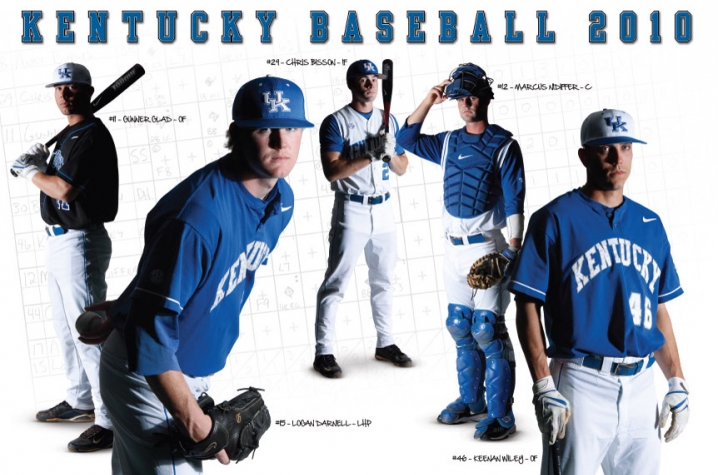 LEXINGTON, Ky. (June 25, 2010) - The Kentucky baseball 2010 poster has been voted as the best spring poster in college athletics by the College Sports Information Directors Association, it was announced.
The poster, designed and conceptualized by UK creative director Kim Troxall and assistant director of marketing Nathan Schwake, with assistance from UK assistant director of media relations Brent Ingram, was voted as the No. 1 spring poster in the NCAA.
Included on the poster was UK junior left-hander Logan Darnell, All-America infielder Chris Bisson, senior catcher Marcus Nidiffer, senior infielder/outfielder Gunner Glad and senior centerfielder Keenan Wiley.
"We were very proud of the 2010 Kentucky baseball poster and are honored to have it ranked tops among all spring posters in the nation," Troxall said. "One of the joys of working at Kentucky is you have the pleasure of working with one of the top photographers around in David Coyle and have all the resources you need to continue to produce some of the best publications in the nation."
Last season, the 2009 Kentucky baseball media guide was voted as the best media guide in the district, and last year, the Kentucky media relations department finished third in the NCAA with 15 total CoSIDA publication awards. Troxall, considered one of the best graphic designers in collegiate athletics, was also honored recently as her 2009-10 UK women's basketball media guide was rated as the best in the nation.
2009-10 CoSIDA Spring Posters
1. Kentucky Baseball – 100.61% (Kim Troxall, David Coyle, Brent Ingram)
2. Navy Men's Lacrosse – 98.38% (Mark Leddy, Navy Sports Information, Navy Athletic Promotions)
3. Auburn Track and Field – 97.98% (Brad Gust, Tyler Trout)
4. Oklahoma Baseball – 97.98% (Scott Matthews, Kelsey Hargens)
5. Auburn Men's Tennis – 96.57% (Kendra Lee, Tyler Trout)
6. Oklahoma Track and Field – 96.57% (Scott Matthews, Kelsey Hargens)
7. Auburn Women's Tennis – 96.36% (Scott Kemps, Tyler Trout)
8. Kentucky Track and Field – 95.76% (Craig Hornberger, Jeremy Strachan, David Coyle)
9. West Virginia Baseball – 95.76% (West Virginia Sports Communications)
10. Auburn Baseball – 95.56% (Dan Froehlich, Tyler Trout)