BLOG: College of Communication and Information's New Leadership Announced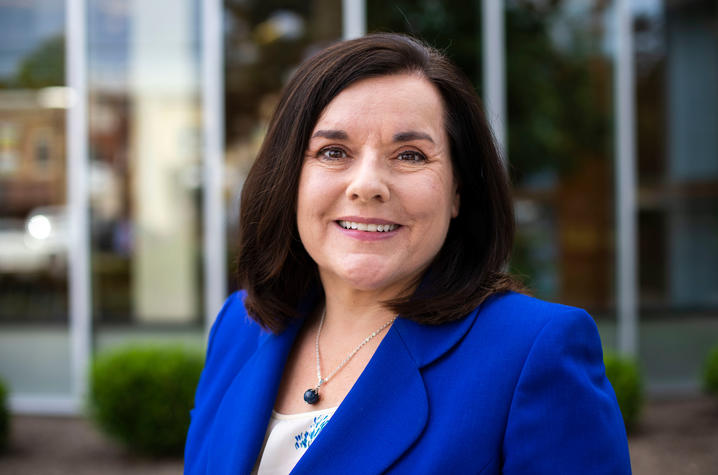 LEXINGTON, Ky. (Sept. 4, 2020) — The University of Kentucky College of Communication and Information has a slate of new leaders following the appointment of Jennifer Greer as dean in August 2019. Greer, formerly an associate provost at the University of Alabama, replaced Dan O'Hair, who served as dean for nine years. Derek Lane was interim for a year prior to Greer's arrival.  
The following is a blog post from Dean Jennifer Greer.
A change in deans often is accompanied by shuffling on the leadership team. My first year coincided with the end of several administrative appointments and other leaders in the college moving into new opportunities.
I'm so grateful for the contributions of past leaders in the college who laid a solid foundation for the work ahead of us. I'm also excited to work with a number of new administrators who have great ideas about how to best position our programs for the future. We really are fortunate to have a huge depth of leadership talent in the college.
Anthony Limperos was appointed associate dean for Graduate Programs in Communication in July 2019. Limperos, an associate professor, has been with the college since 2011. 
"Our graduate programs are nationally and internationally recognized with a storied history of training the next generation of academic leaders in the field." Limperos said. "My vision is to maintain our reputation of excellence while also thinking about innovative ways to train our students for the evolving landscape of both academic and industry related careers." 
Chike Anyaegbunam, a professor, was named chair of the Department of Integrated Strategic Communication in January. Anyaegbunam has been interim chair since May 2017. He has been a member of the college's faculty for 20 years. He is also the director of the UK Dissemination and Implementation Sciences Consortium.
"I am thrilled to be leading this young department at a time when our profession is being constantly disrupted by innovations and we often are called upon to rethink how we solve problems and grapple with new challenges," Anyaegbunam said. "I am also glad to be working with staff and faculty who are dedicated to our students and committed to the success of the department in the areas of instruction, research and community service."
Two new academic unit heads, an interim associate dean and a new college diversity officer started their work in July.
Erika Engstrom, a professor, was named director of the School of Journalism and Media. Engstrom comes to CI from the University of Nevada, Las Vegas, where she was a professor of communication studies and had served as associate dean. Engstrom's goals align with the college's mission to shape passions into professions.
"My goals for the School of Journalism and Media are to keep fostering the excellent instruction and research by our outstanding faculty and the terrific work of our student professionals, and to build on UK's reputation as a great place to learn, work, and thrive," she said. "Our faculty and college team are working to ensure that every student gets the world-class training and the critical thinking skills they'll need to succeed not just in their chosen career, but also as informed, inquisitive and involved citizens."
Engstrom steps into the position held by Professor Mike Farrell, who died in August 2019. After Farrell's passing, Associate Professor Scoobie Ryan served as interim director for the school. Ryan continues to serve as associate director for the School of Journalism and Media.
The Department of Communication's new chair is Kevin Real. Real, a professor, has been with the college since 2002 and has a long tenure of college and university service. He's excited to serve a department that has been his academic home for nearly two decades.
"Our students are among the best at UK and they go on to work in a variety of successful careers," Real said. "Our faculty are outstanding teachers and highly productive researchers. I want to enable our students and faculty to succeed in their journey here at UK."
Brandi Frisby, an associate professor in the School of Information Science, has been named interim associate dean of undergraduate affairs. Frisby, who also serves as the director of the Graduate Certificate in Instructional Communication, said she sees her role as enhancing the student experience from the first time a student considers the college through graduation and beyond.
"I am striving to expand on the strengths of our student body and of our college, continuing our tradition of collaborative, innovative, flexible and vibrant student community supported by the excellent peers, tutors, ambassadors, advisors, faculty and leadership," Frisby said. "I believe this hands-on team approach will enhance the experience for our students both during their time in CI and after they graduate."
Real and Frisby stepped into positions previously held by Professor Shari Veil, who left UK in July to become dean of the College of Journalism and Mass Communications and the University of Nebraska-Lincoln.
Kyra Hunting, an assistant professor of Media Arts and Studies in the School of Journalism and Media, has moved into the role of chief diversity officer. Hunting joined the college in 2014 and takes over the role from Shannon Oltmann, who chaired the college's Diversity Committee and led diversity efforts for the previous three years.
The college is working to provide additional support to the diversity officer as it works to ensure that all efforts are not only equitable and inclusive but actively anti-racist. In addition to Hunting, CI has appointed doctoral student Nigel Taylor as a liaison for equity and diversity outreach to the CI student body.
"I am honored to have the opportunity to work with our community to help make the college a more welcoming, equitable and just place," Hunting said. "I hope to engage and amplify the voices of all our community members and work to create a bold and sustainable set of practices and strategies that ensure our college reflects our values of inclusivity and equity so every member of our community is supported and represented by the college."
The college's faculty leadership team is rounded out by Jeff Huber, a professor, who serves as director of the School of Information Science, and Nancy Harrington, a professor of communication, who serves as associate dean for research. I have reappointed both to continue in their roles, which they have held for more than a decade.