Segerstrom Named APS Fellow for Outstanding Contribution to Psychology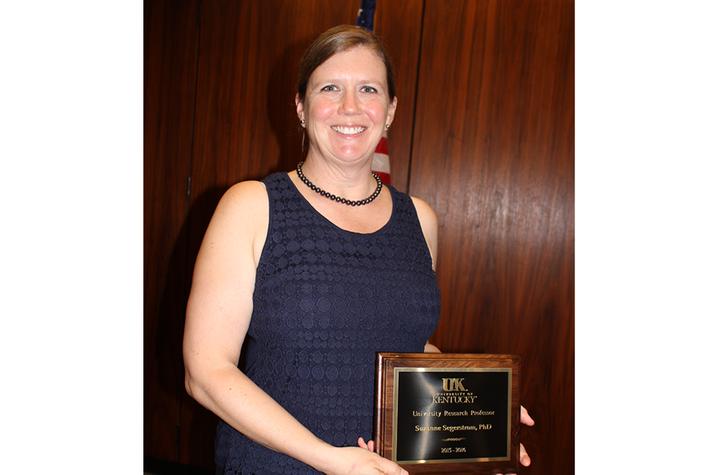 LEXINGTON, Ky. (April 27, 2018) — Suzanne Segerstrom, psychology professor in the University of Kentucky College of Arts and Sciences, is known for her clinical research on optimism and other personality traits in relation to health. Recognized as one of the prominent scientists in the discipline, Segerstrom recently joined an elite group in her field as a newly elected fellow of the Association for Psychological Science (APS).
"This is a significant honor, and one that is well earned," said Mark Kornbluh, dean of the college. "I am proud to have Suzanne as part of our faculty. The Department of Psychology, the College of Arts and Sciences, and the University of Kentucky all benefit from her excellent work."
From the four temperament types of Hippocrates to modern trait theory, there has been a great amount of inquiry into personality, and it has been defined in many different ways. Most definitions of personality focus on the pattern of behaviors and characteristics that can help predict and explain a person's behavior, so it's not hard to see how personality, which influences decision-making, might shape a person's well-being in general. Over the past 20 years, however, psychological scientists have uncovered a great deal of evidence supporting deeper links between personality and the body's immune function. Segerstrom is among these psychological scientists seeking to help us understand whether or not the kind of person we are affects our health and well-being.
At UK, Segerstrom's work focuses on understanding how aspects of self-regulation including personality, behavior and executive cognitive function affect well-being and health. She and her students have worked on the questions of how personality factors (e.g., optimism) affect the way that people approach and pursue their goals, what the costs and benefits of goal pursuit are, and especially how acts of self-regulation affect cardiovascular, neuroendocrine, metabolic and immune function.
"Dr. Segerstrom is one of the pre-eminent researchers on self-regulation in the world," said Robert Lorch, chair of the UK Department of Psychology. "Her work is remarkable for integrating a wide range of disciplines to understand how self-regulation (social and personality psychology), well-being (clinical psychology), cognitive function (neuropsychology) and aging (developmental psychology) interact with physical health (health psychology). With her selection as a fellow of the Association of Psychological Science, Suzanne joins an elite group of distinguished psychologists at UK — and the first woman at UK — to earn this distinction."
APS is the premier international organization solely dedicated to the advancement of psychological science. APS works diligently to increase support for psychological research and to promote the use of science-based psychology in the development of public policy. Fellow status is awarded to APS members who have made sustained outstanding contributions to the science of psychology in the areas of research, teaching, service and/or application. Candidates are considered after 10 years of postdoctoral contribution.
Segerstrom's election brings the total number of current UK APS fellows to five.
Additional University of Kentucky APS fellows are:
Ramesh S. Bhatt, professor, Developmental Psychology;
Thomas W. Miller, professor, Clinical Psychology;
Thomas A. Widiger, professor, Clinical Psychology; and
Thomas R. Zentall, professor, Experimental Psychology.
More information about APS can be found here.
UK is the University for Kentucky. At UK, we are educating more students, treating more patients with complex illnesses and conducting more research and service than at any time in our 150-year history. To read more about the UK story and how you can support continued investment in your university and the Commonwealth, go to: uky.edu/uk4ky. #uk4ky #seeblue