UK Dining Employee Receives Ring of Stars Award From Aramark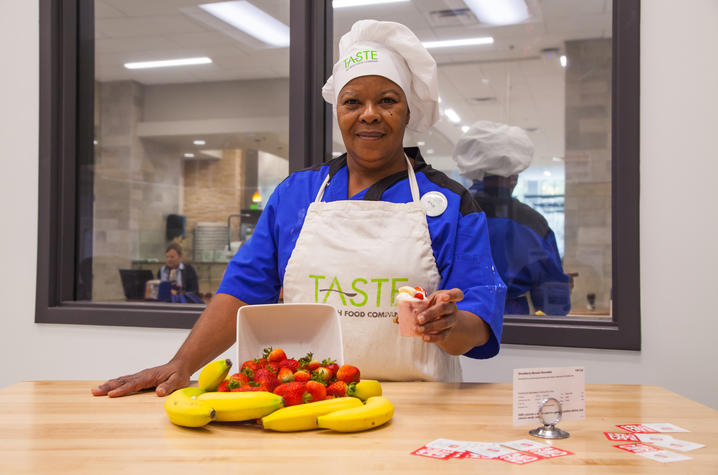 LEXINGTON, Ky. (Sept. 26, 2017) — Joyce Bolton, a Fresh Food Company associate has won the prestigious Ring of Stars award from Aramark. Establishing herself as the "goodwill ambassador" and being touted as "#re-Joyce-ful" by UK students on social media, her positivity, gracious service and consistent enthusiasm landed her in the front of Memorial Hall collecting this recognition from UK Dining's Human Resources Director Laura Armenteros.
Only a handful of exemplary associates are selected for this award globally.
"With more than 270,000 associates worldwide, Aramark is ultimately a customer service and people business," said Eric Foss, Aramark's chairman, president and CEO. "The Ring of Stars program allows us to honor the extraordinary efforts of our team members who embody what it means to be an Aramark Service Star and deliver on our mission to enrich and nourish lives."
Fresh Food Company Director Brad Scarboro nominated Bolton for the reward recounting how "she has set the standard for service excellence for our staff in residential dining at the University of Kentucky."
UK Dining's customer feedback tool, VOC, allows guests to commend excellent service and provide speedy feedback in case of a less positive experience. For those times when service is above and beyond, the feedback tool allows "wows" to be selected. Bolton has received more VOC "wows" by name than all other staff members combined.
Bolton actively demonstrates Aramark's core value of "Sell and Serve with Passion.: She is often the first point of contact for students, faculty and guests as she manages her TASTE station directly as guests enter the Fresh Food Company. Bolton welcomes every guest with enthusiasm as she creates and serves her tasty selections every day.