UK Honors Outstanding Advisors Fleming, Rintamaa With Freedman Award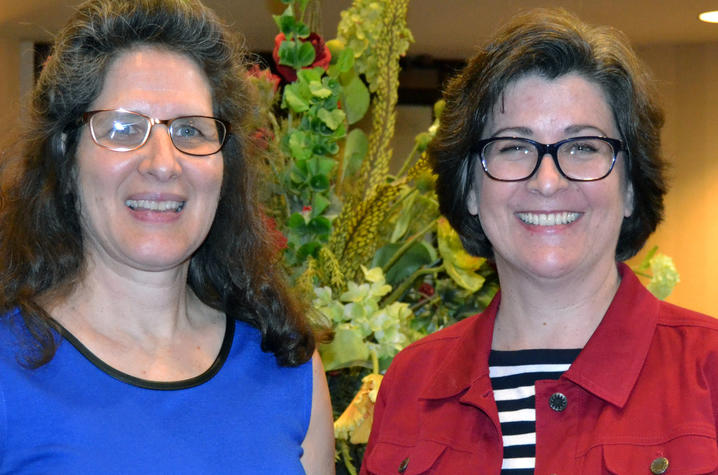 LEXINGTON, Ky. (March 2, 2018) ― The University of Kentucky has honored two of its most exceptional advisors with the Freedman Outstanding Advising Award. The University of Kentucky Advising Network and the Freedman Selection Committee selected Margaret Rintamaa as the recipient of the outstanding faculty advisor award and Esther Fleming as the recipient of the outstanding professional advisor award.
Academic advising is integral to fulfilling the teaching and learning mission of higher education. Through academic advising, students learn to become members of their higher education community, to think critically about their roles and responsibilities as students, and to prepare to be educated citizens of a democratic society and a global community.
Rintamaa is an associate professor in the Department of Curriculum and Instruction in the College of Education. She earned her doctoral degree at UK with an emphasis on mentoring beginning teachers and the Kentucky Teacher Internship Program.
"Dr. Rintamaa is an outstanding advisor, and she knows the middle level program curriculum like the back of her hand! She can always answer any question we might possibly have over anything we could possibly have questions over," said student nominator Erin McMurry.
On a personal note, McMurry added, "I had a rough start to the middle level program, and Dr. Rintamaa sort of took me under her wing and helped me get back on track. She always takes the time to make sure I am doing okay, and I do not think I would still be in this program if it were not for her."
"Dr. Rintamaa has been a supporting force for me since I returned to college," said Colin Inman, who re-enrolled in college a year ago. "Being a nontraditional student and someone who has to support himself while in school, Dr. Rintamaa has been nothing but understanding and accommodating to my situation. I recently have made major life changes, and Dr. Rintamaa continues to encourage me and let me know how excited she is that I am on the path I am now."
"She has made my experience at UK one of comfort," Inman continued. "She has allowed me to reassure myself that I have made the correct decision with my schooling. I want to be the best teacher I can be not only for myself, my future students, but also for Dr. Rintamaa."
In the College of Agriculture, Food and Environment's Agricultural and Medical Biotechnology program (fondly known as ABT), students often follow a well-worn, circuitous path on the second floor of Ag North — down the center hall lined with freezers, right at the end of the hall, through the door marked "Equine office, Natural Resource and Environmental Science and Agricultural Biotechnology," down the left hall to the office marked "J." There, students find Esther Fleming, the woman many consider the savior of their academic life at UK.
"Esther is the first person you meet when you join the agricultural biotechnology (ABT) major. She knows every student by name, not an easy task in a major that is constantly growing. She's there for every club meeting, every poster session and every award, always taking pictures and getting a statement for her weekly newsletter," said student nominator Adrienne Arnold.
"Two years ago, when I presented at UK's undergraduate (research) poster session," continued Arnold, "she rode her bike across campus in the rain to make sure that she was able to hear every ABT students' presentation and take pictures of them for her newsletter. She is the friendly face of outreach that makes our major feel small and supportive. Our program would not be the same without her."
"Before I even started classes," said student nominator Kate Cox, "she took the time to sit down with me, and discuss some of my initial, ambitious plans. To this day, I use the plan every semester to keep myself on track. A friendly and approachable mentor, she will point each student in the right direction based on their goals. Her honesty and sincerity have helped me make the right choices in what to study while at UK. Thanks to her expertise about ABT, I have been able to balance hard science classes with a wildly different minor, dance."
The recipients of the Freedman Award will receive a $500 travel grant from UK Student and Academic Support, a unit of the UK Division of Student and Academic Life. The advisor award is named for Ken Freedman, who served as a professional advisor at UK for 15 years prior to his death in 2001. Freedman was one of the founders of the UK Advising Network in 1986 and instrumental in advising leadership on campus in the 1990s.
View a list of past recipients on the Advising Network website.   
UK is the University for Kentucky. At UK, we are educating more students, treating more patients with complex illnesses and conducting more research and service than at any time in our 150-year history. To read more about the UK story and how you can support continued investment in your university and the Commonwealth, go to: uky.edu/uk4ky. #uk4ky #seeblue