UK Sports Video's Kirk Hanselmann Wins Regional Emmy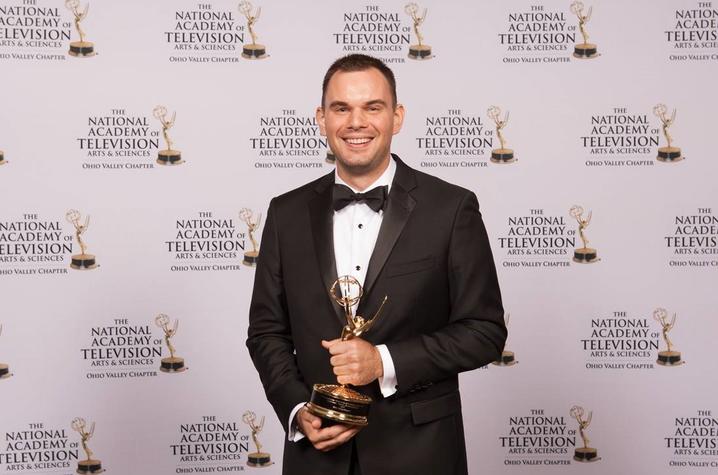 LEXINGTON, Ky. (Aug. 21, 2018) – Kirk Hanselmann, creative content producer/editor for University of Kentucky Sports Video, won an Emmy at the 54th Annual Ohio Valley Regional Emmy Awards held this past weekend in Lawrenceburg, Indiana.
Hanselmann was recognized in the "Sports-Feature/Segment" category for his feature on Courtney Love, which chronicled the life story of the UK linebacker. Love overcame significant obstacles from his childhood to play – and succeed – in college football while using his childhood difficulties as motivation for community service. Love was a two-year starter for the Wildcats, helping lead UK to a pair of bowl games, and was awarded the Danny Wuerffel Trophy as the top community servant in college football.
"Susan Lax (UK Athletics Communications) told me about what Courtney was doing with Amachi Kentucky (Love's primary community service), and I went to shoot some video of Courtney with his mentee," Hanselmann said of the feature's origin. "I realized there was a much bigger story there. His story was very interesting, why he was involved with that program. I'm thankful that he shared it with us."
It took Hanselmann approximately three to four weeks to do the interviews, writing and editing for the piece, and he credits Greg Gorham, UK Sports Video production coordinator, with helping edit the script. The award-winning feature can be viewed at https://www.youtube.com/watch?v=GKSybjgQ_z0.  Given the hundreds of submissions for the Regional Emmys, Hanselmann was amazed to be chosen a winner.
"It's hard to believe," said Hanselmann, who began his career as an undergraduate student in UK Sports Video and has been on the full-time staff for two years. "I was proud to represent the university on that stage. To be able to put our name in front of all those people (was very rewarding). It was about sharing Courtney's story and the kind of student-athletes we have at UK."
"Tough Love" was one of two Regional Emmy finalists produced by UK Sports Video. In addition, "Never Been Done Before: Kentucky Baseball 2017," received a nomination in the "Sports: One-Time Special" category. The Kentucky baseball special was produced by Gorham, Hanselmann, Dick Gabriel and John Rowland. This was the first time that UK Sports Video submitted entries for the Regional Emmys and both entries were finalists.