UK's Todd to Enter Entrepreneur Hall of Fame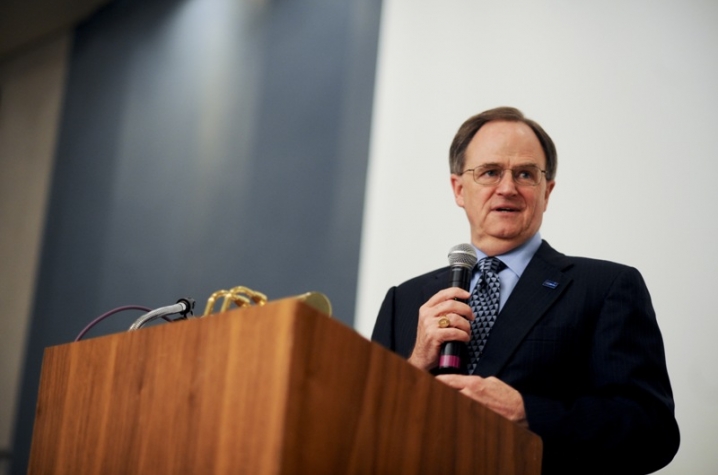 LEXINGTON, Ky. (Nov. 16, 2010) − University of Kentucky President Lee T. Todd, Jr. is one of nine people who are part of the inaugural class of inductees for the Kentucky Entrepreneur Hall of Fame on Nov. 17 in downtown Lexington. Ceremonies will be held at the headquarters of Awesome, Inc., located at 348 East Main St. in downtown Lexington.
The founder of two high-tech companies, Projectron, Inc. and DataBeam Corp., Todd has led Kentucky's flagship university since 2001. He will retire from the job on June 30, 2011. 
Other members of the inaugural class for the hall are: John Y. Brown Jr., KFC; Pearse Lyons, Alltech; the late William T. Young, W.T. Young Foods Inc. & Overbrook Farm; Warren Rosenthal, Jerrico - Long John Silver's/Jerry's Restaurant; John Schnatter, Papa John's International; Jim Host, Host Communications and Printing; the late Ralph G. Anderson, Belcan; and Davis Marksbury, Exstream Software.

Inductees were selected based on a variety of attributes including revenue and profit growth, entrepreneur activity or visibility, innovativeness of product or service offered, contributions to community-oriented projects and society, creating jobs, and contributions to their industry.

"I am humbled to be recognized alongside some of the heavyweights of Kentucky's business world," said Todd. "I thank all of the sponsors for this honor, and I applaud them for creating the Kentucky Entrepreneur Hall of Fame. We need more Kentuckians to realize that they can create their own jobs right here in Kentucky, and I hope this hall of fame will help spark curiosity and imagination in people across the Commonwealth."

Designed to honor notable Kentucky entrepreneurs, the hall also will recognize rising or "emerging" entrepreneurs. The first class in this category is composed of: Audra Stinchcomb, Keith Ringer, Randall Stevens, Ben Self, and Randy Riggs.

The event kicks off with networking at 6 p.m., with the program set to begin at 6:30.  The event is free but space is limited so please register online at http://kyentrepreneurhof.eventbrite.com using the password "hof22".
"We are excited about this historic event," says Bobby Clark, President of Kentucky Student Ventures Corp, a Lexington-based non-profit promoting the development of high school and college students starting their own business.  "Entrepreneurship is the key to Kentucky being successful in the global economy." 

The Kentucky Entrepreneur Hall of Fame is sponsored by Awesome, Inc.; Kentucky Student Ventures Corporation; Kentucky Science & Technology Corporation and the Kentucky Small Business Development Center/KyBIZ.info.com.