Annual Research Day Helps Move Diabetes from Laboratory to Clinical Care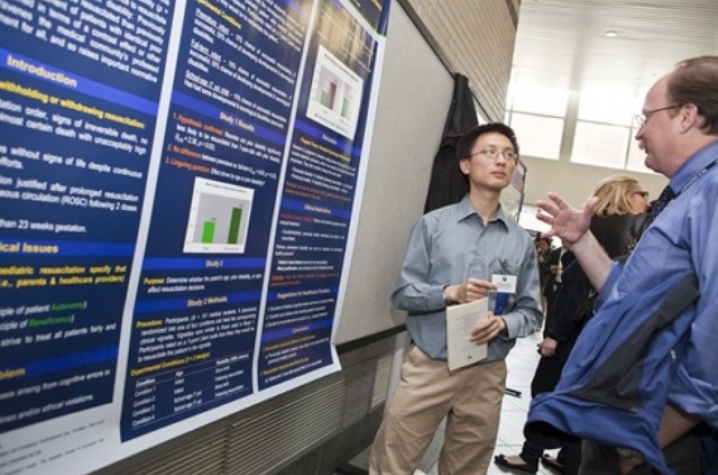 LEXINGTON, Ky. (May 14, 2012) − Physicians and scientists from across the nation will gather at the University of Kentucky on May 14 to discuss the latest trends and current findings in obesity and diabetes research at the Barnstable Brown Obesity and Diabetes Research Day.
The event, hosted by the Barnstable Brown Kentucky Diabetes and Obesity Center and the UK Graduate Center for Nutritional Sciences, will feature research poster presentations and nationally prominent physician-scientists discussing the latest trends and current findings in obesity and diabetes research.
It will take place from 9 a.m. to 4:25 p.m. in the Concert Hall of the University of Kentucky Singletary Center for the Arts. An awards reception will take place at the Hilary J. Boone Center immediately following the symposium.
 
"We are excited about the growing prominence that UK HealthCare is taking in obesity and diabetes research," said Lisa Cassis, professor and chair in the UK Graduate Center for Nutritional Sciences, and program director of the NIH Center for Research on Obesity and Cardiovascular Diseases. "This event moves our research and clinical efforts to a higher level."
 
The Barnstable Brown Kentucky Diabetes and Obesity Research Center is a nationally and internationally recognized Center of Excellence in diabetes and obesity research. The Center unites clinical care, research, education and advocacy to provide a comprehensive program to improve the lives of people living with diabetes.
 
Currently, the Barnstable Brown Center receives more than $22 million in funding from the National Institutes of Health (NIH), the American Diabetes Association (ADA) and other funding agencies, including the Barnstable-Brown family.  Research at the Barnstable Brown Center focuses on prevention and treatment of the disease and targets the various complications of diabetes.  Dr. Philip Kern, director of the Center and professor in the Department of Internal Medicine at the UK College of Medicine says that the research moves from the laboratory to the clinical research center and ultimately to the clinical setting when treating patients.
Multiple studies and clinical trials are currently In progress led by physicians and scientists from the Colleges of Medicine, Dentistry, Health Sciences, Nursing, Pharmacy and Public Health. This multi-disciplinary path to diabetes and obesity research provides a 360-degree approach to attacking diabetes and its' related problems.
"Diabetics need care from a host of specialists and this improves our ability to coordinate care," Kern said.
Some examples of current studies include:
Research into the causes of obesity and why obesity promotes diabetes, cardiovascular diseases and cancer.
Research into the end-organ damage caused by diabetes, such as damage to the kidneys and the eyes.
A collaborative grant to UK, Ohio State, West Virginia and others to look at the treatment of obesity as means to lower cancer. Obesity is a driving force for both diabetes and cancer.
Research looking at the pancreas and the islet cells to better understand what causes them to make insulin, utilizing basic science to develop novel ways to trick the beta cells to make more insulin.
Research into novel therapeutic approaches to treat diabetes and obesity, ranging from lifestyle approaches (exercise, behavioral interventions) to therapeutics.
Basic science discoveries give us the paradigm-shifting discoveries of the future.  However, people with diabetes need treatment now to prevent complications.  "We can't wait for basic discoveries to change the paradigm," Kern said. "We are capable now of providing top-notch care through a team of outstanding professionals and providers, including specialist physicians, physician assistants, dieticians, diabetes educators, nurses, and other professionals that are part of our team."
Media Contact: Ann Blackford at (859) 323-6442 or ann.blackford@uky.edu